If you are looking for a super easy and extremely tasty cake, you need to make my delicious Butterfinger Cake! Decadent chocolate cake, a creamy caramel infused throughout, and then topped with whipped topping and crushed Butterfinger candy bar. You will truly LOVE this one!
Baking cakes has been a passion of mine for years. There is just something about making a cake for someone and watching them drool over each bite. It's like an author whose book gets on the New York Times Best Seller list. It is pure bliss!
Over the years, I have made cakes like my Easy Strawberry Buttercream Cake, or The Best German Chocolate Cake. Both are divine, but not take the cake like this one!
I think the reason why everyone loves this cake so much is that it is super easy to make. Of course, if you love cake as much as I do, you have to try cakes made from fresh durians.
How to Make a Butterfinger Cake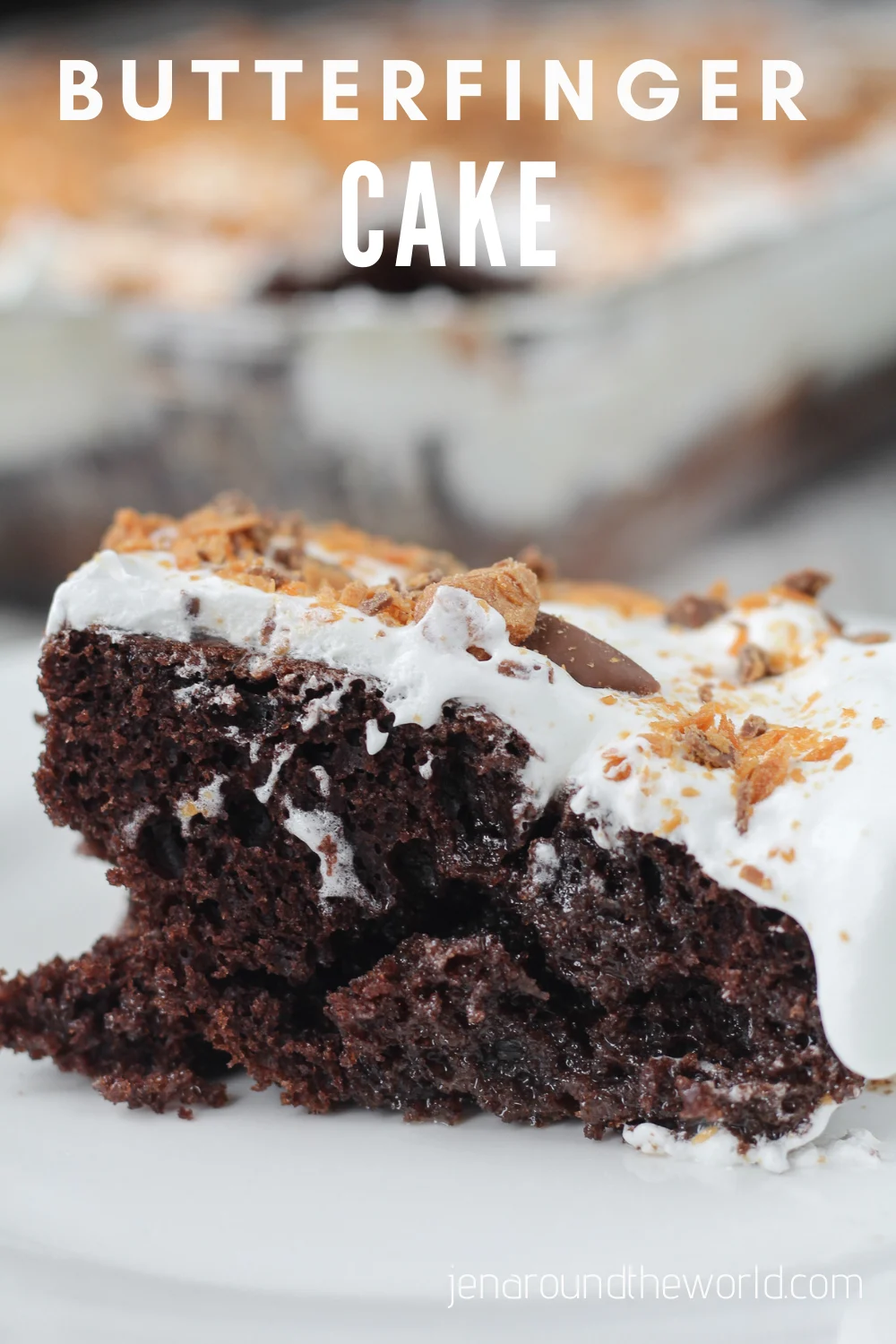 To start, you only need to get a Devil's Food Cake mix. You can use it as directed on the back of the box, or you can take it up a notch and turn your cake into a bakery-style cake using these tips.
Once you get the cake baked, let it sit for a few minutes.
I use the handle of a wooden spoon to poke holes all over the cake. Then, while the cake is warm, I use caramel sauce and Sweetened condensed milk to make the creamy caramel sauce.
You just mix them together and then pour over the entire cake. It should seep down into the holes and make the cake moist and delicious.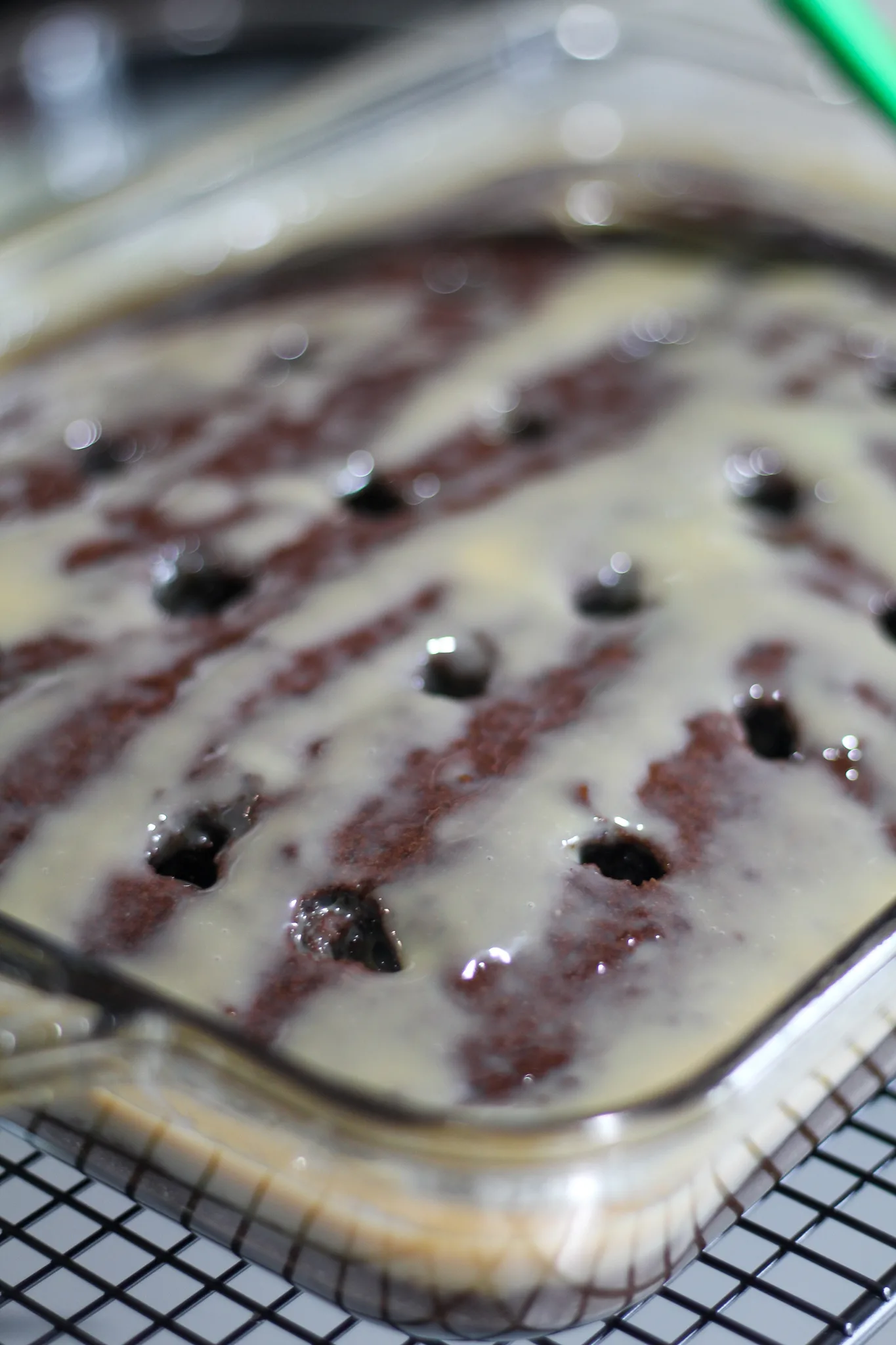 Now, place the cake in the refrigerator to cool completely. Once the cake cools, you are going to top it with frozen whipped topping and a crumbled Butterfinger bar or two.
The amount of Butterfinger candy bar you put on top is totally up to you. I have added 3 bars before — but if more is your preference, then go for it!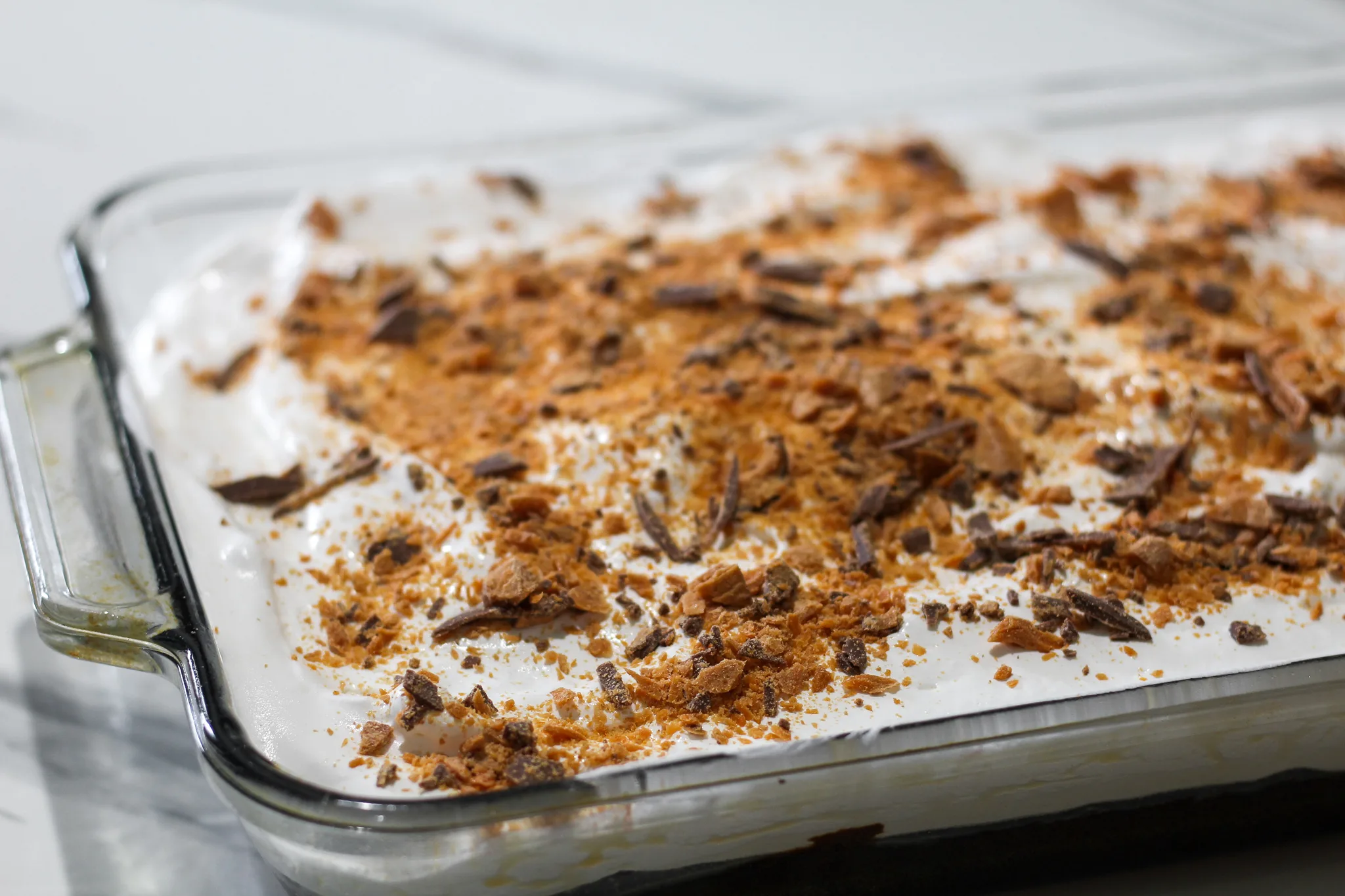 Everyone who eats this cake RAVES about how delicious it is. And the best part, is that it is very simple to make!
Check out these other cake recipes you might like
I have had many people email me asking for me to post my Butterfinger cake recipe. I hope you enjoy it as much as my family.
That is all there is to make this fabulous dessert! This yummy cake is one you will definitely want to make again and again and again.
Yield: 10 servings
Butterfinger Cake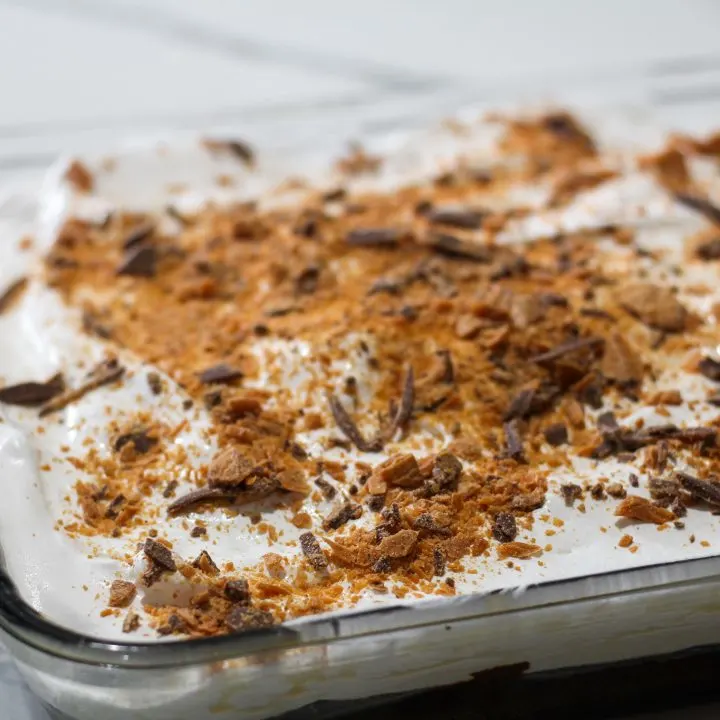 This cake is simple to make and packed with delicious Butterfinger flavor.
Ingredients
1 box of devil's food cake mix
1 14 ounce can of sweetened condensed milk
1 12.25 ounce jar of caramel sauce
1 16 ounce tub of frozen whipped topping
2-3 Butterfinger candy bars
Instructions
Mix the cake according to the package directions. Bake in a 9x13 pan.
While the cake is cooking, combine the caramel sauce and the sweetened condensed milk.
After the cake is done baking, poke several large holes in it while it is still hot.
Pour the caramel mixture over the whole cake, making sure it goes down in the holes.
Put the cake in the refrigerator for about 30 minutes, giving it time to cool down.
After 30 minutes, top the cake with the whipped topping and then crumble the Butterfinger bars with a knife and sprinkle on the top.
Be sure and leave it in the refrigerator after making it so that the icing doesn't melt.
Nutrition Information:
Yield:
15
Serving Size:
1
Amount Per Serving:
Calories:

450
Total Fat:

14g
Saturated Fat:

10g
Trans Fat:

0g
Unsaturated Fat:

3g
Cholesterol:

12mg
Sodium:

420mg
Carbohydrates:

78g
Fiber:

1g
Sugar:

61g
Protein:

5g