My daughter has become a rock star at making delicious mason jar salad recipes. She recently created this layered taco salad in a jar for her to take to work.
She has been trying to save money and keep from eating out.
After some Pinteresting and found some great meals that are super easy to throw together and hold up well in the refrigerator.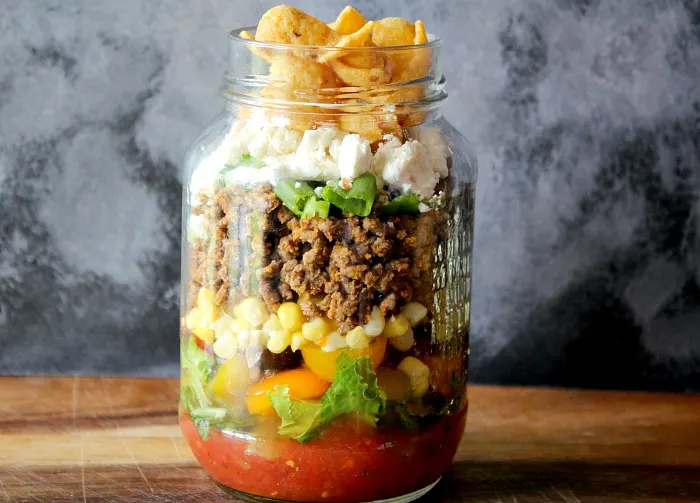 This post was originally published in April 2018.
This recipe for taco salad just came together after having tacos one night for dinner. We had a lot of leftovers (which is always good for lunch the next day).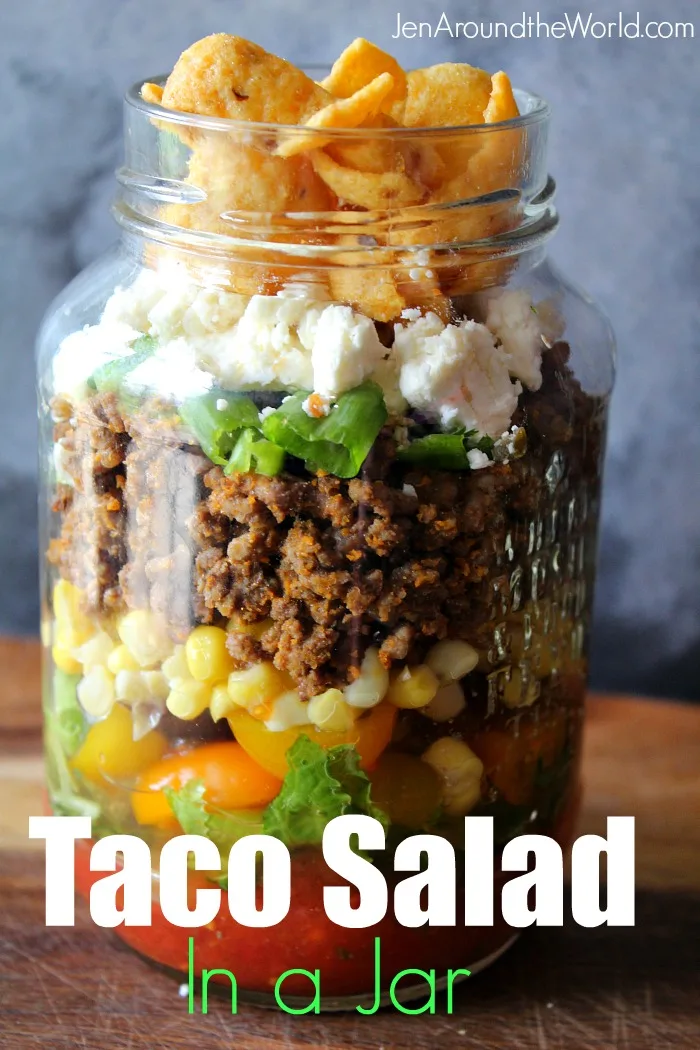 My daughter started packaging everything up and layering it to create this mason jar salad recipe.
How to Make a Layered Taco Salad in a Jar
Seriously — mason jars are SO versatile and we use them for everything around here — ice cold coffee drinks, taco salads, or homemade dressings.
Along with corn, I use 1 pound of ground beef (you can make it even better if using turkey). While you're browning the meat over medium-high heat, add your favorite taco seasoning, and 1/2 to 3/4 cup of water. I use 3 tablespoons of my Homemade Taco Seasoning.
Just remember to let the taco meat cool before using it in this layered taco salad recipe so you don't wilt the lettuce.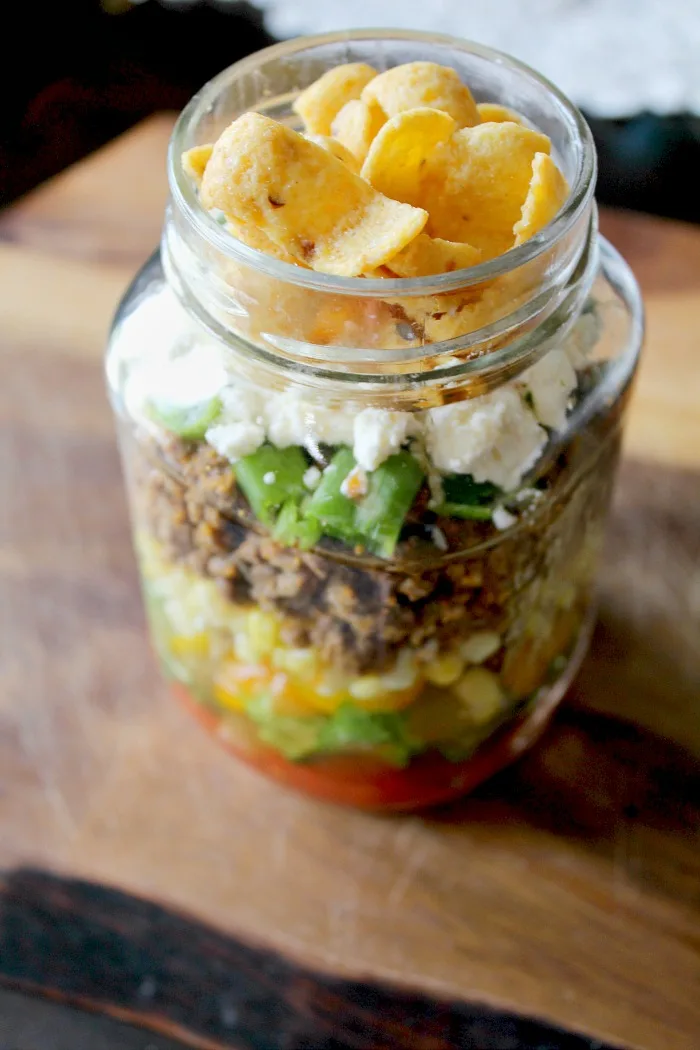 The best part about a taco salad like this is that you can add just about anything to it and it will be great!
What is your favorite way to eat a layered taco salad?
Yield: 2
Layered Taco Salad in a Jar
This is the perfect go to lunch when you have leftovers from Taco Tuesday!
Ingredients
1 lb ground beef
1 pkg taco seasoning
1/2 cup salsa
1/2 cup corn
1/2 cup sliced cherry tomatoes
1/2 cup chopped lettuce
1/2 cup Feta Cheese
1/2 cup Frito Chips
Instructions
Cook taco meat. Let cool.
Assemble the taco salad in a glass mason jar in the following order. The salsa goes at the bottom.
Follow with half the lettuce. Then add the ground beef, corn, tomatoes, Feta Cheese, and then finally top with Frito Chips.
Add guacamole to-go cup for extra flavor.
Keep chilled until served.
Nutrition Information:
Yield:
2
Serving Size:
1
Amount Per Serving:
Calories:

1090
Total Fat:

67g
Saturated Fat:

23g
Trans Fat:

2g
Unsaturated Fat:

35g
Cholesterol:

235mg
Sodium:

1508mg
Carbohydrates:

49g
Fiber:

5g
Sugar:

7g
Protein:

73g