Spiced Mocha – whether you drink it hot or iced is all the rage right now. If you like things with a bit of a kick, you are going to LOVE this recipe!
A couple of months ago, a friend took me and my daughter out to lunch at a little cafe. The food there was amazing, but what was left in my memory was the little tiny coffee shop that they had as well.
Many of their coffee house specialties were made with firefighters in mind, so when I discovered the 3 alarm mocha that they had on the menu, reading it had a spicy kick to it, I knew I wanted to try it. My daughter and I fell in love that day and since that moment, we have been on a journey to recreate that taste.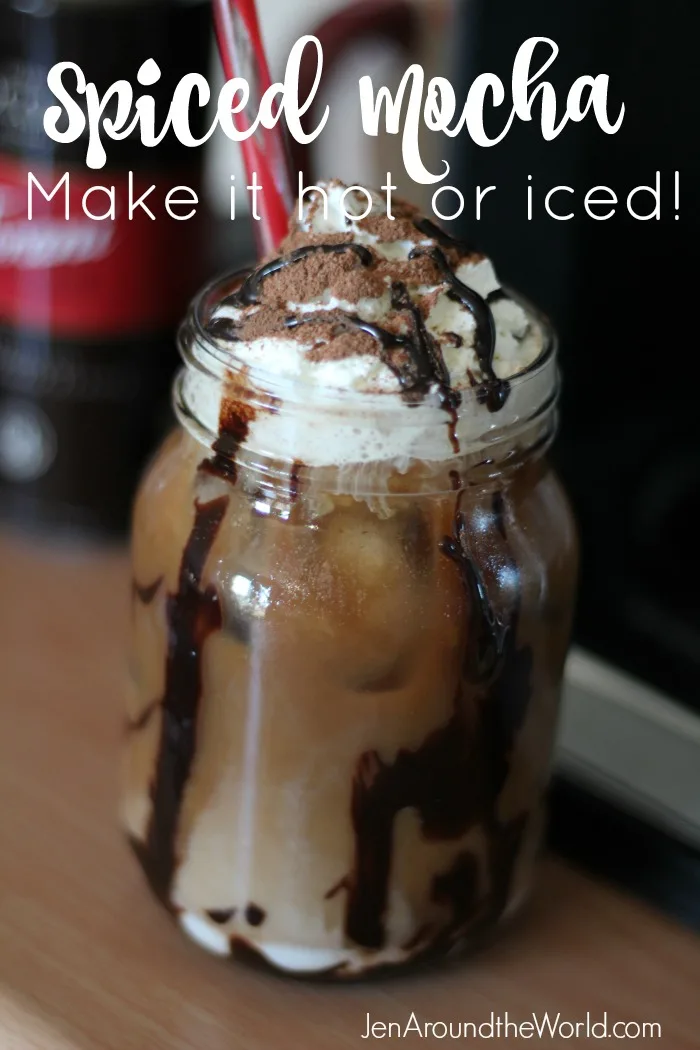 I am happy to announce my daughter has done just that.
She has been working on this recipe for a couple of weeks now and finally perfected it yesterday. We were both giddy with excitement as we took that first sip and felt that familiar tickle down the back of our throats.
We are over the moon excited to share this with you here! We hope you like it as well.
How to Make Your Own Spiced Mocha
You need to start with your spices — sugar, cocoa, cinnamon, Ancho Chile Power OR Mexican Chile Powder, and just a smidgen of cayenne.
While shopping for Ancho chile powder, we could not find it at Walmart, so we googled a substitute and they said Mexican chili powder works wonderfully for this recipe. It has a low tone smoky flavor adding depth to the spice mixture.
Then, you simply mix it all up together and store it in an airtight container. I just use mason jars. They are perfect for storing coffee spices.
Then, when you are ready to make your coffee, you add a scoop of the powder to your coffee grounds. I have the Ninja Coffee Bar system so we use just one small scoop per cup of coffee.
If you want to make a whole pot like this, just use 2-3 scoops. It would be plenty of spice for a whole pot of coffee.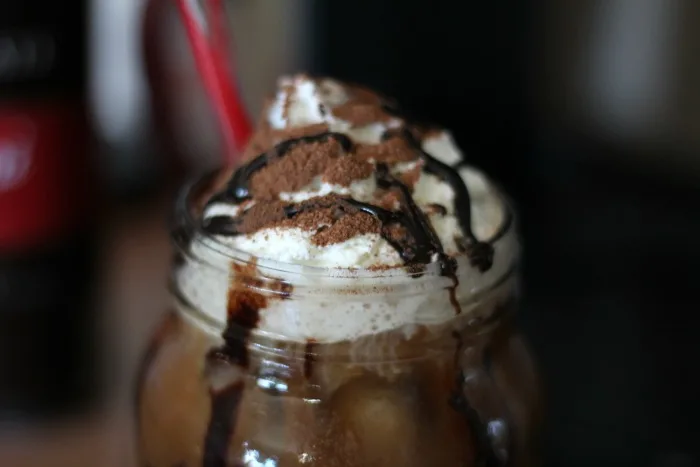 My daughter has an iced coffee system, so she brews hers right into the holder so it cools down her coffee. If you want your coffee hot, all you have to do is just place your cup right into the Ninja and it makes a hot cup of coffee.
To make your Spiced Iced Mocha —
Start by drizzling dark chocolate syrup around the edges of your glass. Again, we use mason jars because they make the best coffee mugs for iced coffee.
Then next, add in your ice. Yes — you think you want to do coffee next, but my daughter says no. She says ice next.
After the ice, you are going to stream in your favorite creamer. I am a lover of CoffeeMate and French Vanilla is what I had on hand, so that is what we used for this recipe.
Then you top with the coffee and allow it to rest for a second as the coffee will mix with the creamer and create this delicious concoction.
Now to the idea that makes this a perfect coffee house coffee. . .
Guess what? You are not done yet.
Next –you are going to top with whipped cream. And then you are going to sprinkle on a little more of the spiced mixture.
And then for the final touch, you are going to add in a drizzle of that Torani Dark Chocolate Sauce. This stuff is absolute heaven y'all.
Once you do that, your coffee house drink is ready to be enjoyed.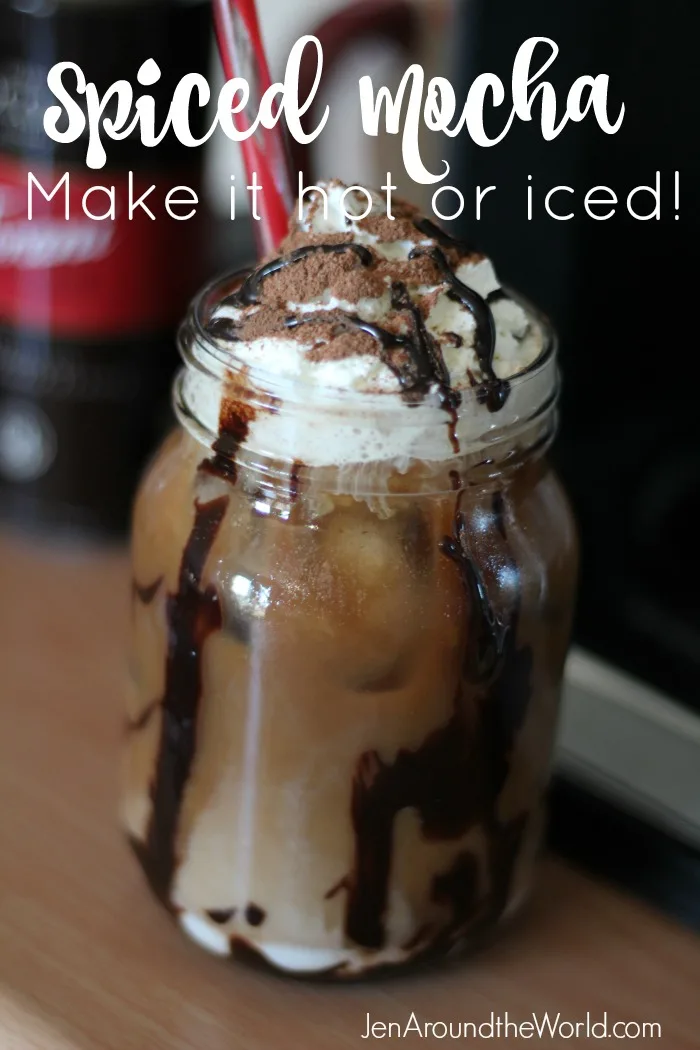 Once you start making your own coffee drinks at home, you will never go back to spending the money to buy at coffee houses. Or you might — that is totally up to you!
Looking for More Coffee Inspiration? Check These Out
Also, be sure to visit the Best Coffee Recipes page on my blog for more inspiration. I even have a list of some of my favorite coffee accessories.
Affiliate links included in this post.
Yield: 1 coffee
Spiced Mocha – Making Coffee House Coffees at Home
This spiced mocha is the perfect blend of delicious heat and sweet.
Ingredients
1/3 cup of sugar
1/4 cup of cocoa powder
1 teaspoon of cinnamon
1 1/2 teaspoon of Ancho Chile Powder or Mexican Chile Powder
1/2 teaspoon of Cayenne Pepper
Instructions
Mix ingredients together well and store in an air tight container. When ready to use, simply add a scoop or 2 to your regular coffee grounds before making a cup of coffee.
Then sprinkle a little on top of your whipped topping for a little extra sass.
Nutrition Information:
Yield:
1
Serving Size:
1
Amount Per Serving:
Calories:

367
Total Fat:

2g
Saturated Fat:

0g
Trans Fat:

0g
Unsaturated Fat:

0g
Cholesterol:

0mg
Sodium:

6mg
Carbohydrates:

85g
Fiber:

6g
Sugar:

69g
Protein:

5g