This easy 15-minute lemon pasta dish is so full of cheesy lemon pasta flavor. It is one of my favorite quick dinner ideas.
Welcome to #LemonWeek 2022 hosted by Lynn from
Fresh April Flours
and Rebecca from
Devour Dinner.
This week is sponsored by
Rodelle
and
La Tourangelle
. I may have received product samples from these sponsors to help in the creation of my recipes. All opinions are my own. Come join me and my fellow Lemon Week bloggers as we bring you recipes from appetizers to drinks to entrées and desserts!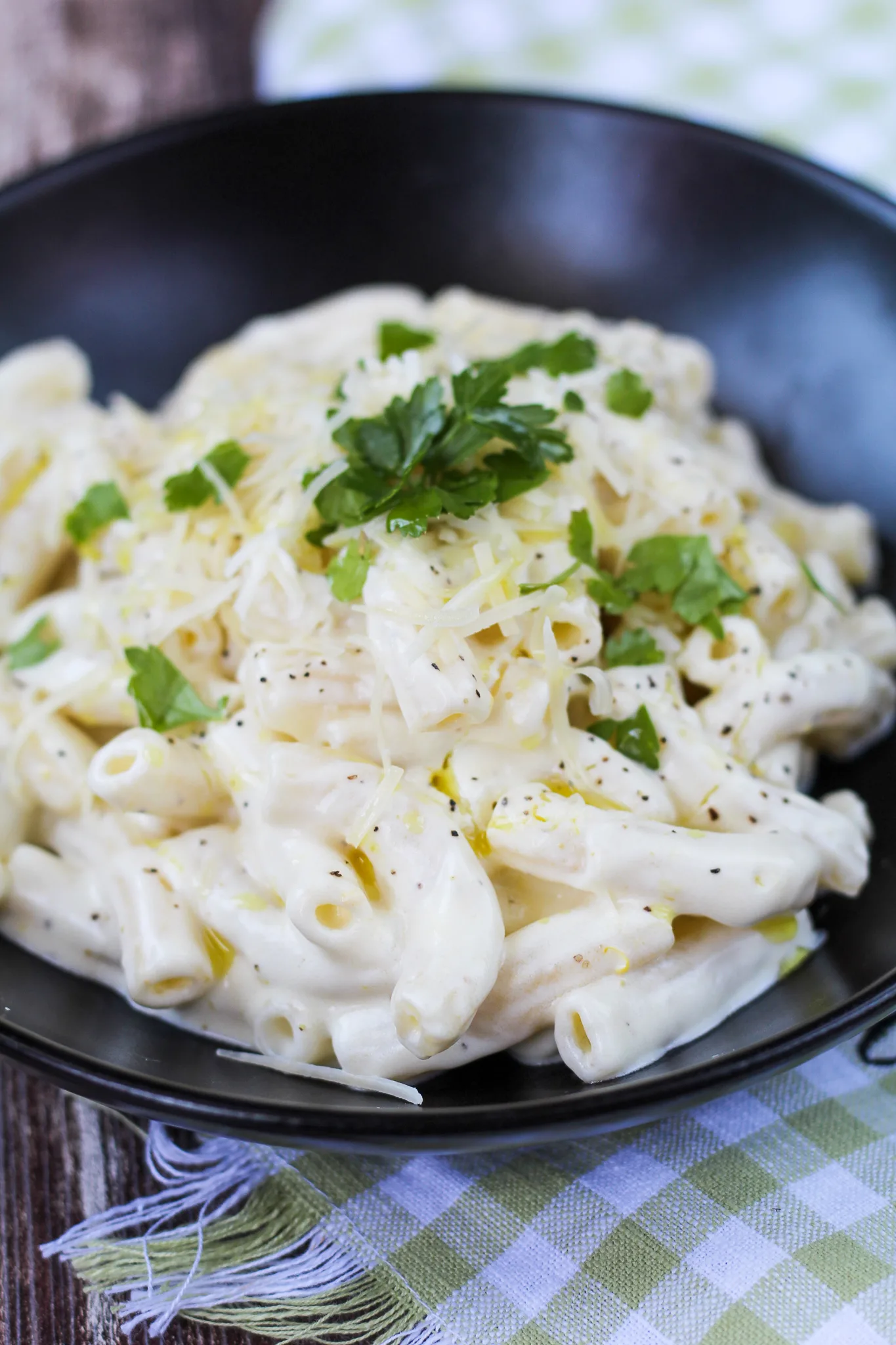 I love when Kayla and I have a girl's night in while the guys are out doing guy things.
We love it when we have these nights to ourselves because it gives us the opportunity to create new foods like this delicious easy 15 minute Lemon Pasta, and spend some quality time together.
We both were in a pasta mood so I decided to do some browsing and find a delicious new pasta recipe. I came upon a Baked Lemon Pasta recipe from the Pioneer Woman that I knew I could twist and adapt to fit our style.
Of course, if Pioneer Woman recipes are your thing, you should check out my Pioneer Woman Lemon Bars recipe. Here is a round-up list of delicious Pioneer Woman recipes as well.
I loved the flavors of this creamy and delicious Lemon Pasta. I did not bake mine as the Pioneer Woman did and it still turned out fabulous. This one is quickly becoming a favorite in my home.
How to Easily Make This Lemon Pasta Dish
Serve this pasta dish with some crusty no-knead bread and a delicious Kale salad.
This entire meal costs me around $6 to make for the whole family (enough to feed a family of 6-8)! It was filling, delicious and so inexpensive that I will be making this again real soon!
What makes this such an easy dish to make is that there are really no proteins or sides to prepare.
Cook your pasta and make the sauce. Mix together and then dinner is done! But if you want to take it up a notch, finish the dish with a drizzle of La Tourangelle Avocado Oil Spray.
The way the bottles are made, you can spritz, drizzle or spray on your food. It really brought out the flavor in this easy lemon pasta dish.
The Best Cheese for This Dish
Make sure that if you are making this recipe, splurge and buy real Parmesan Cheese. Do not use the stuff in the can. Fresh Parmesan makes this dish taste so much better in my opinion.
So — put on your favorite PJs, put on a girl's movie, and make this for dinner tonight. You will have the best time hanging out and eating a delicious and quick dinner made by you!
What have you made lately? What is your favorite quick weeknight dinner?
Looking for other delicious quick dinners? Here are a few we have whipped up lately —
Enter to Win
a Rafflecopter giveaway
Check out the amazing prizes you can win in our #LemonWeek Giveaway!
Prize #1: Rodelle Prize Pack
Rodelle Prize Pack includes:
2 count Gourmet Madagascar Vanilla Beans
2oz Almond Extract
4oz Natural Baker's Extract
4oz Vanilla Paste
8oz Gourmet Vanilla Extract
25oz Organic Baking Cocoa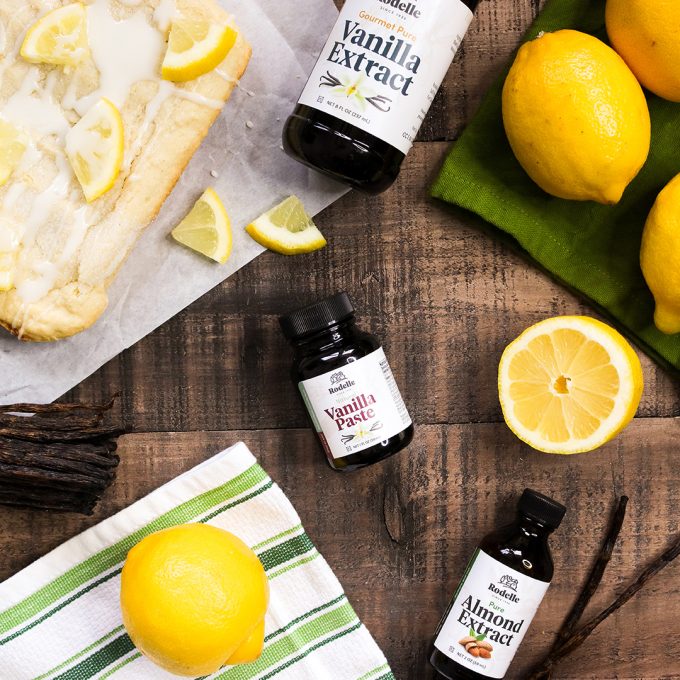 Prize #2: La Tourangelle Prize Pack
La Tourangelle Prize Pack includes:
Extra Virgin Olive Oil
Roasted Walnut Oil
Regenerative Sunflower Oil
4oz Vanilla Paste
Fleur de Sel Almond Butter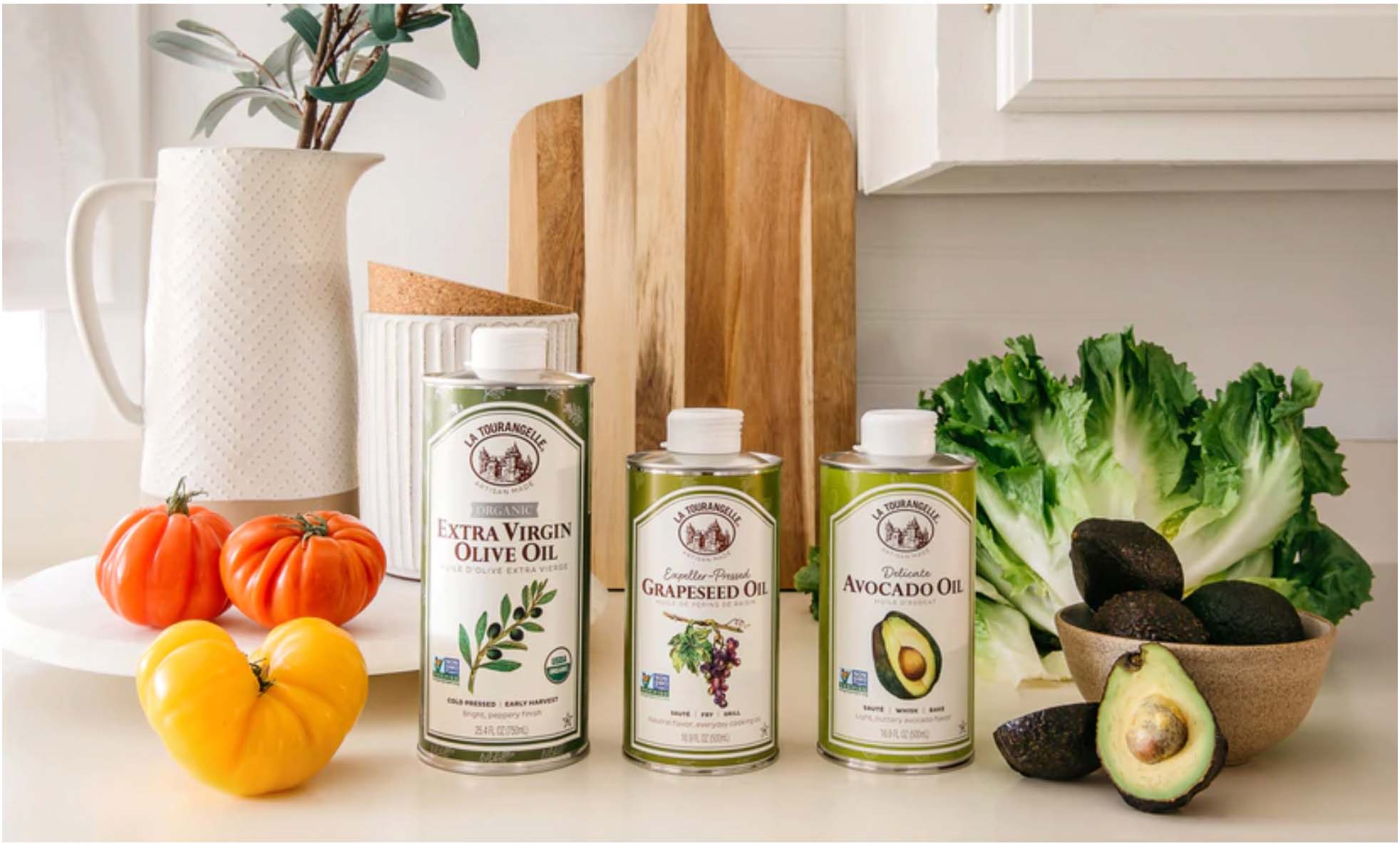 Monday #LemonWeek Recipes
Yield: 6 servings

15 Minute Lemon Pasta

A delicious and yummy lemon pasta dish that will be on the table in 15 minutes.

Ingredients

12 ounces of your favorite style of pasta (I used gluten free ziti)
4 Tablespoons Salted Butter
2 Tablespoons Olive Oil
2 cloves Garlic, Minced
1 whole Lemon, Juiced And Zested
2 cups Sour Cream
1/2 teaspoon Kosher Salt, Or More To Taste
Plenty Of Freshly Grated Parmesan Cheese
Flat-leaf Parsley, Chopped
Extra Lemon Juice
La Tourangelle Avocado Oil spray (optional)

Instructions

Cook the pasta according to the directions on the box.
Drain the pasta and reserve a cup of the cooking liquid. Set everything aside.
In a skillet, melt butter with the olive oil over medium-low heat. When butter is melted, add minced garlic. Squeeze lemon juice into the pan. Turn off the heat.
Add the sour cream to the butter mixture. Add lemon zest and salt. Stir everything together and then taste. You might want to add some more salt if it needs it.
Pour sour cream mixture over drained pasta and stir together. If the sauce seems too thick, use some of the pasta water to loosen it up a bit.
Move it to a beautiful serving bowl and then sprinkle with Parmesan cheese and parsley.
Sprinkle lemon juice over the pasta one more time if you want to. If you want to finish it off, add a drizzle of the La Tourangelle Avocado Oil Spray.

Nutrition Information:

Yield:

6

Serving Size:

1 Amount Per Serving:

Calories:

377

Total Fat:

30g

Saturated Fat:

14g

Trans Fat:

1g

Unsaturated Fat:

12g

Cholesterol:

66mg

Sodium:

206mg

Carbohydrates:

22g

Fiber:

1g

Sugar:

3g

Protein:

6g