This easy loaded baked potato soup recipe is simple to make. It is so rich, thick, and creamy. If you love baked potatoes, then you are sure to love this soup that is packed into this hearty meal.
This soup is super hearty, and the best part is that you probably have most of the ingredients on hand! Everyone will crave this quick dinner this fall and winter.
My family loves when soup season rolls around. Some of my most popular recipes are my Turkey and Quinoa Chili, my hearty taco soup, and my favorite — delicious beer cheese soup.
The minute the weather changes, I feel like George Castanza — I gotta focus — I'm shifting into soup mode.
This recipe is great because there is no beforehand cooking. Just peel, dice, chop, and dump it all in one pot to simmer.
What you'll need to make Loaded Baked Potato Soup
Bacon – Instead of using butter or oil in this recipe, the bacon grease from cooking the bacon adds a lot of great flavor.
Onion – Any onion is great in this recipe — yellow, white, and my favorite — Vidalia because they are sweet.
Potatoes – Russet potatoes are best in this soup
Flour and half and half – You can switch this up and use milk if you don't want to use half and half
Chicken broth – The broth adds a lot of body and flavor to the soup
Garlic – This is my go-to for most recipes. I use garlic like people use salt and pepper. I like to mince it with this garlic press since you avoid sticky garlic fingers, and there's no peeling of the cloves needed. If you do get garlic on your hands, I use this Rub-away tool to get the smell off.
Toppings – I chose sour cream for that classic baked potato flavor and creaminess, scallions for a pop of freshness, and freshly grated sharp cheddar along with the bacon!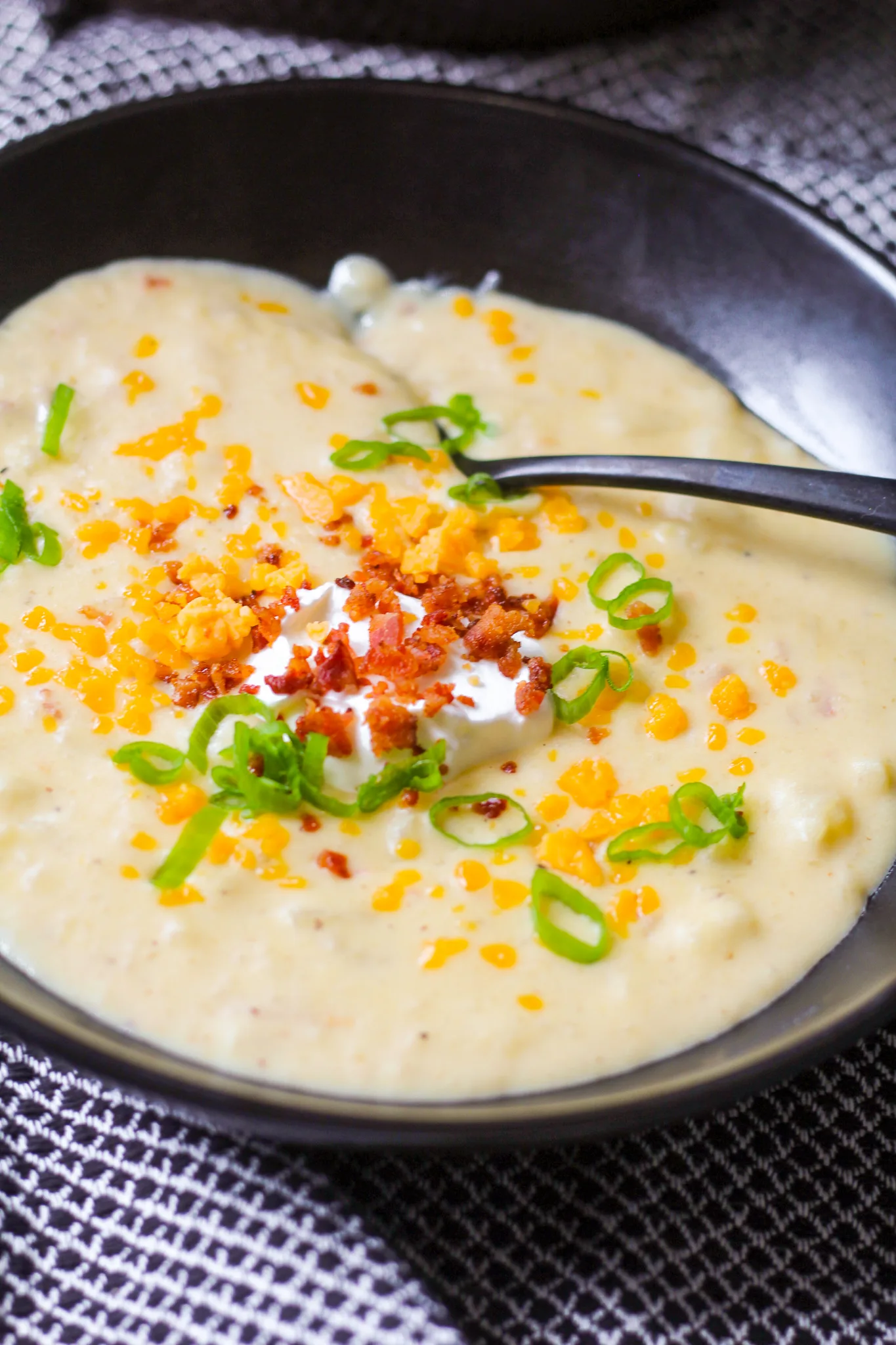 For this recipe, like I stated above, Russet potatoes are the best to use. The other potato varieities are more waxy where the Russet falls apart when steamed or baked.
In the grocery store, they may be labeled as baking potatoes. They have a nice brown exterior. When cooked, the starch in the potato helsp thicken the soup nicely.
I peeled them, but you could always scrub them and skip the peeling step. It's totally up to you!
When the potatoes have cooked, I like to use a potato masher to mash some of the potatoes up. However, if you like all the potatoes to be whole, you can skip this step.
For sides for this dish, you can serve my delicious Cheesecake Factory Honey Wheat Bread and a Kale Salad.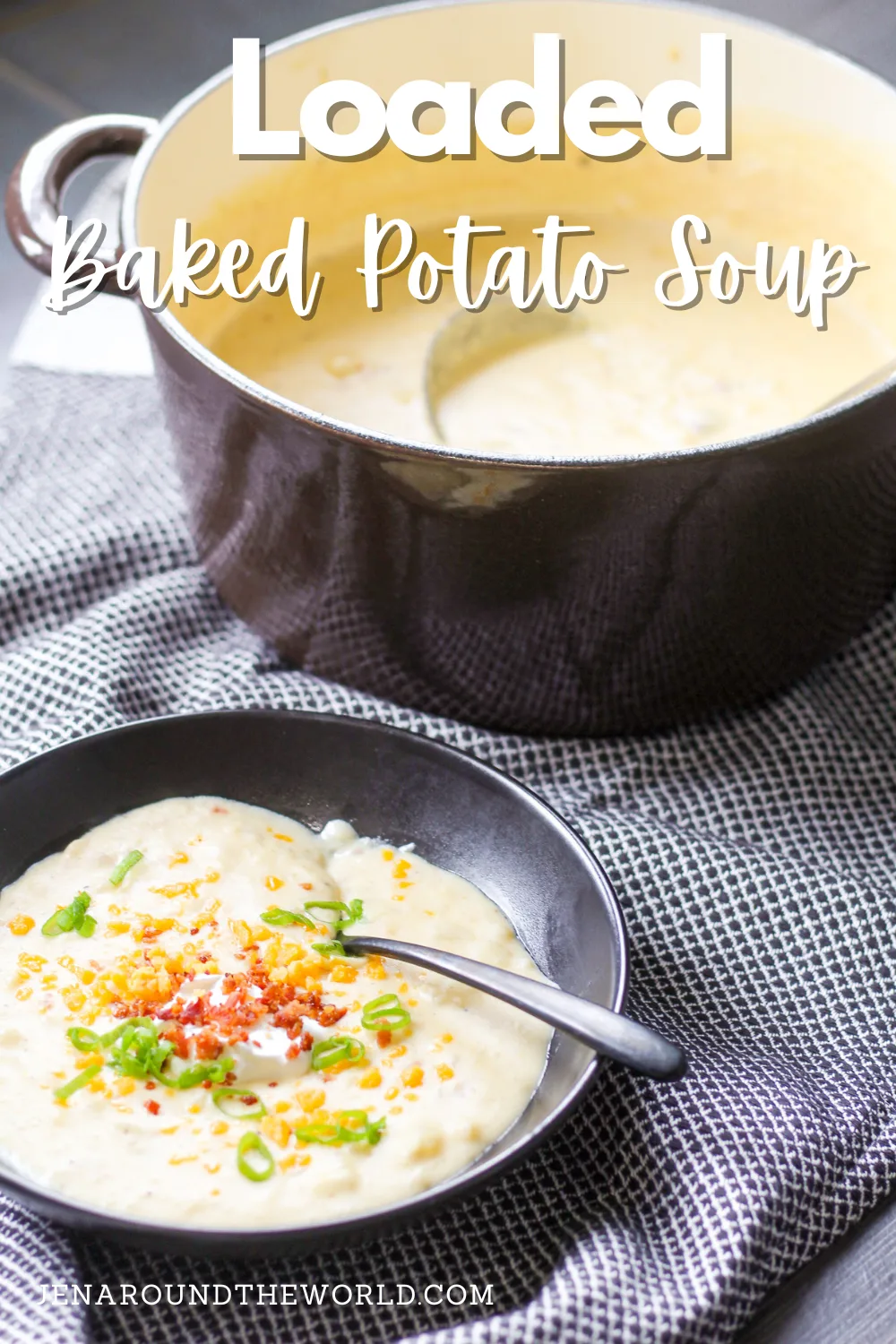 How to Store This Delicious Soup
This soup is best eaten within the first day of making it. You can store the leftovers in the fridge no longer than 3 days. Place in an airtight storage container.
Reheat the soup by adding more chicken broth. After being in the fridge, the potatoes will continue to release starch and thicken the soup.
Just reheat on low and stir often until heated through. Then top with all your favorite baked potato toppings.
Yield: 6 servings
Loaded Baked Potato Soup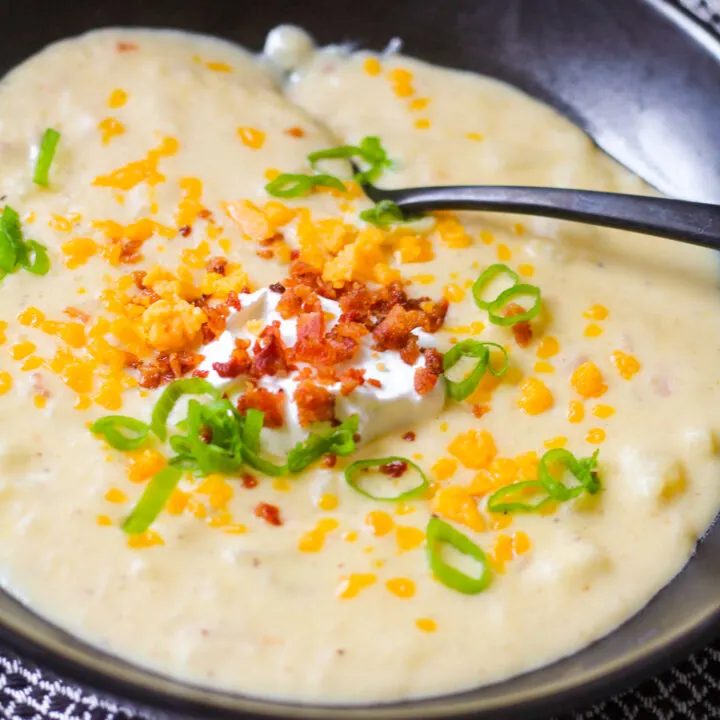 All your favorite baked potato vibes in a hearty thick soup! The family will love this one and it's ready in 30 minutes.
Ingredients
6 strips bacon cut into small pieces
1/2 medium onion chopped
4 large Russet potatoes diced
1/4 cup flour
2 cups whole milk
2 cups of half and half
1 cup chicken broth
2 cloves garlic minced
1 cup grated cheddar cheese or more to taste
3/4 cup sour cream or more to taste
Salt & pepper to taste
Scallions chopped, to taste
Instructions
Chop the bacon and add it to a soup pot. Fry the bacon over medium-high heat until it's nice and crispy.
While the bacon is cooking, chop the onion and peel and dice the potatoes.
Once the bacon is done, take it out of the pot and set it aside. Leave the bacon fat in the pan.
Add the onion and the garlic to the pot and sauté it for 5 minutes.
Stir in the flour and cook it for about a minute.
Whisk the milk and half and half in slowly until the flour has nicely melted into it and there are no clumps.
Add the chicken broth and potatoes.
Scrape up any brown bits from the bottom of the pot. Now, turn up the heat to high.
When the soup is almost boiling, reduce the heat and cover the pot with the lid slightly ajar. Let the soup simmer for 20 minutes (you want it to be simmering fairly gently).
While the soup's cooking, get the cheddar, scallions, and sour cream ready.
After 20 minutes, mash the potatoes a little bit right in the pot, but if you want to leave the potatoes as-is, that's fine too.
Stir in the sour cream and most of the cheddar and bacon. Season the soup with salt & pepper as needed.
Top each bowl with the scallions and remaining cheddar and bacon.
Nutrition Information:
Yield:
6
Serving Size:
1
Amount Per Serving:
Calories:

556
Total Fat:

27g
Saturated Fat:

15g
Trans Fat:

1g
Unsaturated Fat:

10g
Cholesterol:

84mg
Sodium:

642mg
Carbohydrates:

58g
Fiber:

5g
Sugar:

11g
Protein:

20g