Making sourdough pasta has become one of my absolute favorite things to do. No need for a fancy KitchenAid pasta attachment either. You can use a manual pasta attachment and make delicious homemade sourdough pasta anytime you want.
Using my sourdough starter to make a ton of sourdough discard recipes is one of my favorite things to do. There are endless recipes out there and so many ways to use them.
But for the time being, let's talk about how to make this amazing homemade pasta.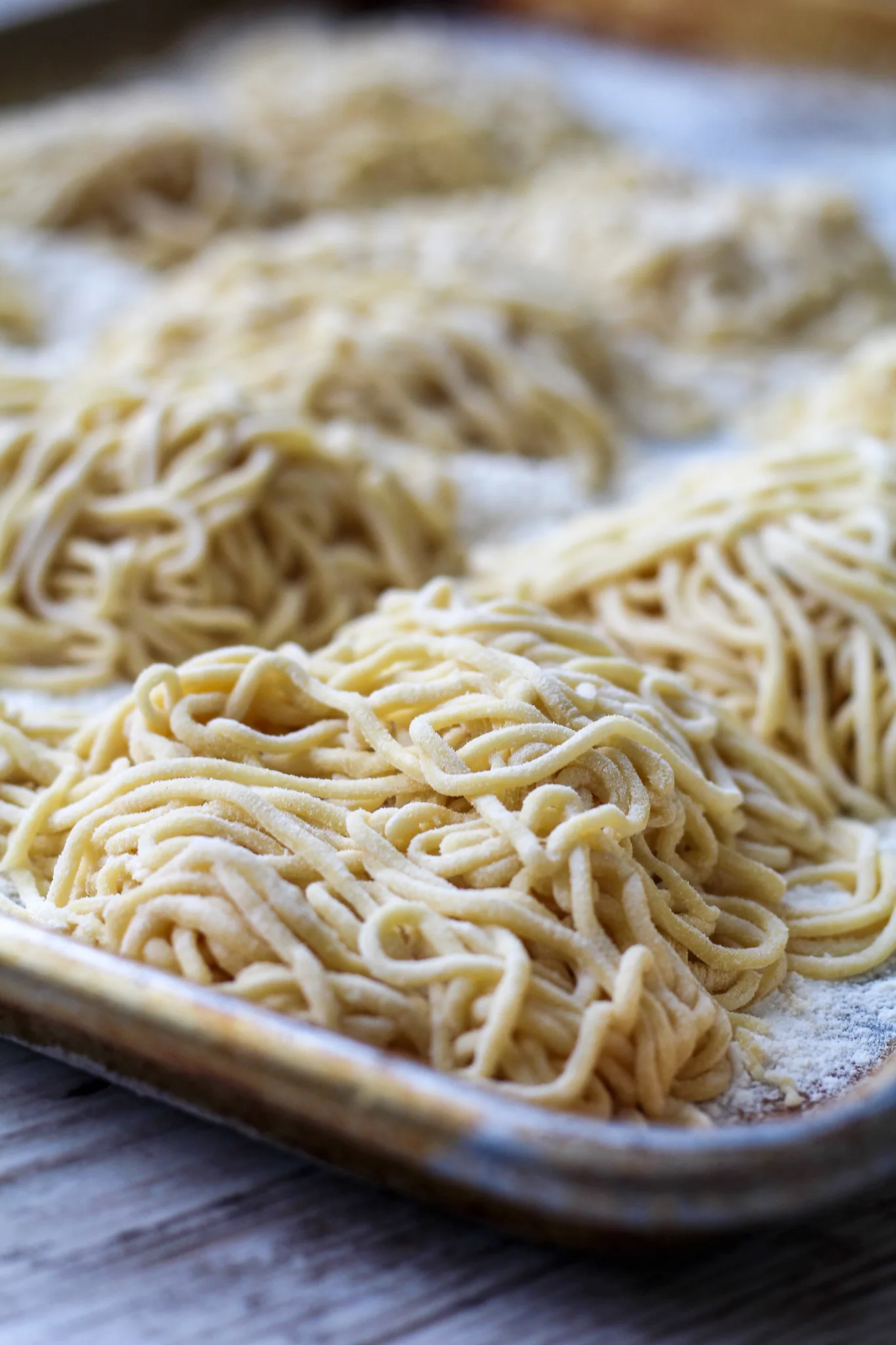 Now that I have learned how to make so many amazing sourdough products, I don't buy these things at the store anymore. Homemade tastes WAY better in my opinion.
If you love sourdough, be sure to check out my recipes for Sourdough Discard Bagels, Sourdough Discard Brownies, Sourdough Artisan Loaf, and Sourdough Discard Cinnamon Rolls.
How to Make Sourdough Pasta
This recipe is literally 3 ingredients and takes NO time to prepare. Using the manual pasta maker will make it simple as well.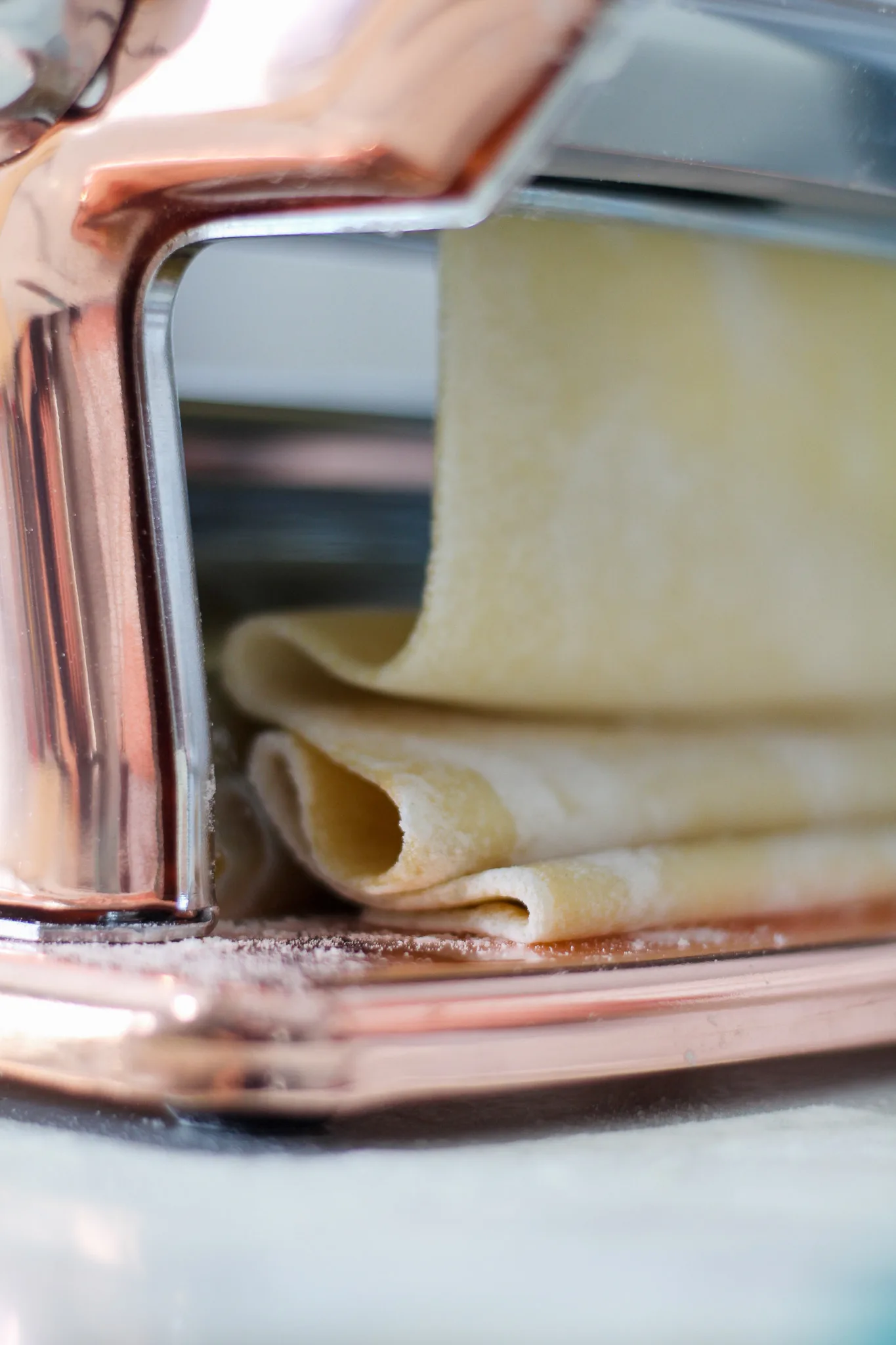 I make this pasta recipe using the sourdough discard from my starter.
What is Discard?
I get asked this question a lot — "what is discard?" Discard is the amount of starter that is left after feeding your starter. You have to pour some out in order to feed your starter. Many people just toss this out, however, I keep mine in the fridge to make other recipes with!
One of my husband's favorite recipes I make with the discard is these Sourdough Discard Dinner Rolls.
Cutting the pasta
Once you have the pasta sheets rolled out, simply use the other cutter on the machine to make either spaghetti noodles or fettuccini noodles.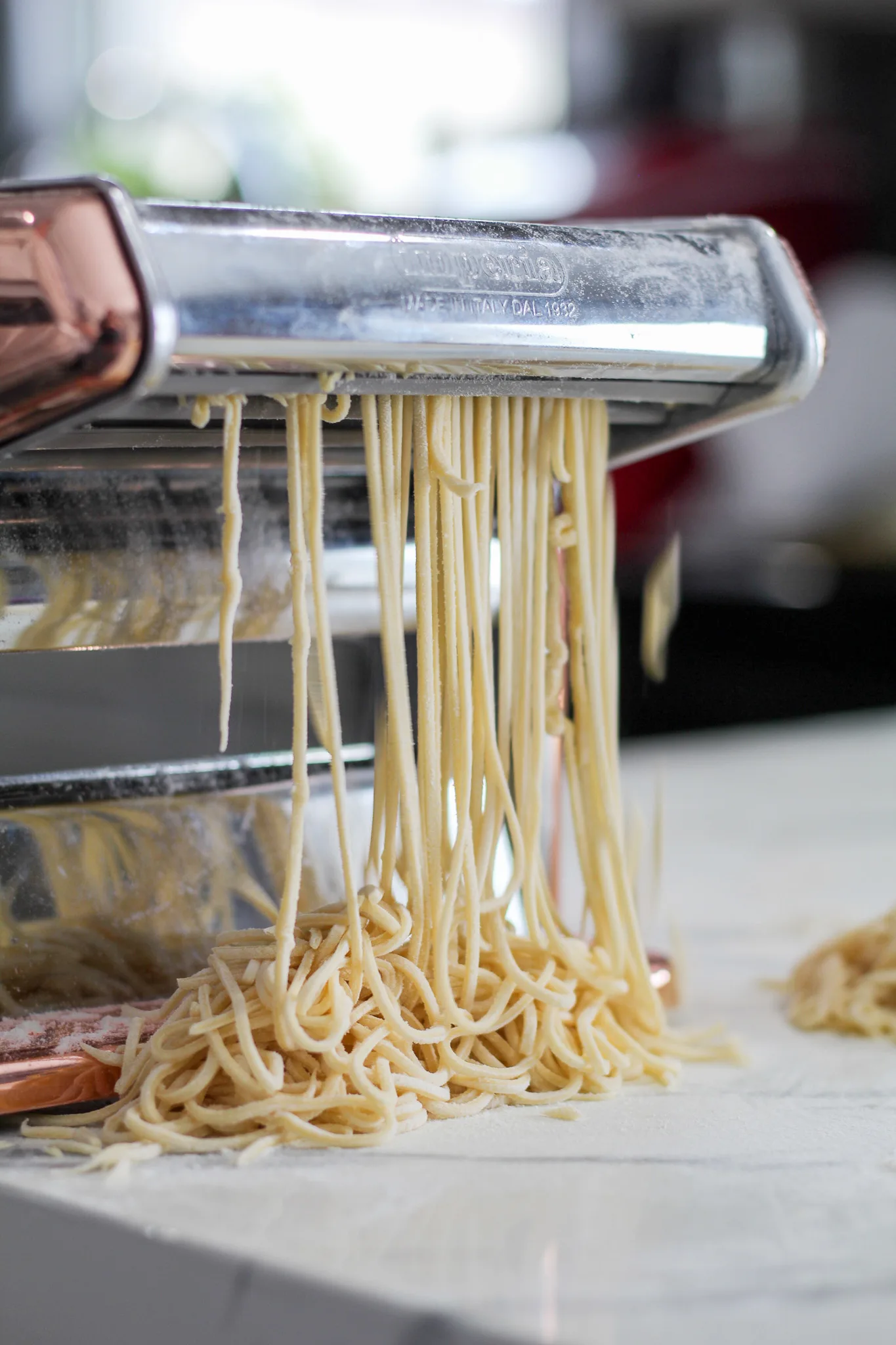 Whenever I make homemade noodles, I usually double the batches. Then, I freeze it once it has dried (you can learn about drying fresh pasta from that link).
Cooking takes less than 7 minutes. Usually, about 2 to 3 minutes is all that is needed for fresh.
I like to serve pasta with my homemade Alfredo sauce or my homemade spaghetti sauce.
If you want to try your hand at making sourdough recipes, make sure you have all the right tools. This kit from Amazon has everything you will need in it.
Check out these other delicious pasta recipes
Yield: 4 servings
Sourdough Pasta
Make homemade pasta using your sourdough starter and a couple of other ingredients.
Ingredients
100 g Sourdough Starter Can be discard or active starter
250 g Bread Flour All purpose is fine too
2 Eggs
Instructions
On a clean countertop, pour out the flour, making a well in the center.
Crack the eggs into the center of the flour and then pour the sourdough starter on top of the eggs.
Using a fork, gently beat the eggs and the sourdough starter together, gradually bringing in some of the flour.
Once the flour, eggs, and sourdough starter are roughly combined into a dough, knead the pasta by hand until it forms a smooth dough. If the dough is sticky, add a little more flour until you achieve the right consistency.
Set the dough aside for 30 minutes and cover with a damp cloth.

Once the dough has rested for 30 minutes, it's time to roll, cut and cook the pasta.
You can use a rolling pin or a pasta machine to roll out the dough.
Use plenty of flour on the surface of the dough to stop the dough from sticking to either the rolling pin or the pasta machine.
Once the dough is cut to the desired shape/length, set it aside with extra flour on it to keep it from sticking while you get the water boiling for pasta.

To cook the pasta -- boil water in a pot with some salt. Once the water is boiling, add in the pasta and cook for 2 to 3 minutes or until the pasta is al dente.

Serve with your favorite sauce.