Air Fryer Zucchini Fries are super crispy and golden on the outside, yet moist and tender on the inside. Because they are baked in the air fryer, they are not oily at all!
If you are missing out on your daily dose of french fries, try making a batch of these to go with your Blackstone Smashburgers! They use spray oil on the top, therefore, they are a healthier option than regular deep fried french fries.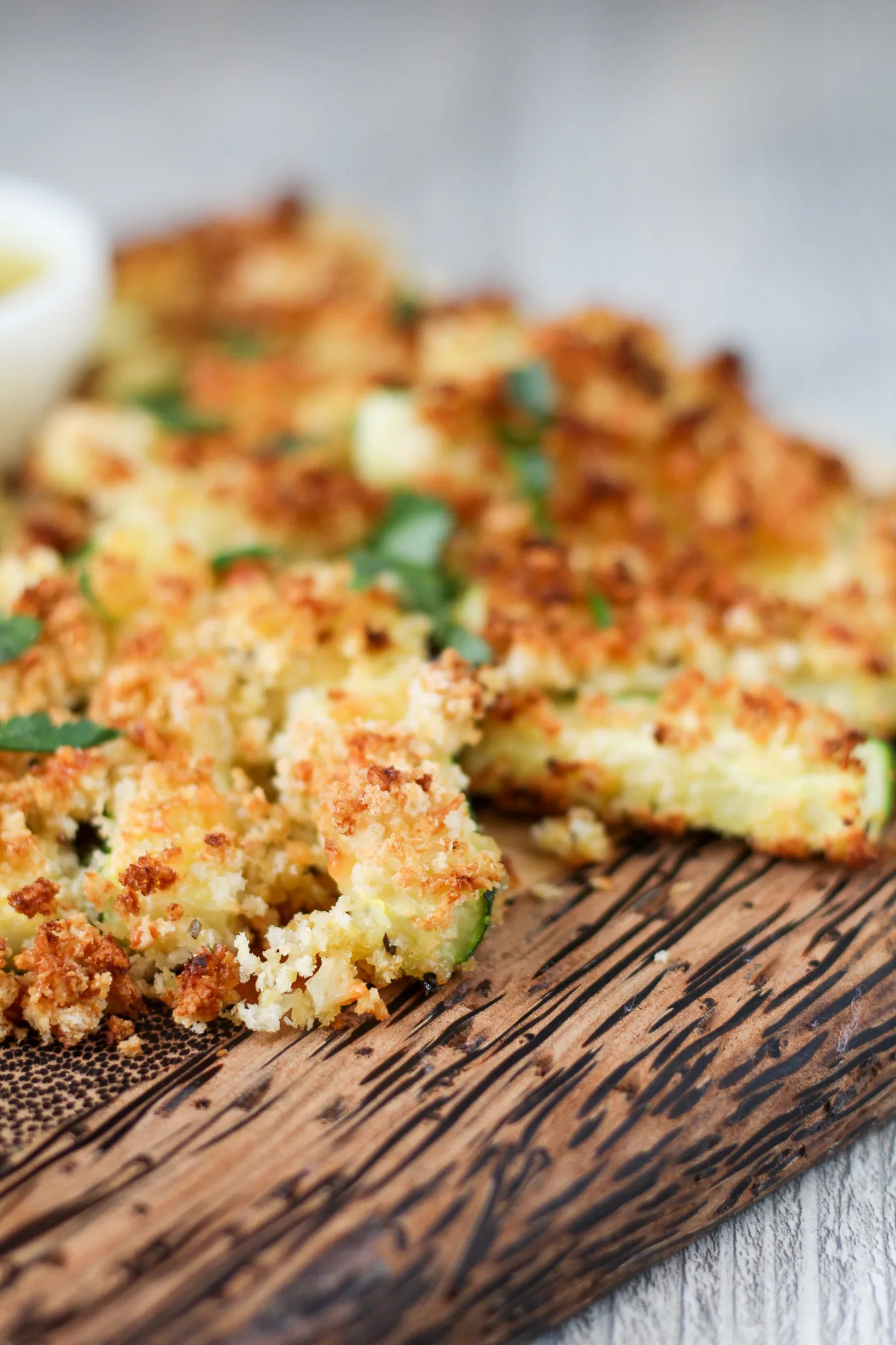 These fries are coated in a Panko/Parmesan crust mixture. Dip them in a lemon vinaigrette or some Tzatziki sauce.
How to Make This Healthy Side Dish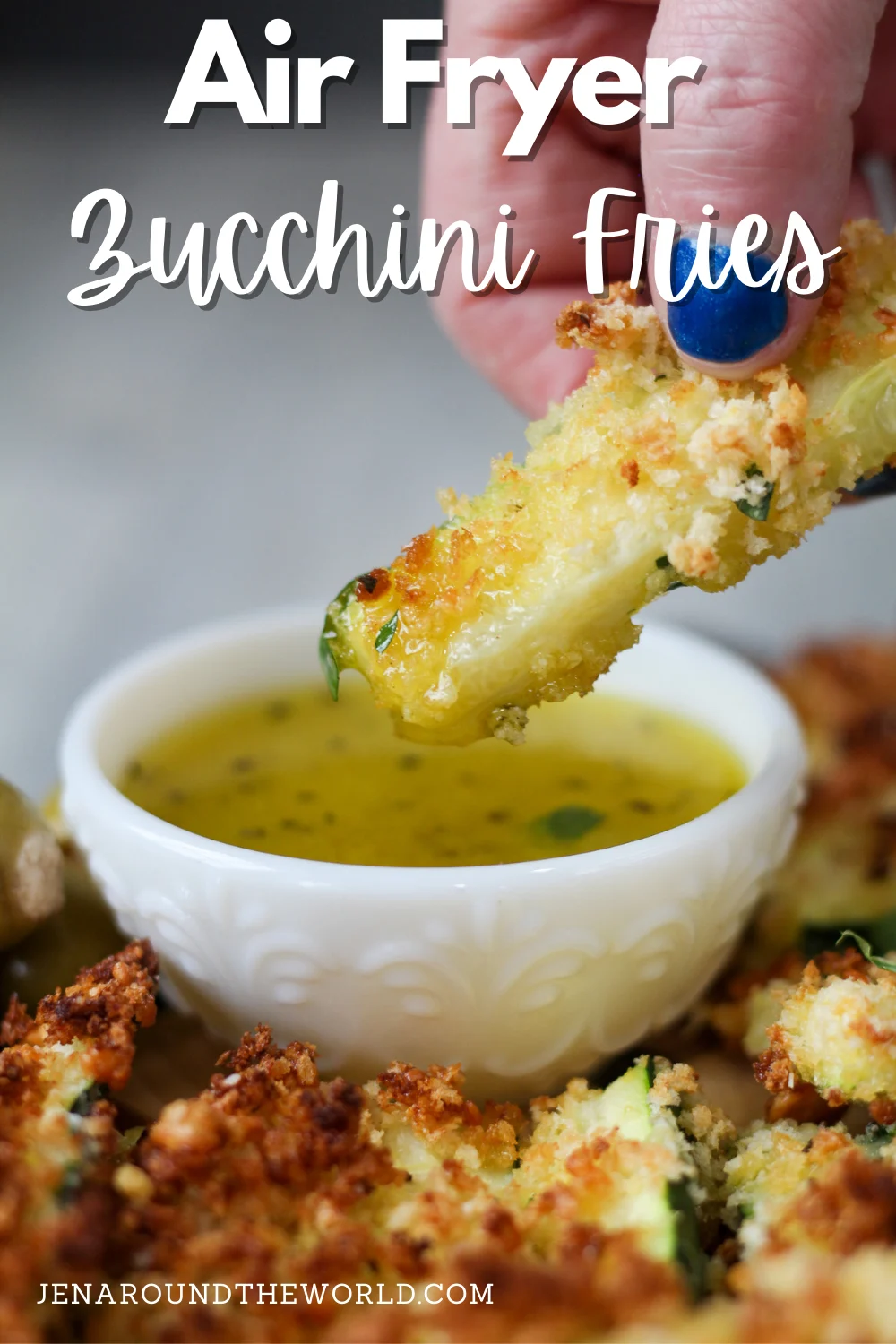 These delicious Air Fryer Zucchini Fries are just the thing to satisfy your craving without any of the guilt.
Making these are simple and easy! Make the dredge –combine the egg, salt, and garlic. Whisk them together with a fork.
Now, cut the zucchini into strips and then dip each one into the egg mixture.
Combine the panko bread crumbs, Parmesan, and salt in a bowl. Dip each zucchini stick into the bread mixture, making sure it is coated on all sides.
Spray cooking spray on the air fryer basket and then place your zucchini sticks inside. Spray the tops and sides of the zucchini with the cooking spray.
Preheat the air fryer for 10 minutes. Now, bake your zucchini fries in the air fryer for about 8 minutes at 400 degrees Fahrenheit. Serve with your favorite dipping sauce.
To make sure that you get the zucchini nice and crispy, you can release some moisture from them by sprinkling them with salt and laying them on a paper towel for 20 minutes before breading and baking them.
Love Air Fryer Recipes? Check These Out!
Yield: 6 servings
Air Fryer Zucchini Fries
Delicious and crispy zucchini fries that are coated in a crunchy panko/parmesan coating.
Ingredients
For the coating
1/2 cup panko bread crumbs
1/2 cup plain bread crumbs
1/4 cup grated Parmesan cheese
For the dredge
1 large egg
1 garlic clove
1/2 tsp salt
Instructions
Combine the egg, 1/4 tsp salt, and minced garlic.
Then slice the zucchini into strips. Lay them on a paper towel and sprinkle them with salt. Let them sit for 20 minutes.
Now, dip them in the egg mixture.
Combine panko bread crumbs, plain bread crumbs, grated Parmesan, and salt in a bowl.
Then dredge the zucchini fries into the breading mixture.
Preheat the air fryer to 400 for 10 minutes.
Spray the bottom of your air fryer basket with cooking spray and place the breaded fries on top. Then spray the top and sides of the fries with cooking spray as well.
Ari fry at 400 degrees Fahrenheit for about 8 minutes.
Nutrition Information:
Yield:
6
Serving Size:
1
Amount Per Serving:
Calories:

106
Total Fat:

3g
Saturated Fat:

1g
Trans Fat:

0g
Unsaturated Fat:

1g
Cholesterol:

35mg
Sodium:

414mg
Carbohydrates:

15g
Fiber:

1g
Sugar:

2g
Protein:

5g