One of my absolute favorite beach areas to visit are those beaches scattered along the Alabama Gulf Coast. We have been going to the beach now for several years and I have been to several.
Since the beaches will be opening again on April 30th, at 5pm, its time for us to start making those beach plans again — our family included!
We don't normally stay in condos when we go to the beach. We prefer the personal beach houses — and today I am sharing about my 5 that would be the perfect locations for your family beach vacations.
These beach houses range from large — holding 28 people, to the smallest beach house for a family of four. I've had the privilege of being right on the beach, and then there are those where we had to stay across the road from the beach.
Now that states are beginning to open back up and travel will be happening again soon, I wanted to give you some options if you are making to plans to head to the beach in the next few months.

The Best 5 Beach Houses Along the Alabama Gulf Coast
#1 Barefoot Property in Fort Morgan, Alabama
The best beach house that I have ever stayed in has always been The Barefoot Property in Fort Morgan, Alabama. This beach house is managed by Harris Properties Management.
This is the biggest beach house we have stayed in. It has enough rooms to sleep 28 people and has its very own personal pool. It is just steps from the beach and also offers an elevator to get you from all three floors.
Click here to check out this amazing beach house.
I like staying at Fort Morgan, because it is only about 15 minutes from Gulf Shores. You get the seclusion and having your personal beach right there without having to deal with a lot of people — if that is what you are going for.
Pets are also welcome in Fort Morgan on the beach.
#2 Dauphin Tale Beach House in Dauphin Island
My second favorite beach house on the Alabama Gulf Coast can be found on Dauphin Island. We stayed here last year and we had the best time.
This beach house was only about 50 feet from the beach. We only had a couple of neighbors so it was always a refreshing moment to sit on the beach and take in all the sounds of the ocean.
We used Vacasa to rent this house and it worked out great for us.
I will tell you that staying on Dauphin Island is great, you are very far from the grocery store and other things. It is an hour's drive to Gulf Shores from Dauphin Island (or you can ride the ferry for a 45-minute ride). The beach house is worth it though.
Pets are also welcome on the Dauphin Island beaches.
Click here to check out this amazing beach house from Vacasa.
#3 Always Summer Beach House in Gulf Shores, Alabama
If you like to be upfront and center and around everything, the Always Summer Beach House located right in Gulf Shores is where you need to be.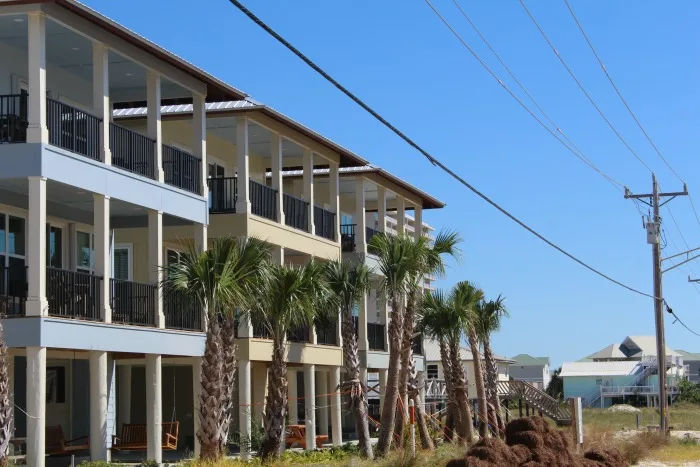 The Always Summer Beach House is a newer addition of properties so I was excited to try it out and see which I preferred more — being in town or more secluded.
These beach houses are in a community situated closer together. It is literally minutes from all the places to eat and shop. You are also across the road from the beach.
To get to the beach, you have to walk across the road. Also — since this is in town where the populated beaches are, pets are not permitted on these beaches.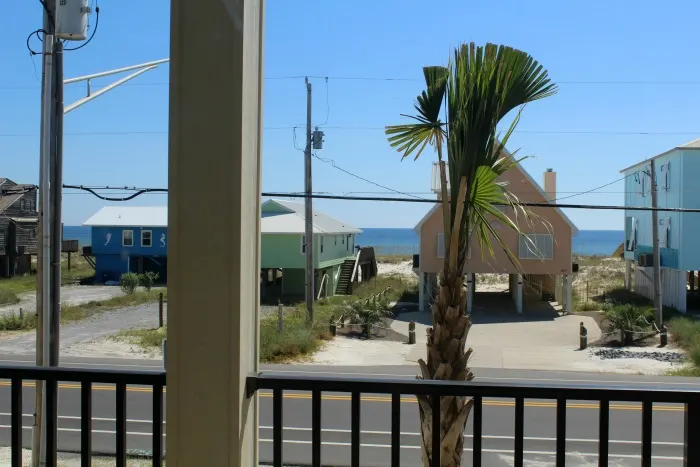 This beautiful home was the perfect size for our family. It offered 4 bedrooms and 4 bathrooms and sleeps 14 people. Everyone had their own space which made for some great downtime for each of us.
Right from the getgo, I LOVE the fact that there are 2 stories, and each story offers a balcony with tons of seating area. If you were having a get together with friends and family, this would be perfect.
Click here to check out this amazing beach house.
#4 Moore Relaxin' in Fort Morgan
This is a pet friendly home I found on Vacasa that is only 3 bedrooms and 2 bathrooms.
It's not right on the beach, but offers a short walk and then you will be there!
The beach is just a short walk away from this home, and all the coastal vibes are free! If offers the perfect screened-in porch with views of the beach, perfect for a picnic!
Once you park and enter up to one flight of stairs, you will find the main level with the fully-equipped kitchen and comfortable living area that has been tastefully decorated with a beachy style.
Click here to check out this amazing property.
#5 Summer Wind Beach House in Fort Morgan
I found this little gem while searching for the beach house we are going to rent this year and immediately fell in love.
It is right on the beach just steps from the water and the best part? There is a community pool right next door!
It is managed by Harris Properties Management and sleeps 10 people.
Click here to check out this awesome property.
Finally
Now that you have a few beach houses to check out along the Alabama coast, where will you stay first?
Need some food recommendations? Check out this list of all the best places to eat in Gulf Shores and Orange Beach. While the restaurants are not open to dining yet, you can always call and order for curbside delivery!