This easy Blackstone Grilled Brussel Sprouts recipe is now one of my favorite ways to eat these little baby cabbages. If you have a Blackstone Griddle, you need to make these for dinner today!
A few months ago I finally invested in a Blackstone Griddle.
I have heard nothing but amazing reviews on them, so after checking them out, we headed out to the store and bought one for our family as well!
Since getting this, I have made SO many amazing meals on it. But my new favorite meal are these Blackstone Grilled Brussel Sprouts.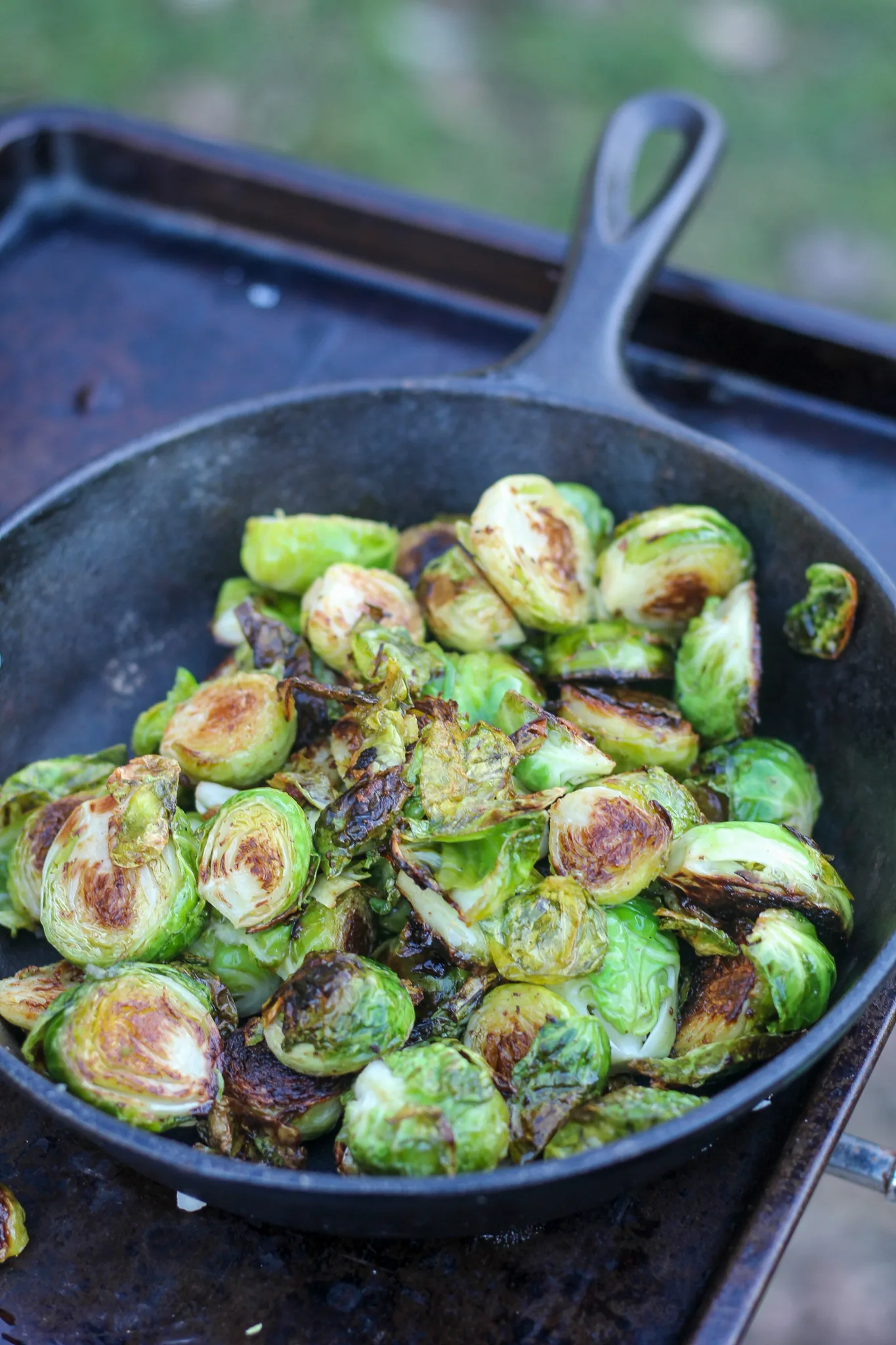 I like to serve them in my cast iron skillet that I keep on the Blackstone while cooking. This way, they stay warm and hot all the way from the stove to the table.
How to Make Blackstone Grilled Brussel Sprouts
Start by slicing off the ends of your Brussels, then slice them in half.
On the griddle, heat to medium heat. Drizzle on some butter and lay the Brussel sprouts cut side down.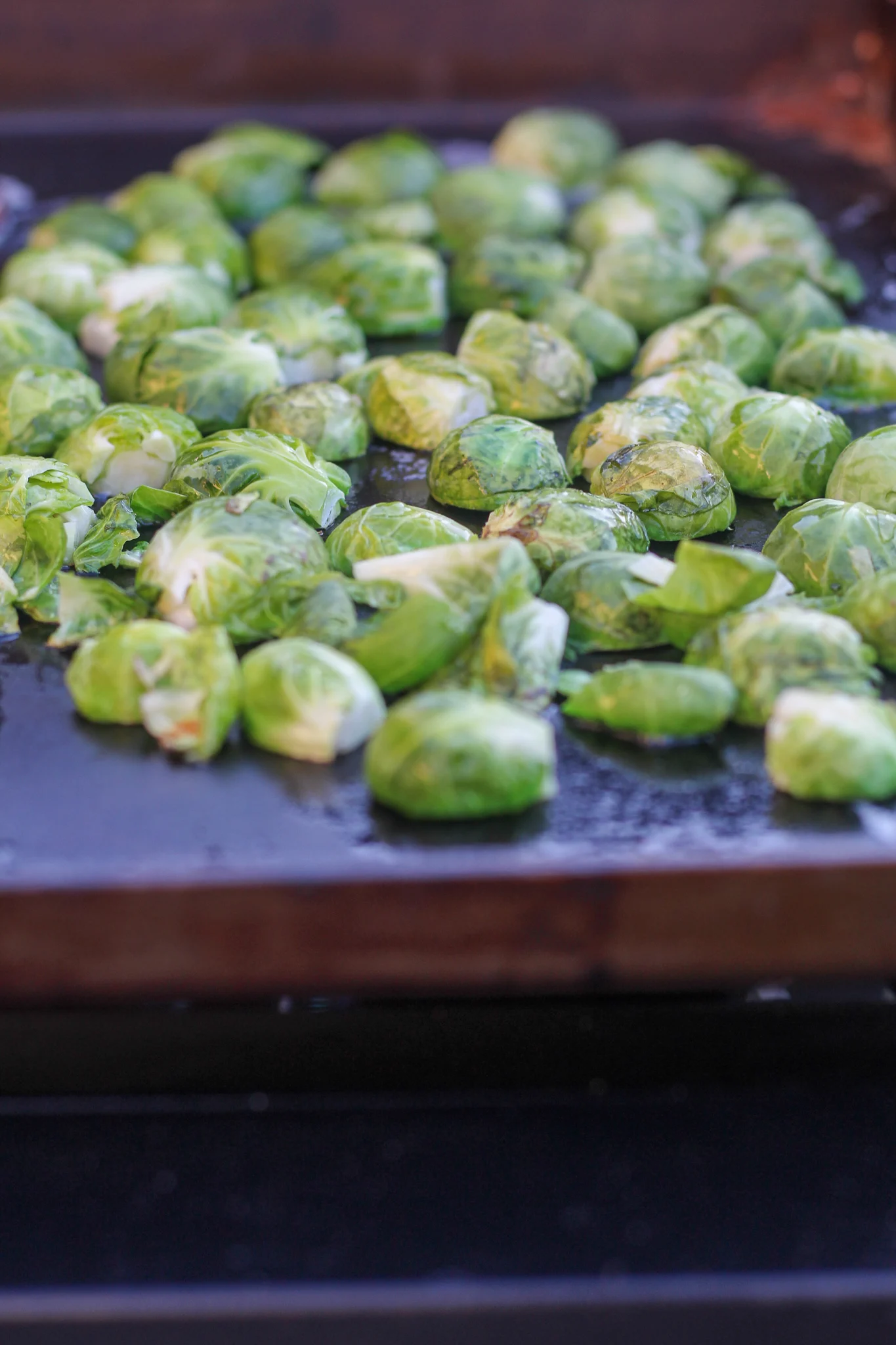 Let them cook like this for 3-4 minutes, or until the underside gets nice and toasty brown. Then, use the spatula to flip them all around and allow the rest of them to get golden brown.
I like mine extra crunchy so I leave them on to brown a little longer than other people do. The brownness is totally up to you.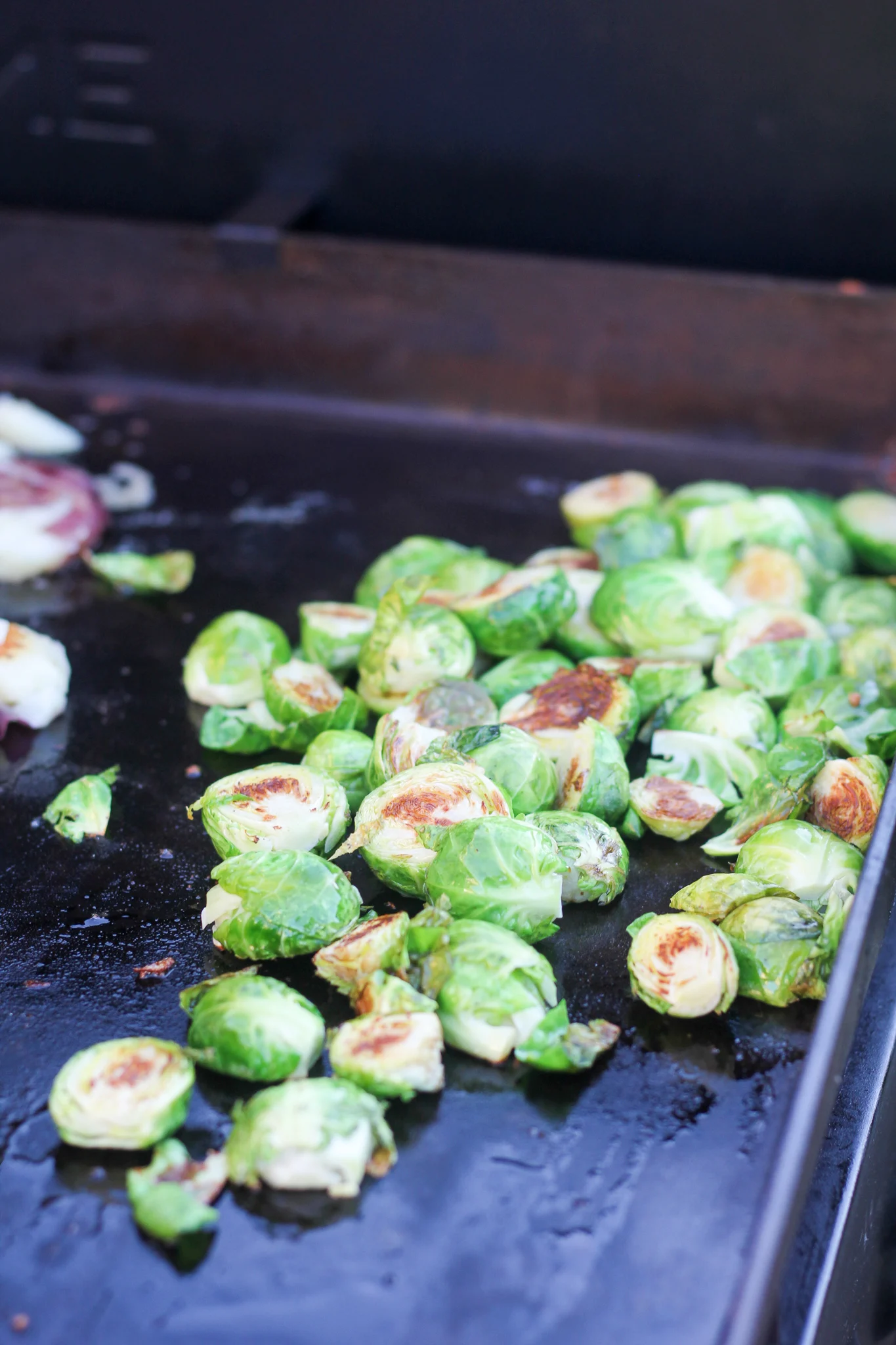 Right before serving, I use my Honey Butter Brussel Sprouts glaze and drizzle over them and let them caramelize before removing off the grill and placing in my cast iron skillet.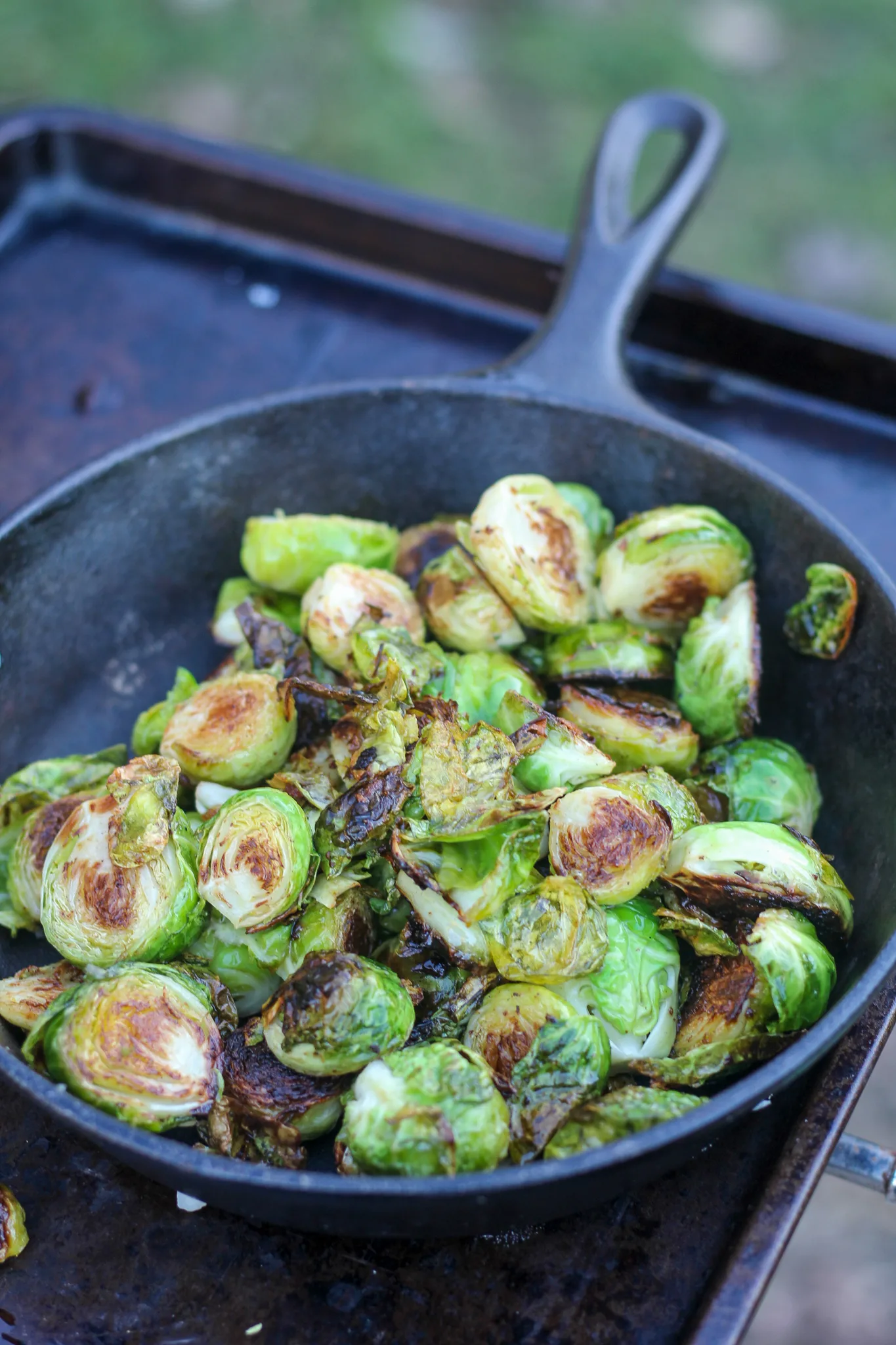 Check out these other Blackstone Griddle Recipes
Yield: 6 servings
Blackstone Grilled Brussel Sprouts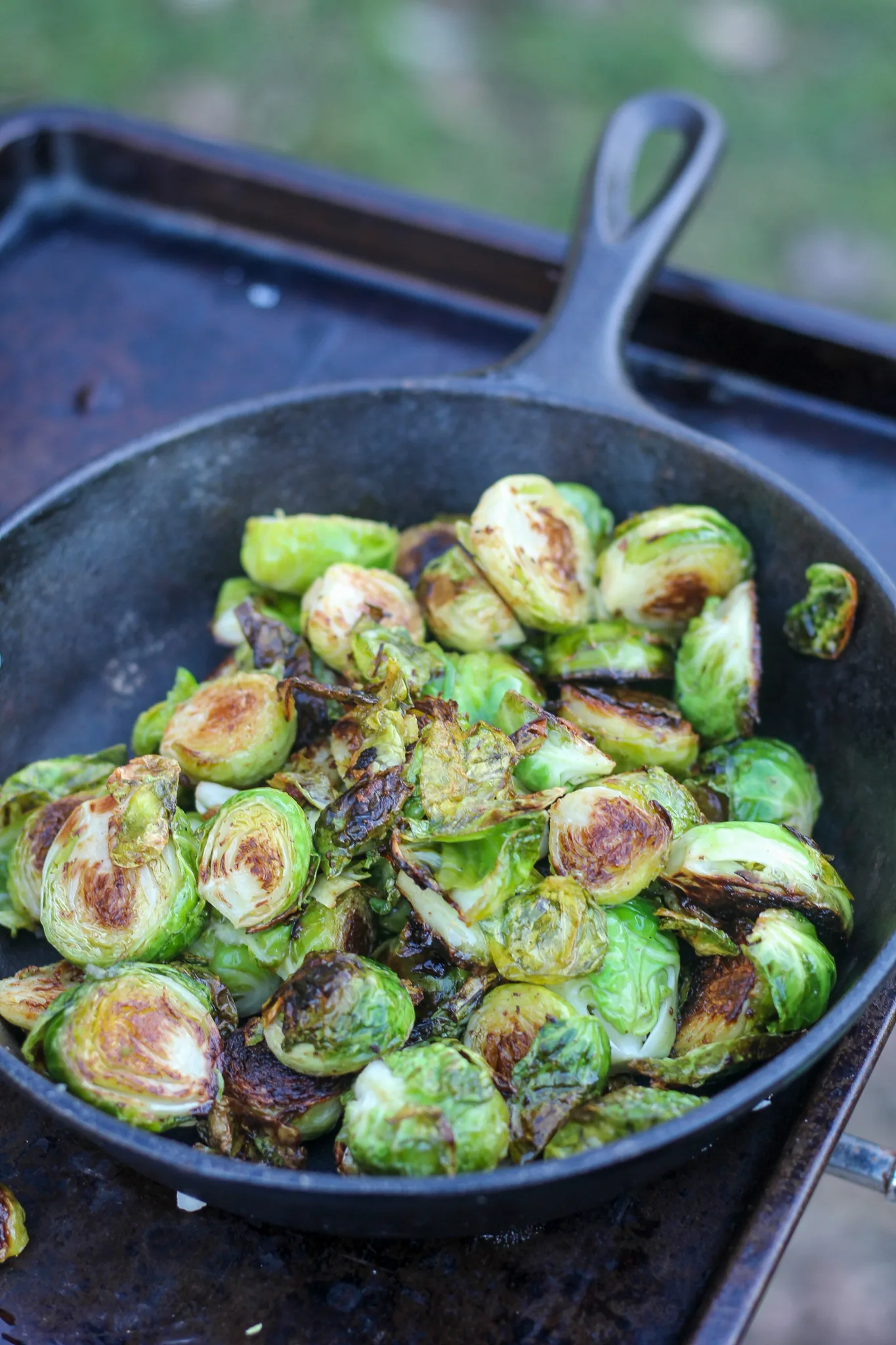 Best way to grill Brussel sprouts on the Blackstone Griddle.
Ingredients
1 bag of Brussel sprouts
4 tablespoons of butter, melted
2 tablespoons of honey
salt and pepper
Instructions
Heat Blackstone on medium heat.
Cut brussels in half and drizzle some butter onto the griddle.
Let them cook cut side down for 4 minutes or until the desired brownness has occured.
Using your spatula, flip the brussles and allow them to cook another 5 minutes or so until they are brown as you like them.
Now, mix the melted butter and honey together. Pour over Brussels and let them cook about 2-3 more minutes.
Remove from the griddle and serve.
Nutrition Information:
Yield:
6
Serving Size:
1
Amount Per Serving:
Calories:

91
Total Fat:

8g
Saturated Fat:

5g
Trans Fat:

0g
Unsaturated Fat:

2g
Cholesterol:

20mg
Sodium:

111mg
Carbohydrates:

6g
Fiber:

0g
Sugar:

6g
Protein:

0g