I was invited to a media event as part of #BloggingBranson sponsored by Stone Castle Hotel & Conference Center.
My stay at the hotel was provided at no cost to me. All thoughts, opinions, and ideas are my own!
If you are planning a trip to Branson, Missouri anytime soon and are looking for the perfect budget-friendly hotel to stay in, let me tell you all about my favorite hotel — Stone Castle Hotel & Conference Center.
During our last visit to Branson, we were invited along with other bloggers to stay in and experience all that Stone Castle Hotel & Conference Center has to offer.
All About Stone Castle Hotel & Conference Center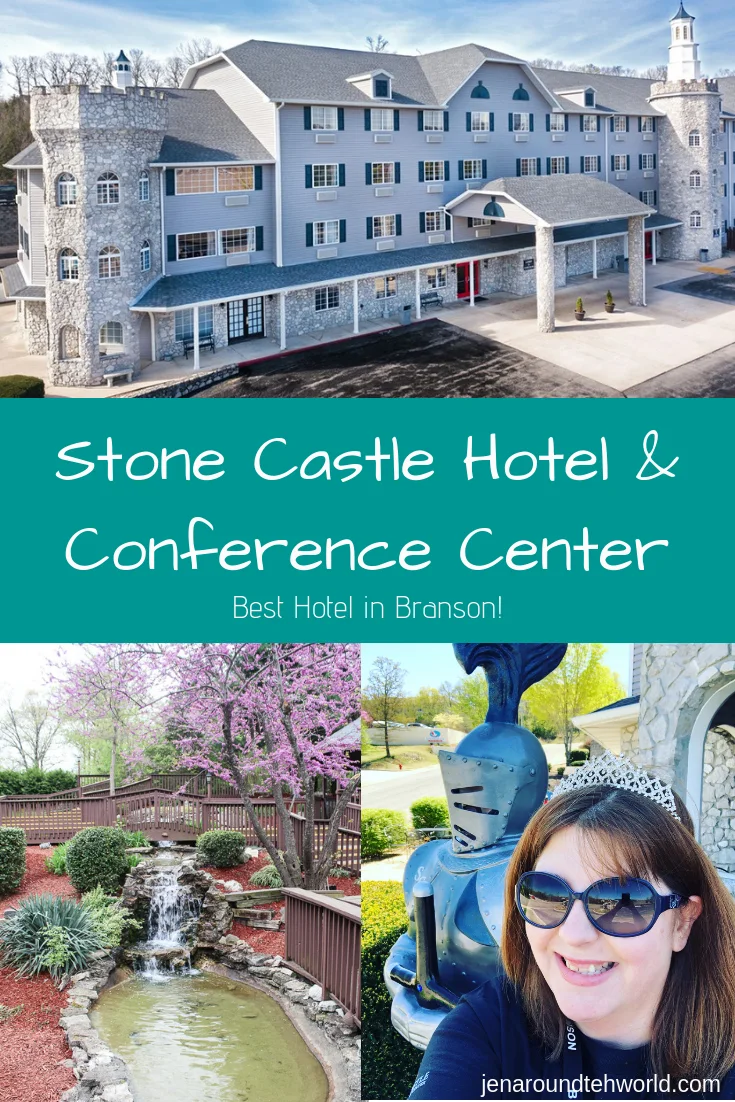 Jay Wilson, manager of Stone Castle met us upon arriving at the hotel. He immediately began sharing with us about all the amazing enhancements that the hotel had just undergone as well as all the upgrades coming in the future.
The thing to note right away about Stone Castle is that is a unique and one-of-a-kind hotel experience at a very affordable price. There are knights and horses placed all throughout the hotel, both inside and outside. I mean, it is a castle, right?
The hotel is located within minutes of just about everything which was awesome for us! In fact, if you are hungry, Florentina's is literally a 2-minute drive or a 7-minute walk from the hotel.
The Rooms at Stone Castle
What sets Stone Castle apart from other hotels in the area are the unique rooms they have available. In addition to over 200 beautiful standard rooms, there are two studio apartments, four family suites, and 36 jetted tub suites with unique and fun themes. There are accommodations for your every need.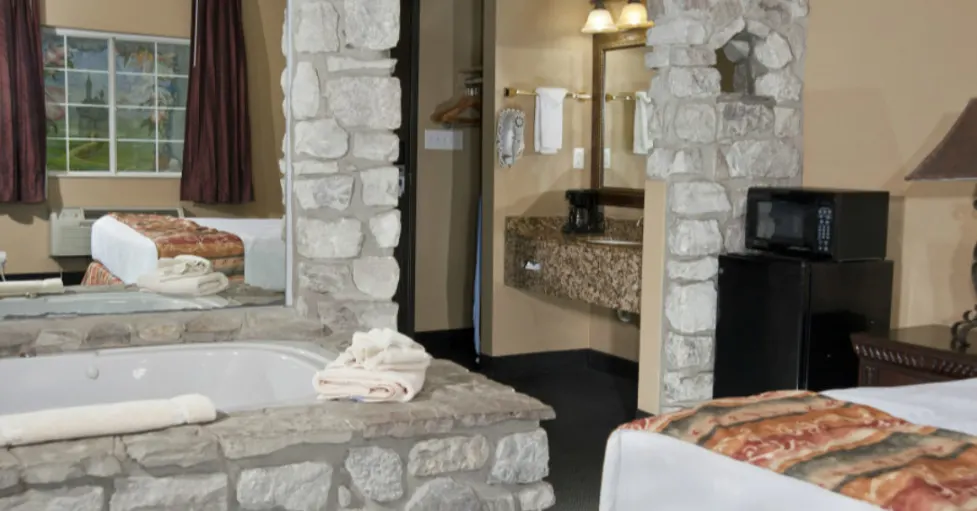 During our visit, we stayed in Camelot, which is all about King Arthur and his wife. The room offers a castle-like theme with a running waterfall and more.
Other rooms available include Aspen, Clay Cooper's Crib, Dolly's Stampede, Jungle and more. The kids and the family will go nuts for these rooms!
Breakfast Buffet
The hotel offers a complimentary hot breakfast buffet which is included in your room price. They offer hot coffee, juice, milk, eggs, sausage, bacon, home fries, biscuits and gravy, toast, English muffins, waffles and more.
The buffet is served from 6:30am-9:30am and is served in a beautiful 1700 square foot room with a view.
Of course, if you want, you can eat your breakfast outside in the garden where the waterfalls are flowing. It's seriously like being right in the heart of the Ozarks.
Pools, Hot Tubs, and a Game Room to Boot!
There is so much for the kids to do here on site at Stone Castle. Not only does the property offer two pools, but there are also two hot tubs to boot.
Kids love swimming and so do the grown-ups. They offer chairs, towels and a nice cool environment to sit back and relax during those hot afternoons. During the winter, the pools are heated so you can let the kids swim and get out some of that crazy energy they have built up from the drive in.
Pool hours are 7 AM- 12 AM, seven days a week.
Not only do they have pools, but they have a game room to boot. This game room is state of the art and designed by the folks who own The Track Family Fun Park.
There are driving games, pick up machines and more. It's the perfect place for the kids to get their video gaming love on.
Take a Rest Under the Gazebo Area
One afternoon, I decided to take a moment and just sit in the gazebo area and take in the sounds. The rushing of the waterfall and the chirping of the birds made for the most relaxing afternoon.
This spot is also available for private parties as well — which would be awesome for birthdays, anniversaries, or even wedding vows!
Conference Center
Stone Castle also offers a huge 10,000 square foot conference center. It just recently underwent some changes and updates as well.
This area accommodates from 10 – 300 guests for a variety of purposes. They can handle audiovisual technology as well as catering services.
In fact, the week that we were there, I was fascinated to see a Scrapbooking convention going on! They literally can accommodate every single thing out there.
Special Offers and VIP Nights
One of the awesome things about Stone Castle is that they partner with a lot of the other Branson businesses throughout the area to provide you with amazing VIP nights.
They combine offers with businesses like Dolly Parton's Stampede, Clay Cooper's Country Express, and more. Be sure to check out their specials page where you will find all of these special offers listed.
So How Much Does a Hotel Like This Cost?
You would think that this hotel would run around $150-$200 a night with all the amenities they have to offer here. However, the owners and managing group work hard to keep the costs budget-friendly for everyone.
Photo Credit: Blogging Branson Group
Room rates run around $100 a night and include all of the amenities above. That price is even at the peak of the season, making it one of the most affordable hotels in the Branson area.
You can find the hotel here:
The Stone Castle Hotel & Conference Center
3050 Green Mountain Drive
Branson, MO 65616
(1+) 800-677-6906
3 pm Check-in Time
11 am Check-out Time
INTERESTED IN READING MORE ABOUT BRANSON? CHECK OUT THESE POSTS!
Silver Dollar City
5 Reasons You Should Visit Branson
What are your plans for the summer? Visit Stone Castle Hotel & Conference Center and have a blast in Branson this summer!