This recipe for Brussels Sprouts and Gnocchi in Rosemary Butter Sauce is delicious and super quick to make! The wine really adds a pump of flavor to the sauce.
One of my favorite things to make from scratch is gnocchi. But sometimes I need a quick fix, so I pick it up from the grocery store. I grabbed some whole wheat gnocchi for this recipe that I found in one of my favorite cookbooks!
October is National Cookbook Month and several of us bloggers are sharing some of our favorite dishes from all the cookbooks we tend to collect!
Tieghan Gerard is one of my favorites. Her food makes me drool all the time! This recipe is adapted from her cookbook Half Baked Harvest – Everyday.
When you mix gnocchi, Brussels sprouts, bacon, and wine in one dish — you definitely get my attention! I did change a couple of things about this recipe to adapt it for time and taste, but the end result? It's AMAZING!
One of the changes I made was that instead of cooking the gnocchi in water, I let the gnocchi simmer in the sauce. That was more than enough to cook them.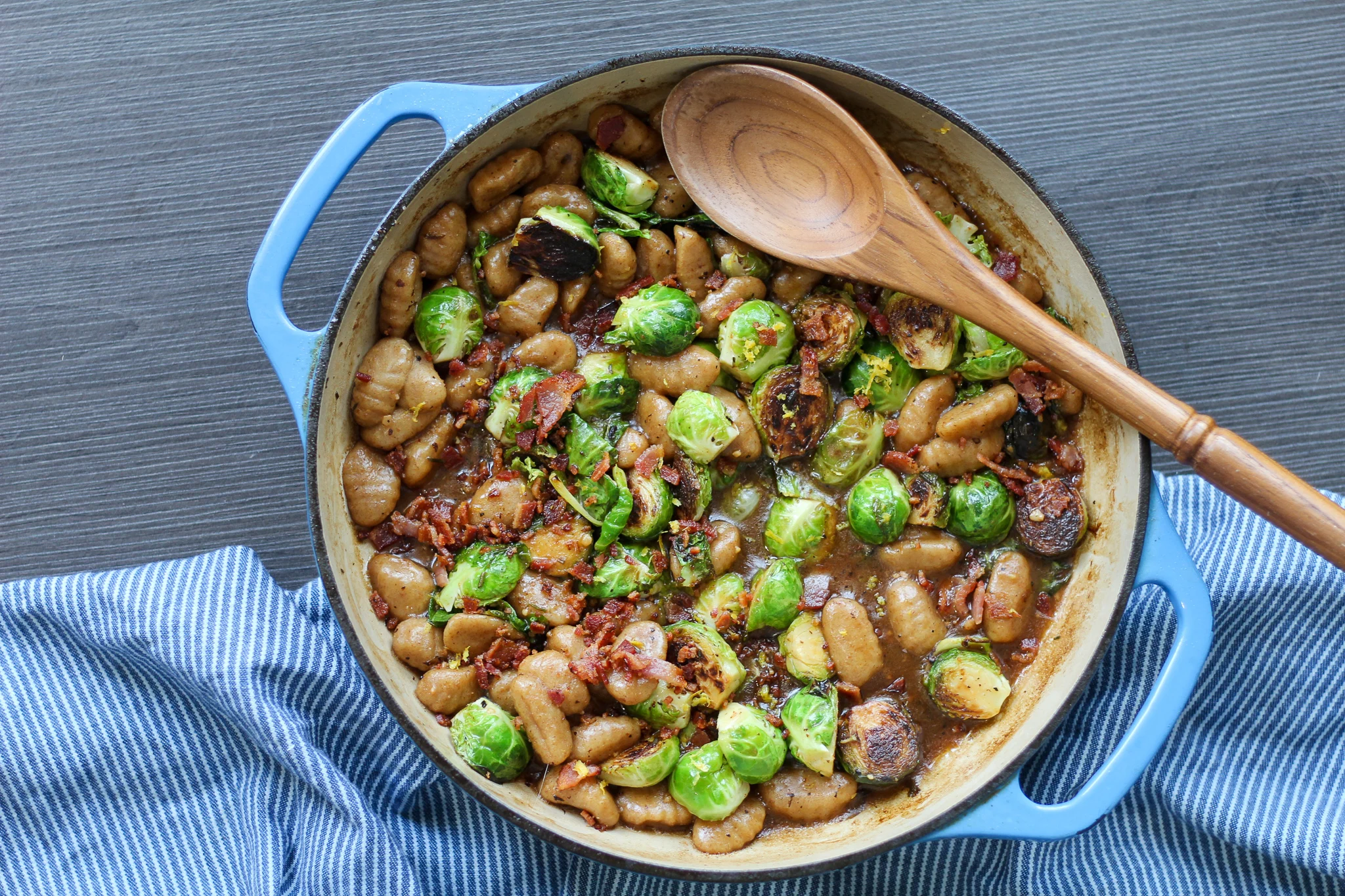 I left the Brussels halved instead of quartered. I also used store-bought whole wheat gnocchi. For this recipe, she made and used cauliflower gnocchi. Either way you go with this recipe, it is going to turn out fantastic.
Check out these other recipes that use gnocchi
How to Make Homemade Gnocchi
National Cookbook Mont
Yield: 6 servings
Brussels Sprouts and Gnocchi in Rosemary Brown Butter Sauce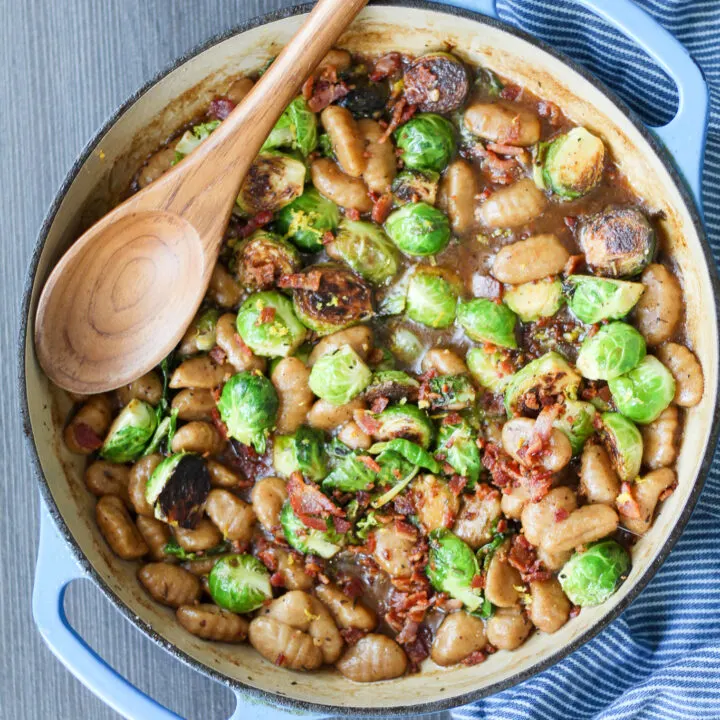 Delicious gnocchi and crispy brussels sprouts in a warm buttery wine sauce.
Ingredients
4 slices of bacon
1 pound of Brussels Sprouts, trimmed and halved
salt and black pepper
1 tablespoon of extra virgin olive oil
4 tablespoons of butter
3 cloves of garlic, minced
1 tablespoon of chopped fresh rosemary
pinch of red pepper flakes
1 cup fo veggie broth
1/2 cup of wine
24 ounces of gnocchi (your flavor choice)
Instructions
Cook the bacon over medium until crispy. Remove from the pan but leave the grease.
Place the Brussels in the pan, cut side down, and leave them alone for 3-4 minutes. Season with salt and pepper.
Once the sprouts have browned on one side, toss them around the pan and then drizzle them with olive oil. Cook for 2-3 minutes more so they can get crispy. Remove from the pan and set aside.
Now to the skillet, add butter, garlic, rosemary, and red pepper flakes. Cook until the butter is lightly browned, about 4 minutes.
Now add in the broth and wine and use a wooden spoon to scrape the bits off the bottom.
Add the gnocchi into the sauce and allow it to cook on medium-high until the sauce has reduced slightly and the gnocchi have cooked through -- about 7-10 minutes.
Chop the bacon and sprinkle over the top of the dish. Enjoy!
Nutrition Information:
Yield:
6
Serving Size:
1
Amount Per Serving:
Calories:

434
Total Fat:

15g
Saturated Fat:

7g
Trans Fat:

0g
Unsaturated Fat:

7g
Cholesterol:

62mg
Sodium:

390mg
Carbohydrates:

59g
Fiber:

6g
Sugar:

4g
Protein:

14g