Learn how to make pumpkin gnocchi with this super easy tutorial recipe.
My daughter has been on a major pumpkin kick lately. She recently made these delicious Pumpkin Spice scones which I shared last week on the blog.
Then, to top it off, she taught herself how to make Pumpkin Gnocchi.
She found an amazing recipe online that showed us how to make it, but she went even further to cook it in a brown butter and sage sauce for the ultimate flavors.
How to Make Pumpkin Gnocchi
Making this dish is simple and easy. You only need just a few simple ingredients.
medium-large russet baking potato
pumpkin puree
egg
all-purpose flour
teaspoon salt
Make sure to let your pumpkin rest on a paper towel to get all the extra water out of it.
I bought a Gnocchi Paddle online at Amazon. I think it was around $11. If you don't have one of these, you can totally use a fork which is what I usually do.
Now, old school Italian grandmothers use NOTHING and make that gnocchi look amazing!
You can either bake the potatoes or cook them in the microwave. Then, peel the potatoes and let them rest for a while to cool down.
Once it's cool enough to handle, you can either scoop them out with a fork or grate using a grater until you have about 1 1/2 cups of very fine potato shreds. Do not use a ricer because that will squish water into your potato making your gnocchi really smushy.
Mix the potato shreds with the pumpkin puree. Add the flour and other ingredients. Then, using your hands, mix all ingredients into a dough. Don't overmix. When it starts to come together, form the dough into a mostly-smooth, rounded little loaf.
Time to Roll the Dough!
Take the dough and roll it out onto a floured surface. Do not press too hard, because you want your dough to be nice and fluffy.
Next, cut the disc into long, thin strips. Then, cut those pieces into 1/2″ pieces.
Now, at this point, roll the gnocchi dough down the paddle or fork (or leave them plain if you are old school).
Place the gnocchi pieces on a plate (make sure they've got a little flour coating so they don't stick). You can also put them on a freezer-safe pan and freeze to keep for later (which is what we did with this huge batch.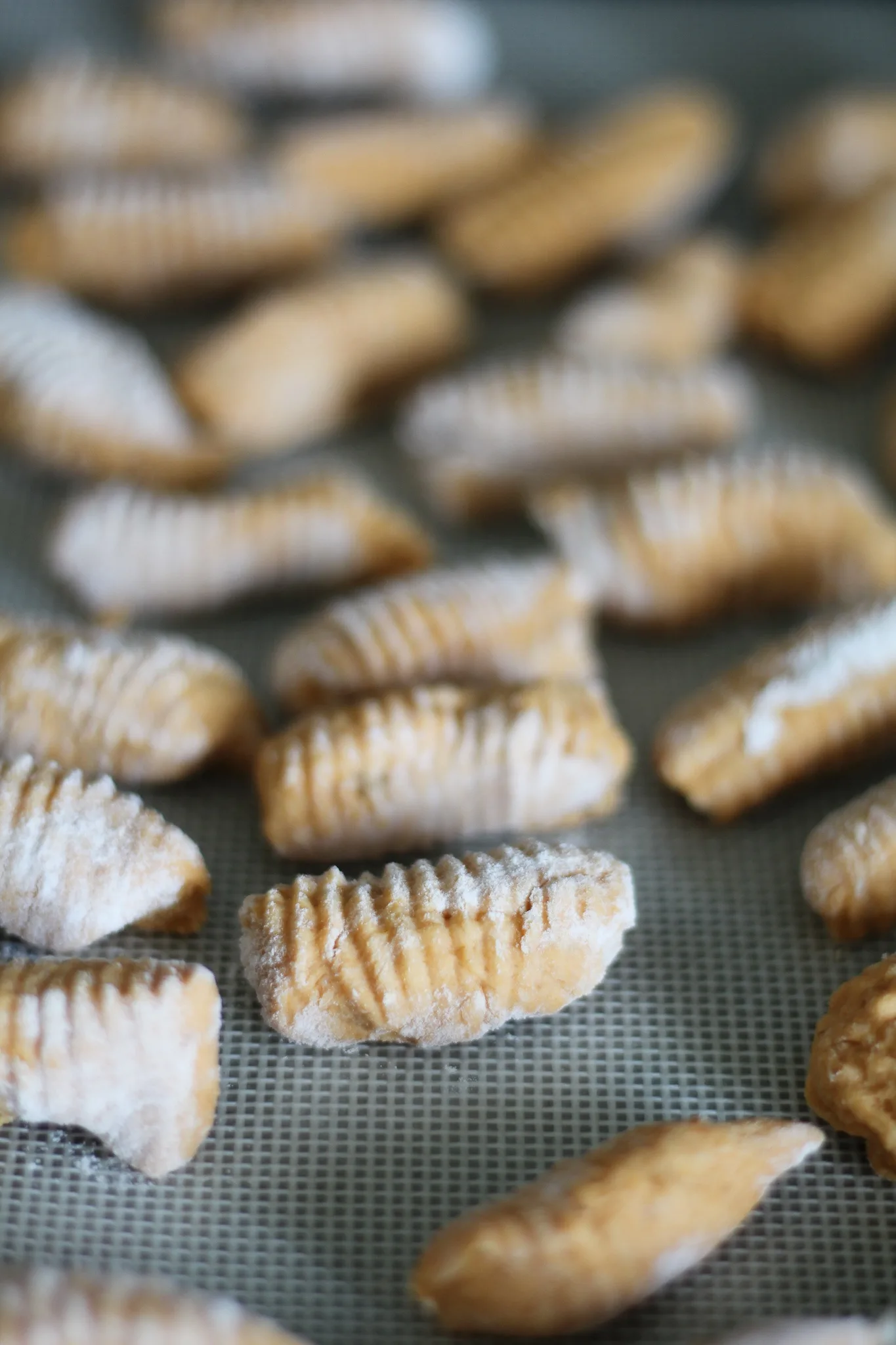 Now, let's cook that gnocchi and get it ready to use! Bring a large pot of water to boil. Add the gnocchi, carefully, one at a time, to the water.
It is best to work in batches. When the gnocchi has cooked all the way they will rise to the top of the pot of boiling water. Now, immediately remove them with a slotted spoon.
Set them aside. Once you get them cooked like this, you are SO ready to make that delciious Pumpkin Gnocchi in the brown butter sage sauce.
Looking for more pumpkin recipes? Check these out!
Yield: 4 servings
How to Make Pumpkin Gnocchi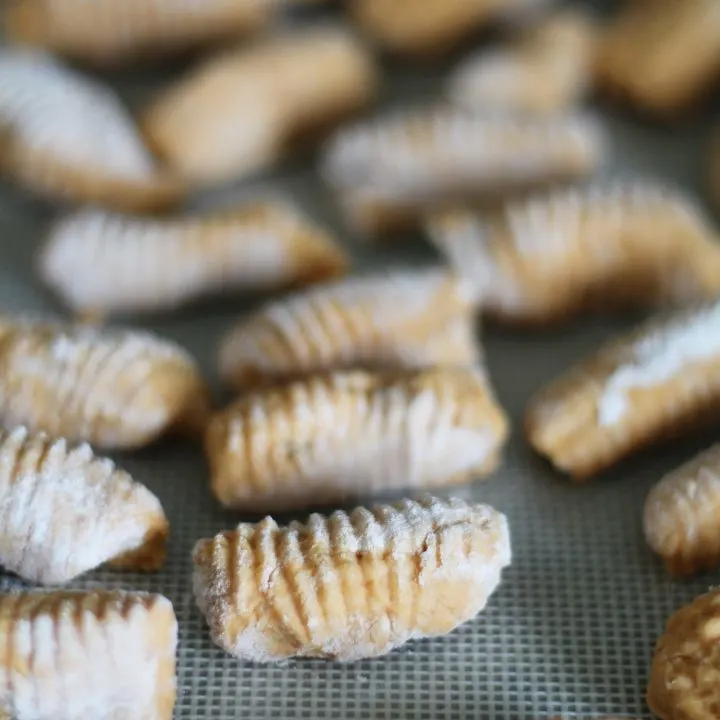 Pumpkin Gnocchi is so incredibly pillowy and delicious. You will love serving this dish during the fall!
Ingredients
1 large russet baking potato
1 cup pumpkin puree
1 egg
1 3/4 cups all-purpose flour (more as needed)
1 teaspoon salt
Instructions
Allow the pumpkin to rest on a paper towel to remove the moisture from the puree.
Bake the potatoes in the microwave on high for 6 minutes or in the oven on 350 degrees for an hour. Remove and let cool for 30 minutes.
Peel the potatoes and then mash with a potato masher or grate until you have fine shreds.
Mix all the ingredients together. When it starts to come together, form the dough into a mostly-smooth, rounded little loaf.
Pull off slices and roll it out into 4 long thin rolls about 1/2 inch thick.
Cut the rolls into 1/2 inch pieces and then roll the pieces in flour lightly shaking off any excess.
Roll the pieces over a gnocchi board or a fork to give them the ridges.
Cook the gnocchi in boiling water in small batches until it floats to the surface, about 2-3 minutes, remove and set aside to drain.
Use as desired.
Nutrition Information:
Yield:
8
Serving Size:
1
Amount Per Serving:
Calories:

155
Total Fat:

1g
Saturated Fat:

0g
Trans Fat:

0g
Unsaturated Fat:

1g
Cholesterol:

23mg
Sodium:

281mg
Carbohydrates:

31g
Fiber:

2g
Sugar:

2g
Protein:

5g