Want a stick-to-the-ribs kind of meal that your family will flip over? Check out this one for Homemade Salisbury Steak. It is a hit with everyone!
My husband has always loved Banquet frozen Salisbury steak. It has been his favorite for as long as I can remember. That was until I made it homemade. He won't even touch the frozen stuff anymore! The best part is that this meal comes together in no time flat!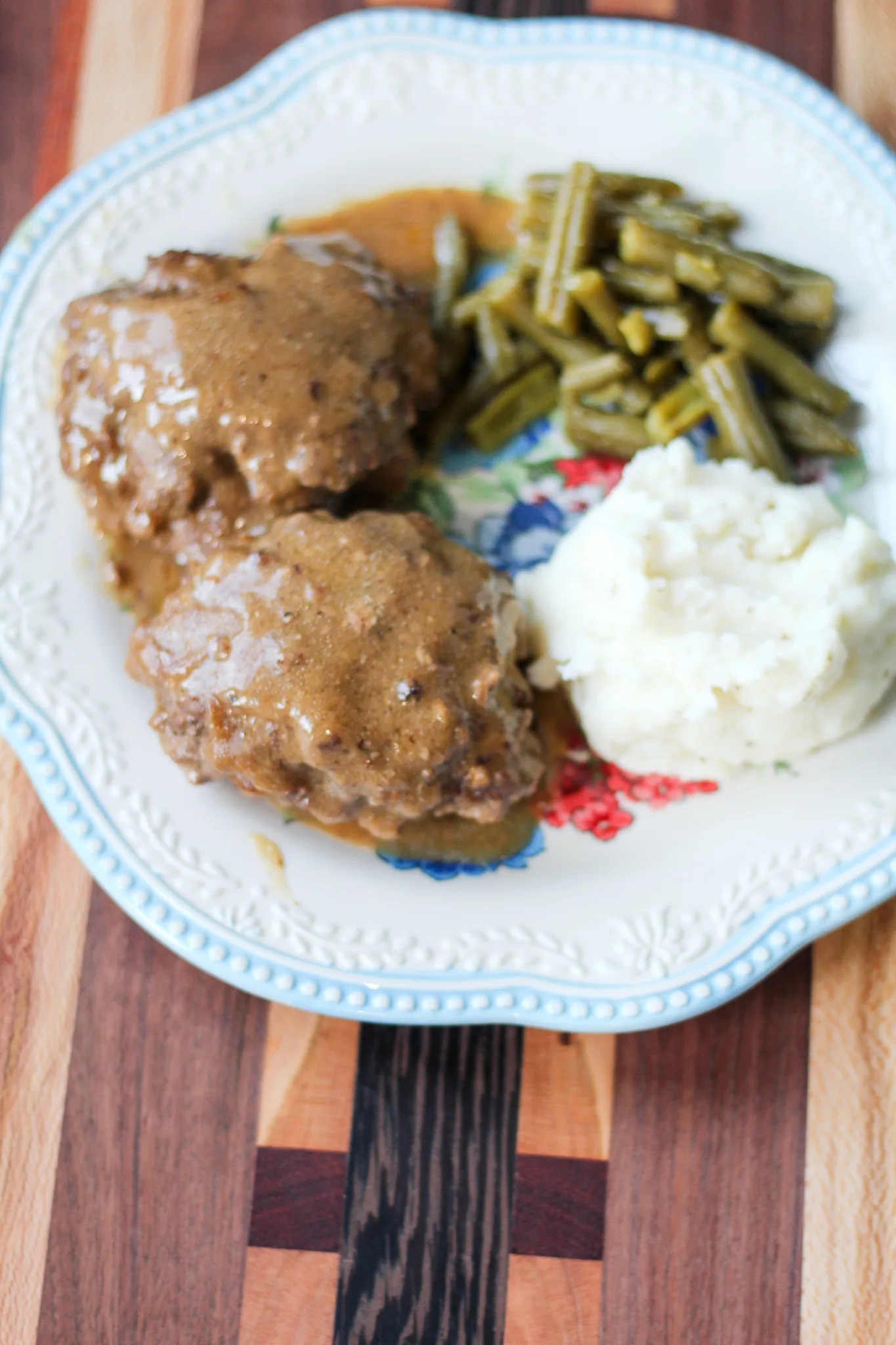 These steaks are covered in delicious and flavorful beef gravy. I like to serve mine with homemade mashed potatoes and these amazing green beans. Of course, no meal is complete without a batch of my Bobby Flay Parker House Rolls!
How to Make Homemade Salisbury Steak
To make these steaks, all you need is a few spices and some hamburger meat. They are made similar to meatloaf — which could explain why my husband loves this meal so much.
You want to shape these bigger than a hamburger. Make them thick and then shape them kind of like a football.
These get fried in the skillet. Of course, they will not be cooked through during the first cooking process. You are mainly just getting them browned on both sides. Then, when you go to make the sauce, they go back into the pan. This is when they will finish the cooking process.
The sauce will look thin at first but trust the process. It will thicken up as it cooks. The steaks get so tender and they are absolutely delicious!
Once they are done, remove them from the heat. As the sauce cools a bit, it will thicken even more. Of course, if it is not thick enough, you can add a little cornstarch slurry to it to make it thicker.
Then, plate it up with the mashed potatoes, green beans, and those yummy rolls for the perfect man (or woman) made meal!
Check out these other delicious dinner recipes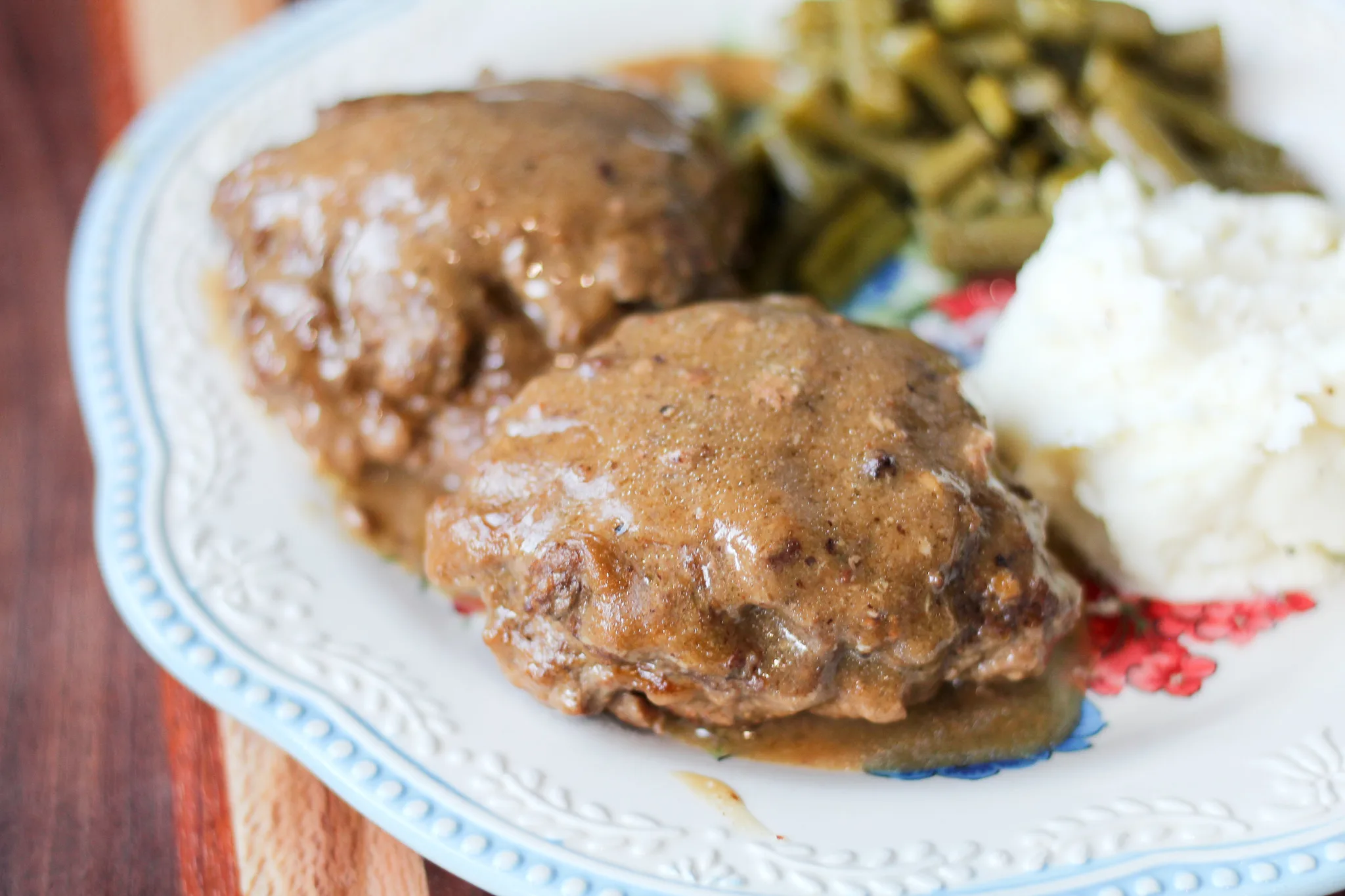 This might be one of my favorite ground beef recipes because it's easy to make and uses simple ingredients as well.
Yield: 6 servings
Homemade Salisbury Steak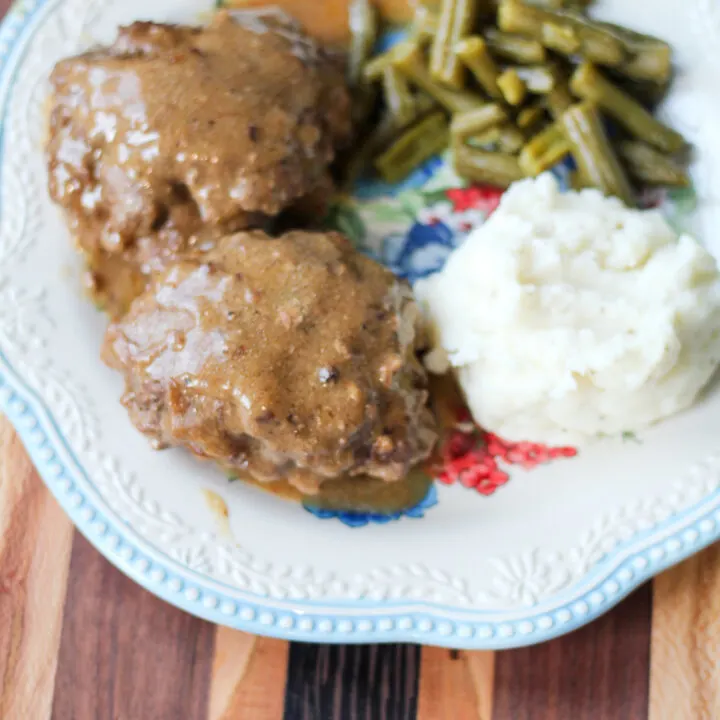 This dinner is perfect when you need a stick-to-the-ribs kind of meal
Ingredients
For the Salisbury Steaks
2 lbs ground beef
1 egg
1/2 cup bread crumbs
2 Tbsp Worcestershire sauce
1 tsp parsley
1 tsp pepper
1/2 tsp crushed red peppers
For the Gravy
4 cups beef broth
3 Tbsp flour
3 cloves garlic, minced
1 Tbsp Worcestershire sauce
1/2 tsp salt
1/2 tsp pepper
Instructions
For the Salisbury Steaks-- In a medium mixing bowl, mix ground beef, egg, bread crumbs, Worcestershire sauce, parsley, crushed red peppers, and pepper together.
Divide into equal amounts and shape into oval patties about 1/2 inch thick. Should get 5 or 6.
Heat a cast iron pan over medium-high heat and cook each patty for about 4-5 minutes on each side.
Once cooked on both sides, remove from the pan and place on a plate.
For the Gravy --Reduce heat to medium, and add garlic to the pan along with the steak drippings.
Cook for 3-4 minutes.
Sprinkle flour over the drippings and garlic and stir and cook for another minute or so.
Next, add beef broth, Worcestershire sauce, salt, and pepper. Stir for a few minutes and place the Salisbury steaks back into the pan and cover with the gravy mixture.
Cover the pan and cook for about 20-30 minutes gently stirring occasionally. The gravy will also thicken up as it cools so make sure not to cook it too long or your gravy will be too thick. If that happens, just add a little more beef broth to thin it out.
If the gravy seems too thin, mix 1 tsp cornstarch with 1/8 cup water, then add to the pan, stir, and let simmer for a few more minutes.
Serve over mashed potatoes with a delicious green veggie.
Nutrition Information:
Yield:
6
Serving Size:
1
Amount Per Serving:
Calories:

500
Total Fat:

28g
Saturated Fat:

10g
Trans Fat:

1g
Unsaturated Fat:

13g
Cholesterol:

166mg
Sodium:

1089mg
Carbohydrates:

13g
Fiber:

1g
Sugar:

2g
Protein:

46g