This easy fig jam from dried figs is the perfect summer delight. Make this jam anytime of year thanks to the dried figs.
Have you ever had fig jam? If not, you are truly missing out. There are so many amazing things you can do with fig jam.
So — what is so great about making this jam with dried figs? The best thing is that you can make this jam any time of year. Figs are usually only in season a short time (generally August through October). By using dried figs, you can make this any time of year.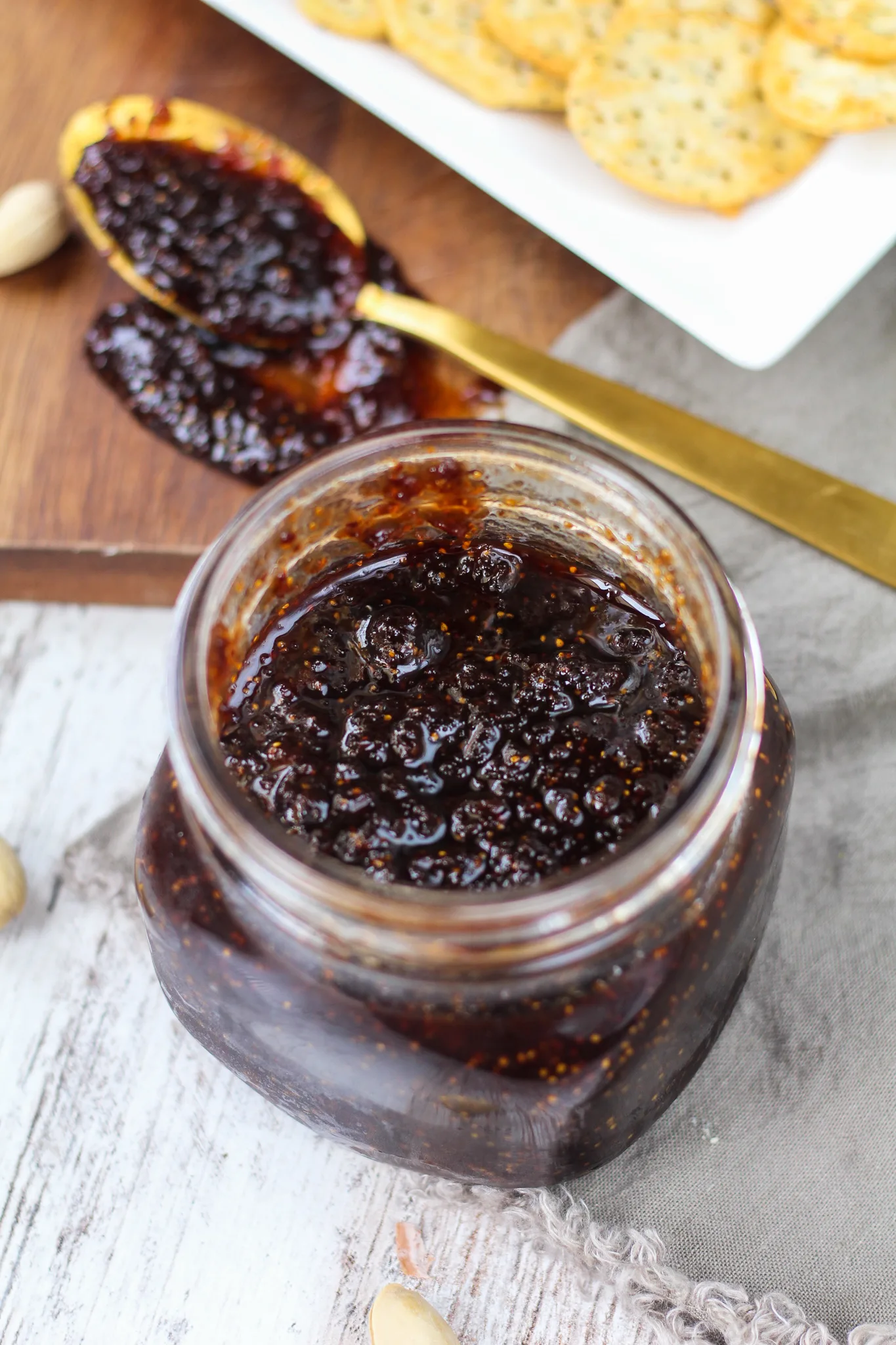 Another reason to use dried figs is that the cost is cheaper. A jar of good fig jam will run you around $4-$6. Dried figs were only $1.24 for the bag at Walmart.
This jam comes together in 30 minutes and tastes great on toast, biscuits, or like we like it — over brie with pistachios and crackers.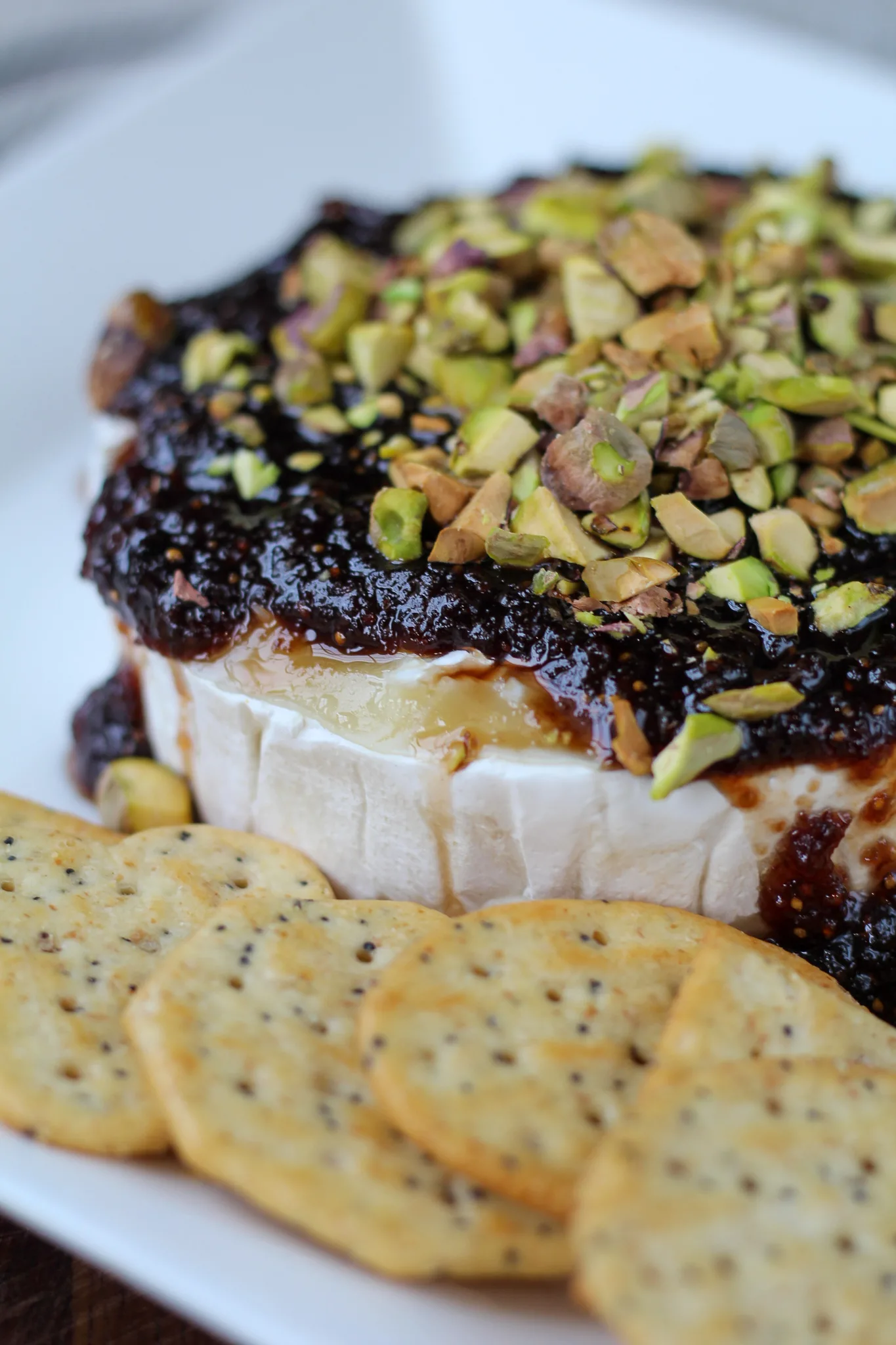 How to Make Easy Fig Jam from Dried Figs
Figs, sugar, balsamic vinegar, and a squeeze of fresh lemon juice are all that you need to make this delicious jam! You'll also need a saucepan large enough to hold everything and a blender. I use my Ninja blender, but any regular blender or immersion blender will work.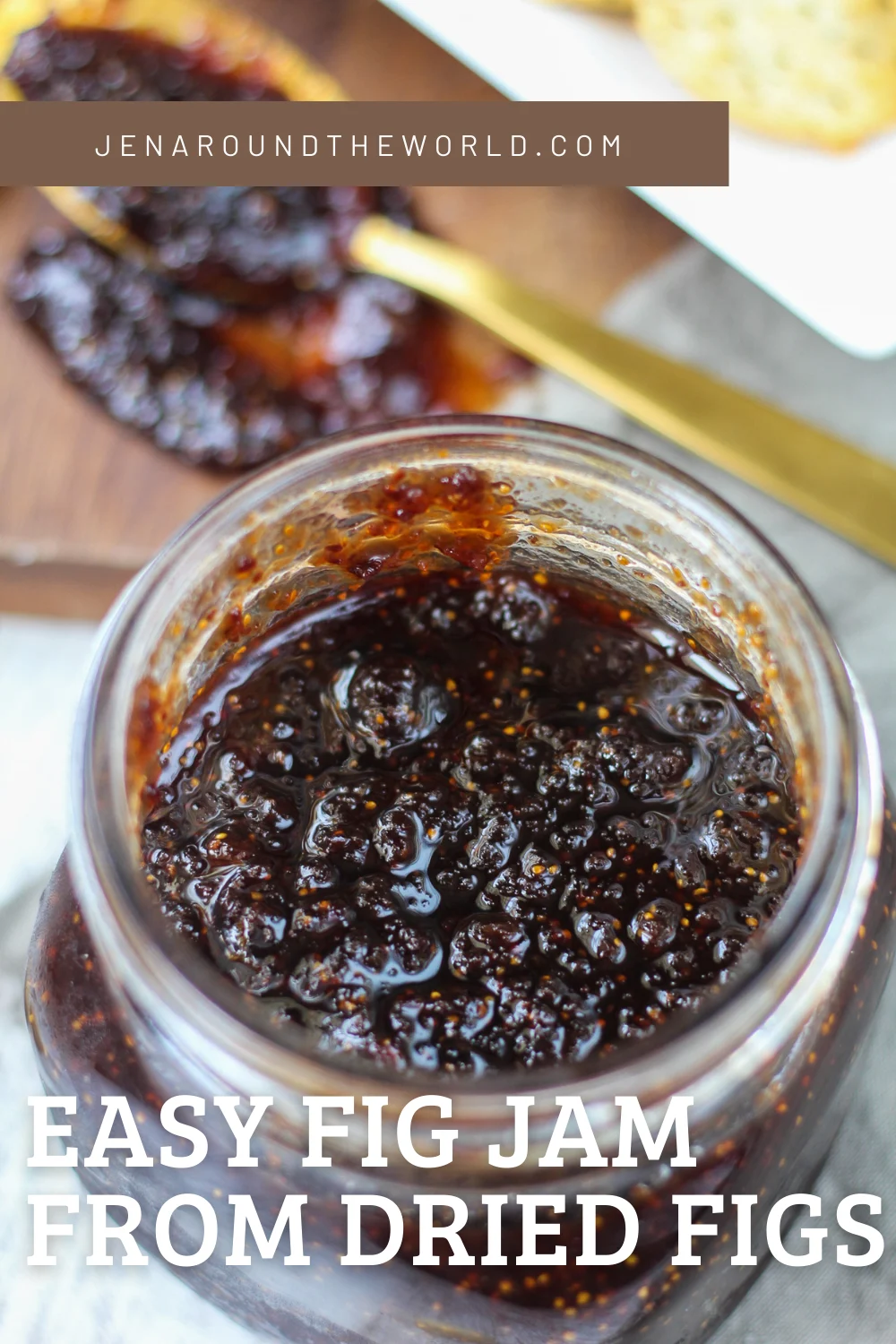 The hardest part here is reconstituting the dried figs. Once you do that, the rest is a breeze. The sauce pot does most of the work for you.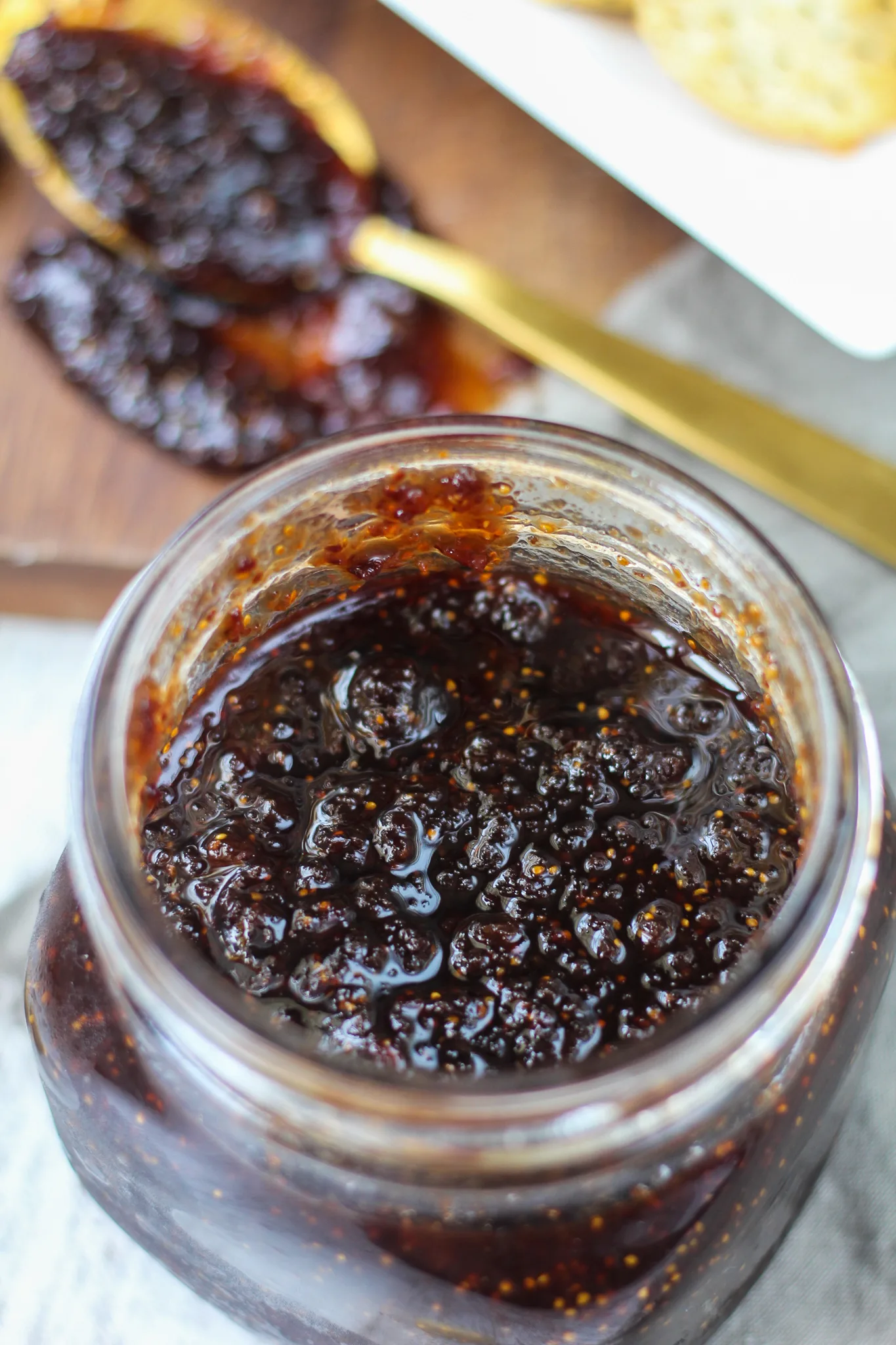 How to use Balsamic Fig Jam
There are so many amazing ways to use this jam. We keep this on hand pretty much all the time. Here's how we serve it up:
Serve it on a charcuterie board. You can add different cheeses like Havarti, cheddar, gouda, creamy goat cheese, Manchego, Roquefort, Blue or Gorgonzola. Then you can add fruits like grapes, apples, pears and a handful of nuts. I love adding my Praline Pecans to a cheeseboard or my Spiced Nuts.
Use it as a topping for baked brie
Make a fancy grilled cheese sandwich for adults with jam, cheese, and meats.
Top your yogurt snack with it.
Use it as a delicious glaze for pork and chicken.
Make a vinaigrette with it.
Use it as filling between cake layers.
Make a simple appetizer by spreading fig jam on little bread toasts and topping each with a slice of brie, apple, and honey and a dollop of this Balsamic Fig Jam.
Check out these other delicious jams and jellies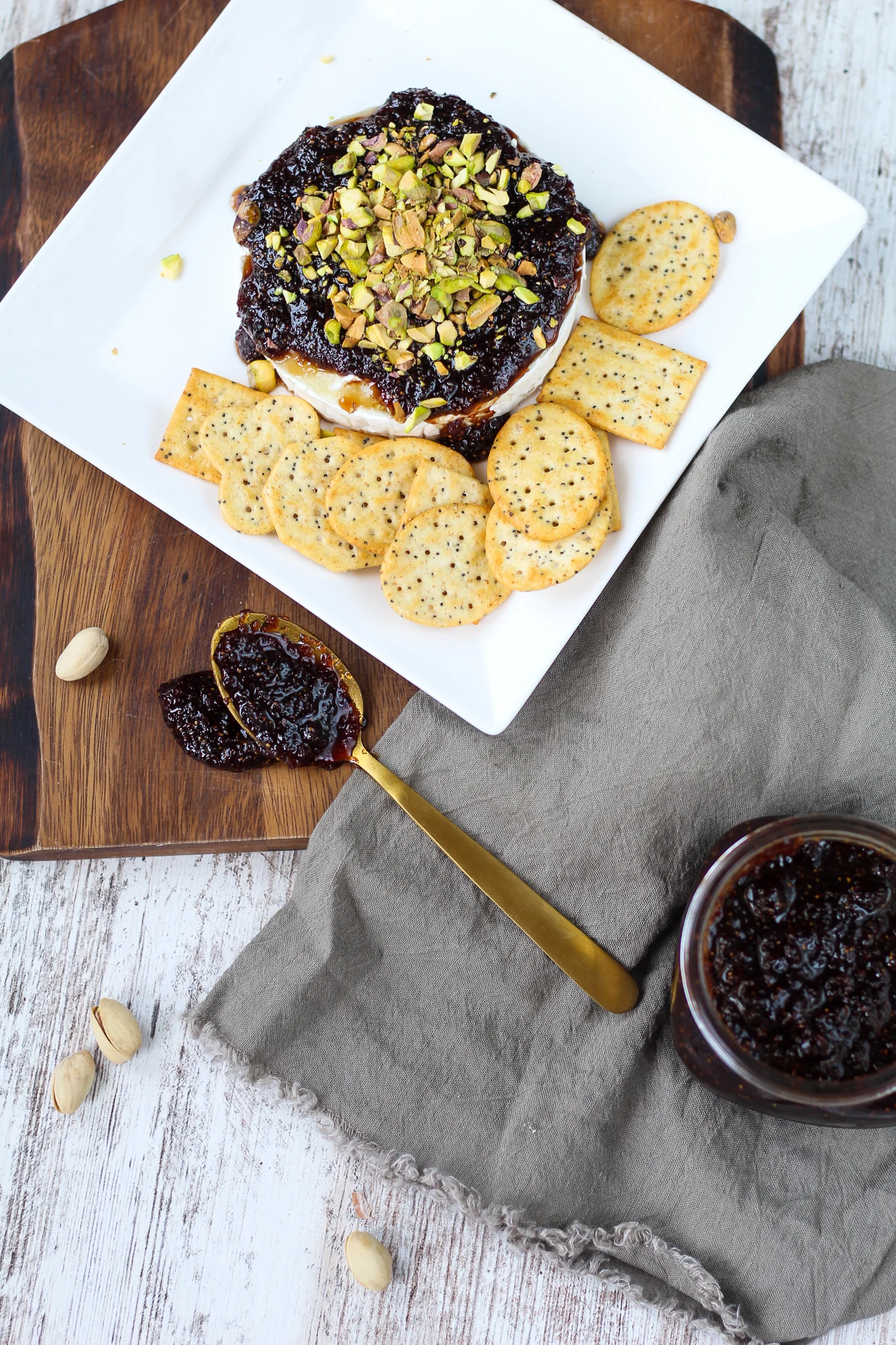 Yield: 2 cups
Easy Fig Jam from Dried Figs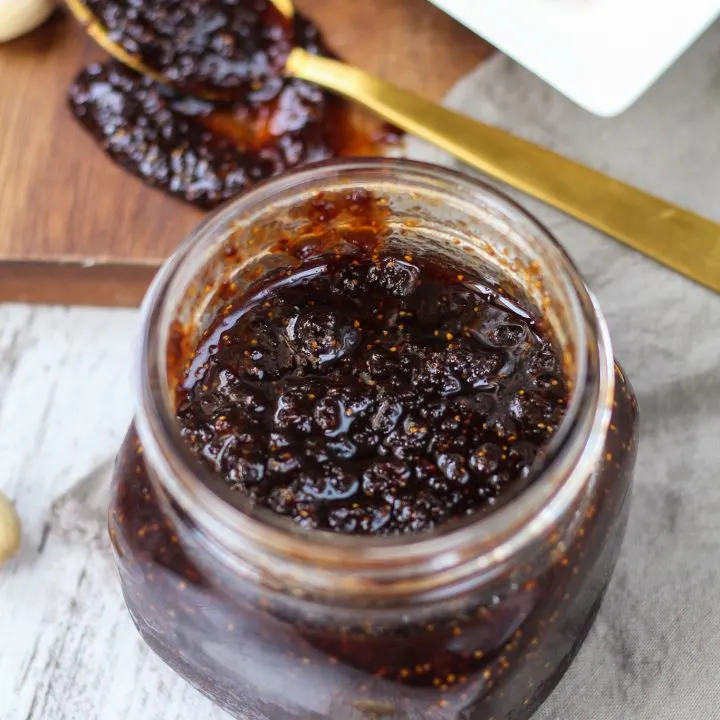 Make easy fig jam from dried figs with these simple tips.
Ingredients
12 ounces dried figs stem removed
1 ½ cups granulated sugar
6 tablespoons balsamic vinegar
2 cups water
1 ½ teaspoon fresh lemon juice
Instructions
Chop each fig into rustic pieces.
Combine figs, sugar, water, balsamic vinegar, and lemon juice in a medium-large saucepan over medium heat.
Bring to a boil then reduce to a steady, rolling simmer. Cook for 10 minutes, stirring occasionally.
Once the figs have cooked, add them to the blender and then pulse/blend the jam until the large pieces have been chopped up, but the jam still has a bit of texture.
Cook for another 5-10 minutes until the jam is thickened to the desired state. (It will get a bit thicker as it cools).
While the jam is cooking, wash enough jars (to hold 24-ounces of jam) in hot soapy water and rinse well. Set aside.
If the jam is not as tangy as you would like it, simply add a little more balsamic (about a tablespoon), until you get the desired consistency.
Transfer to jars with tight-fitting lids. Refrigerate for up to 2 weeks or freeze for 2-3 months.


Nutrition Information:
Yield:
40
Serving Size:
1
Amount Per Serving:
Calories:

52
Total Fat:

0g
Saturated Fat:

0g
Trans Fat:

0g
Unsaturated Fat:

0g
Cholesterol:

0mg
Sodium:

2mg
Carbohydrates:

13g
Fiber:

1g
Sugar:

12g
Protein:

0g