Slow Cooker Beef Ragu is hands down one of the most amazing flavourful pasta recipes I have made in a while. Served on wide pappardelle noodles makes for a comforting dinner dish.
The chuck roast is braised and then simmered for hours in the slow cooker. Cook it with garlic, onion, tomatoes, veggies, spices, and herbs. Serve it over your favorite pasta (mine is pappardelle noodles) and fresh Parmesan cheese!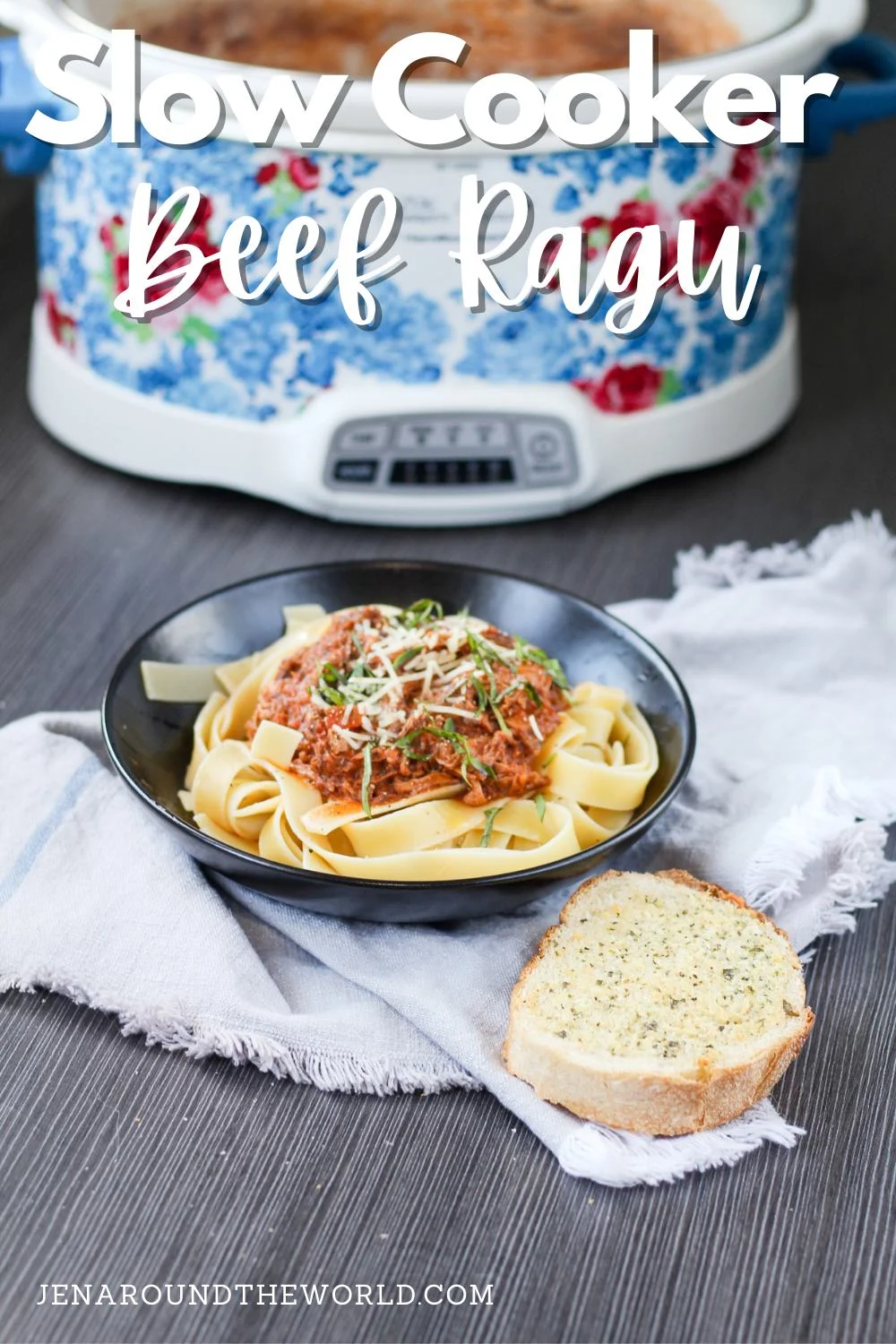 A little while ago, I got this amazing deal on 5-pound chuck roasts. Of course, there is only so much roast I can eat. I decided to see what other dishes I could make with those instead of roast. Imagine my surprise to find that most ragu sauces are made using those same chuck roasts!
So, I decided to give it a try and I am SO glad I did. This pasta dish turned out to be so amazing. We served it with a delicious salad topped with hot bacon dressing and my homemade garlic butter toast.
How to Make Slow Cooker Ragu
If you're a hearty pasta lover like me, you have to try my Mongolian Ground Beef Noodles, my Chicken Scampi, and definitely my Spaghetti and Meatballs which are all the best dishes!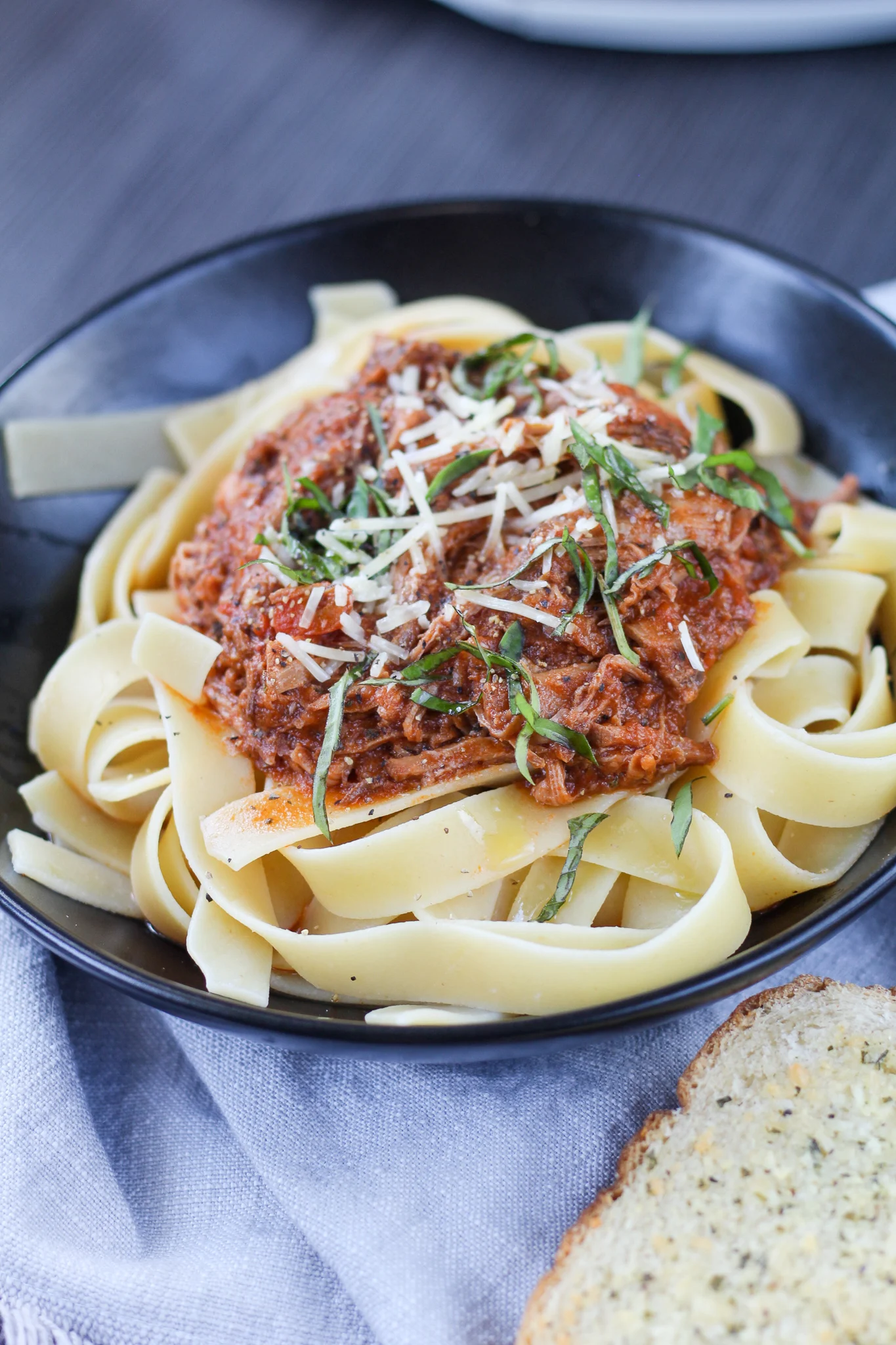 The difference between just straight spaghetti sauce and ragu is simple. Spaghetti sauce is usually quick and easy. You can add ground beef to it or just serve the sauce as is.
Ragu is a meat-based sauce, often made with beef, pork, veal, or lamb. The meat is then slow-cooked on low heat in a tomato sauce for several hours.
The hardest part of this dish is browning the meat before you start.
Of course, if you're up for making your homemade pasta noodles, use this pasta press to flatten the dough before cutting it into wide strips.
Check Out These Other Delicious Pasta Recipes
Yield: 6
Slow Cooker Beef Ragu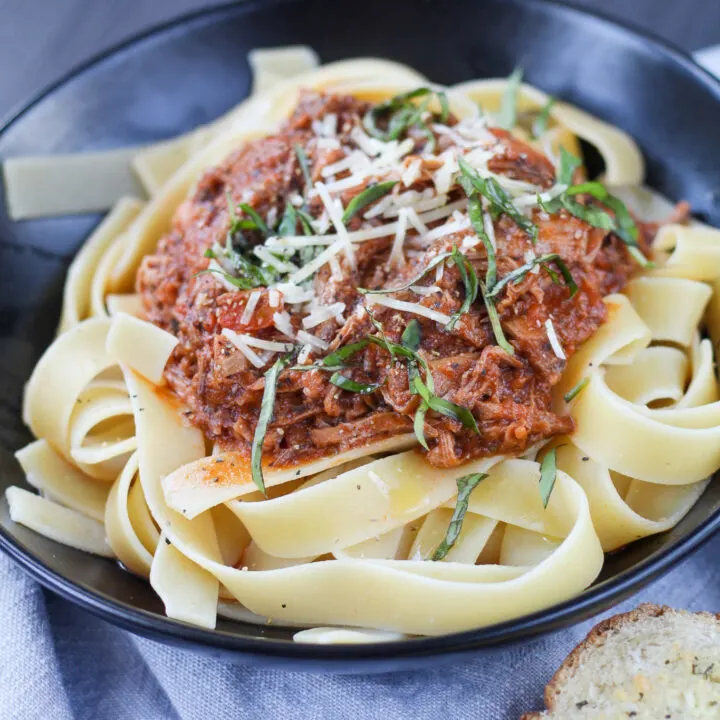 Delicious slow cooked beef served over wide pasta noodles for the perfect weeknight dinner
Total Time
3 hours
20 minutes
Ingredients
3 tbsp Olive Oil
2 pounds Chuck roast
Salt & Pepper
5 Cloves Garlic minced
1 Onion small, finely diced
1 cup Carrots finely diced
1 ½ cup Beef Broth
3 ½ cup Crushed Tomatoes
2 tbsp Tomato Paste
1 cup Water
1 tbsp Italian Seasoning
2 Bay Leaves
2 tsp White Sugar
2 tsp Salt
2 tsp Black Pepper
Favorite pasta of choice (we used Paparadelle)
Freshly grated Parmesan Cheese
Instructions
Pat the beef dry with some paper towels. Sprinkle with salt and pepper.
In a heavy bottom pot, heat 2 tbsp olive oil over high heat. Add beef and sear each side until very browned, then remove from heat and transfer to the slow cooker.
Turn the heat down to medium and add the remaining tablespoon of olive oil. Add garlic and sauté for about a minute, then add onion and continue sautéing for another minute.
Then, deglaze the pot by adding ½ cup beef broth and simmer for about one minute (scraping with a wooden spoon to loosen any browned bits that might be stuck on).
Add the carrots and celery and sauté for around 3-5 minutes.
Add the remaining ingredients to the pot: canned crushed tomatoes, remaining beef broth, water, Italian herb blend, bay leaves, granulated white sugar, salt, and black pepper, and bring to a slight simmer.
Pour the liquid and all the veggies over the beef in the slow cooker. Cover and cook on low for 8-10 hours or on high for 6-7 hours. The beef should be tender enough to shred.
Once the beef is done cooking, remove it from the slow cooker and shred using two forks.
Cook your pasta according to package directions (or make homemade pasta).
Now, return the shredded beef to the pot and stir in. Add in the cooked pasta and toss it in the sauce.
Serve with fresh Parmesan cheese.
Nutrition Information:
Yield:
6
Serving Size:
1
Amount Per Serving:
Calories:

534
Total Fat:

31g
Saturated Fat:

11g
Trans Fat:

1g
Unsaturated Fat:

18g
Cholesterol:

126mg
Sodium:

1462mg
Carbohydrates:

24g
Fiber:

5g
Sugar:

10g
Protein:

43g