This recipe for easy sourdough discard bagels makes the most delicious, chewy bagels you'll ever have! There are only a few ingredients you need and minimal steps are needed for this simple recipe.
If you make a sourdough starter, you have a lot of sourdough discard. A lot of people throw it out, but you can use it in bread-related recipes. These Sourdough Discard Bagels are a great way to use some of that discard. After making them from scratch, I will not ever buy store-bought again.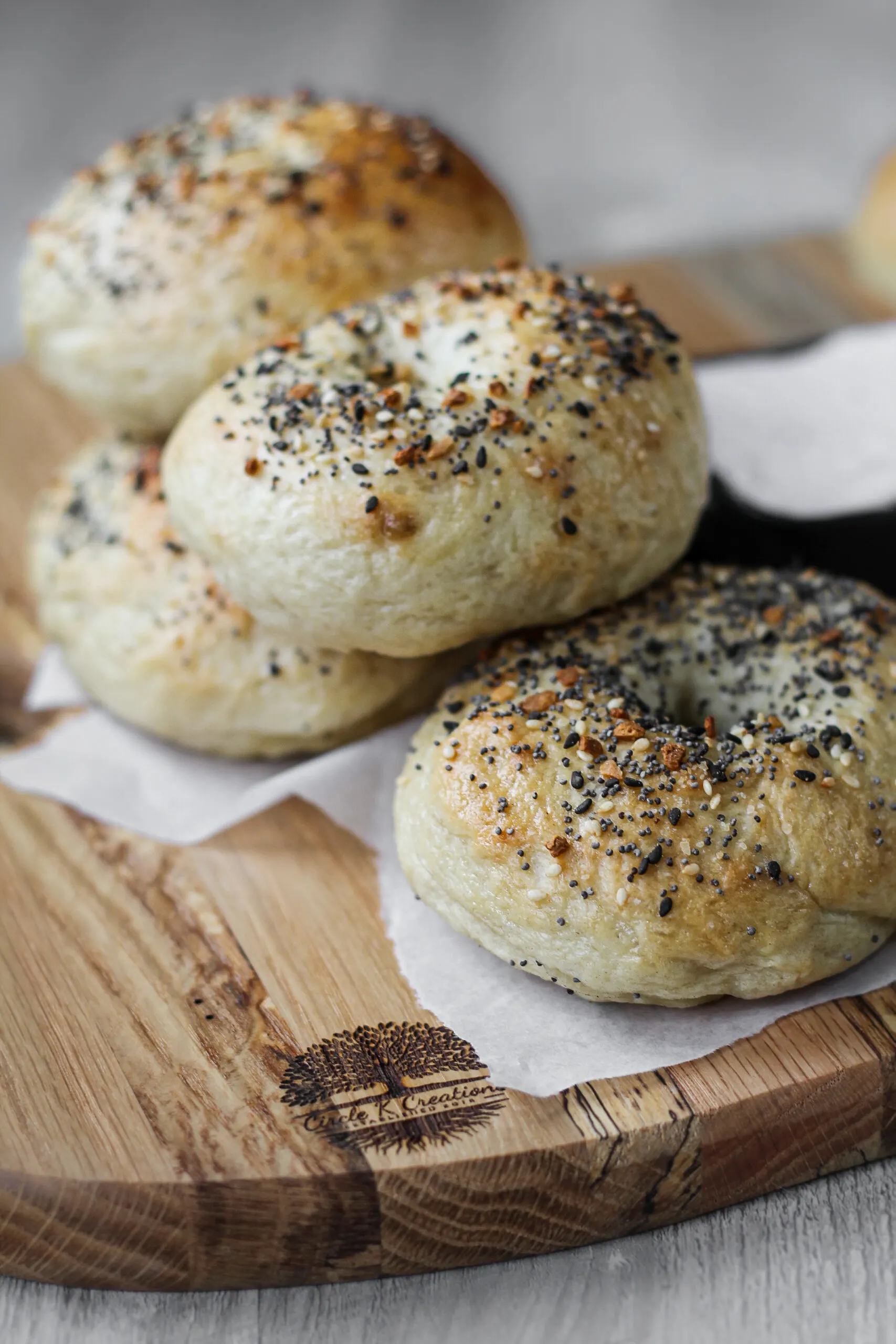 Looking for a few other sourdough discard recipes? Try these Sourdough Discard Cinnamon Rolls, or these Sourdough Discard Flatbread, and this one for Sourdough Discard Dinner Rolls is a favorite around here!
How to Make The Best Homemade Bagels
As long as you have sourdough discard, the other ingredients are simple items you have in your pantry.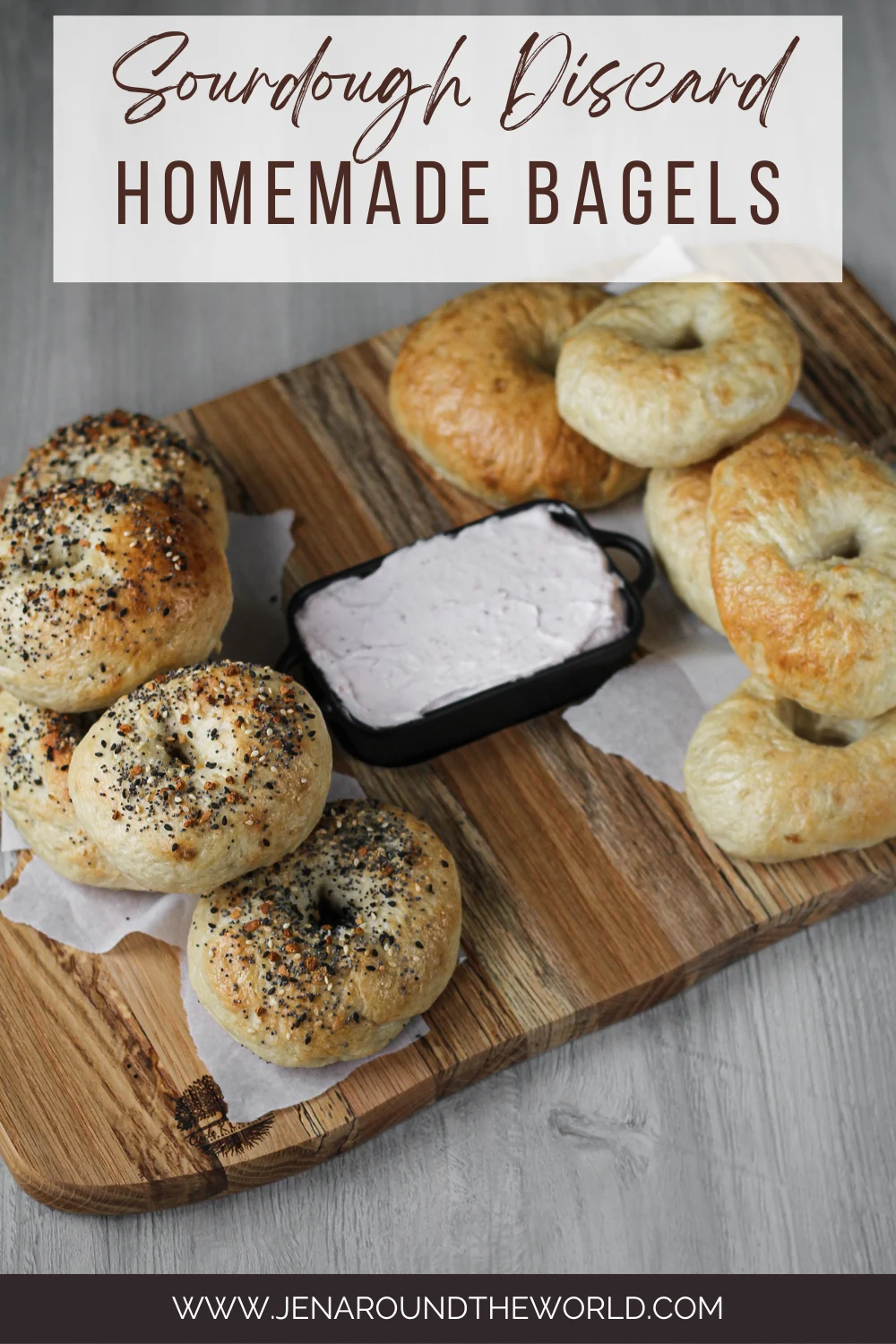 This recipe is so forgiving. You can't really mess it up. And the best part is they only need one rise.
Combine all ingredients in a stand mixer fitted with a dough hook. Mix until smooth ball forms and then transfer to an oiled bowl and cover with plastic wrap to rise for 90 minutes.
After the dough rises, turn it out onto a flat surface and divide it into 8-10 equal pieces. 8 pieces will give you larger bagels compared to 10 pieces. I like making smaller bagels. They are more manageable to me.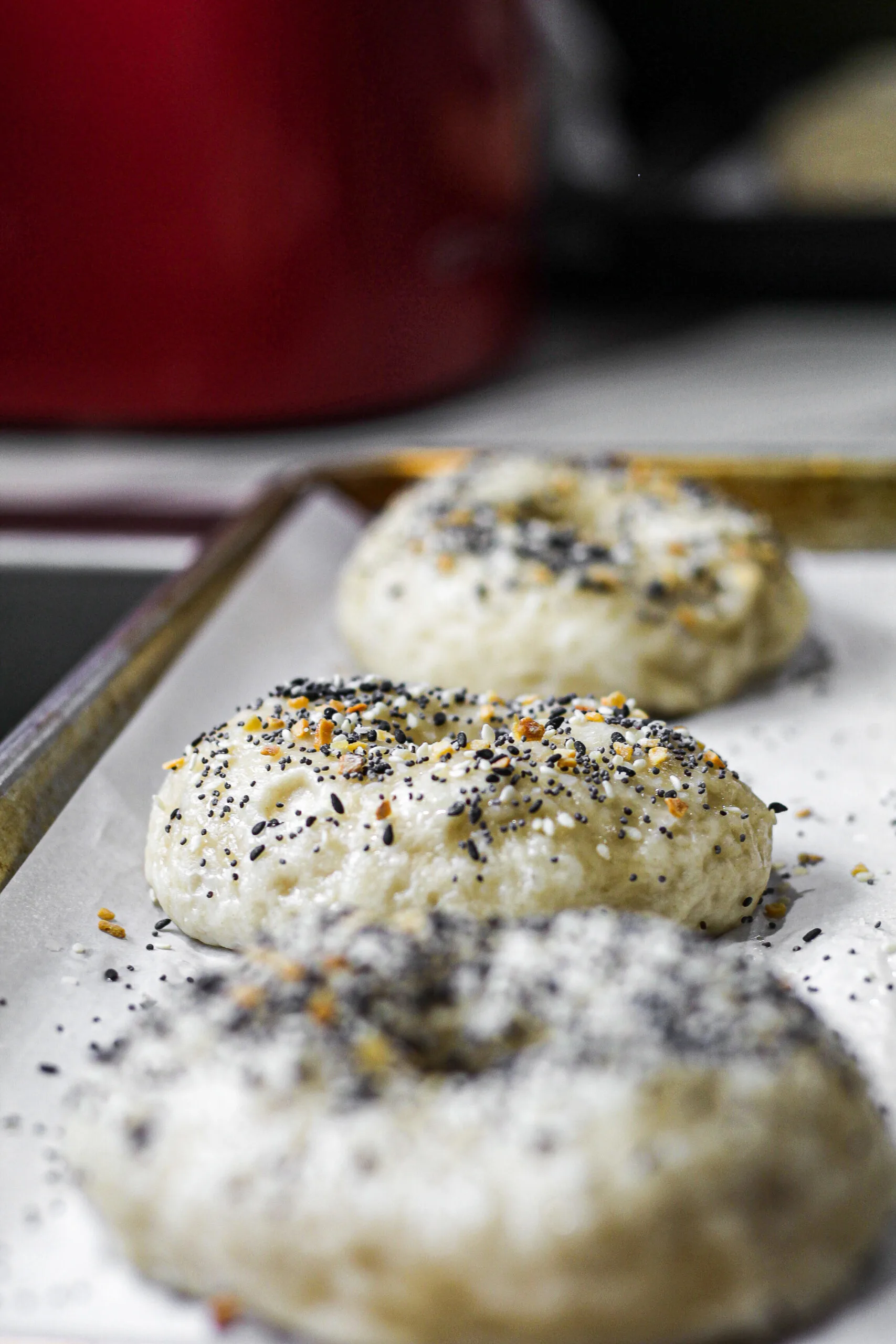 Roll each piece into a ball using the base of your palm to create friction and form the ball. Push your thumb through the center of each ball and stretch the hole to form your bagel shape. Boil each bagel for 30 seconds on each side. Use a slotted spoon to transfer the bagels to the prepared baking sheet.
Brush each bagel with egg wash, then dip or sprinkle with your desired toppings. I like using my homemade Everything Bagel seasoning on some of them. The others I leave plain.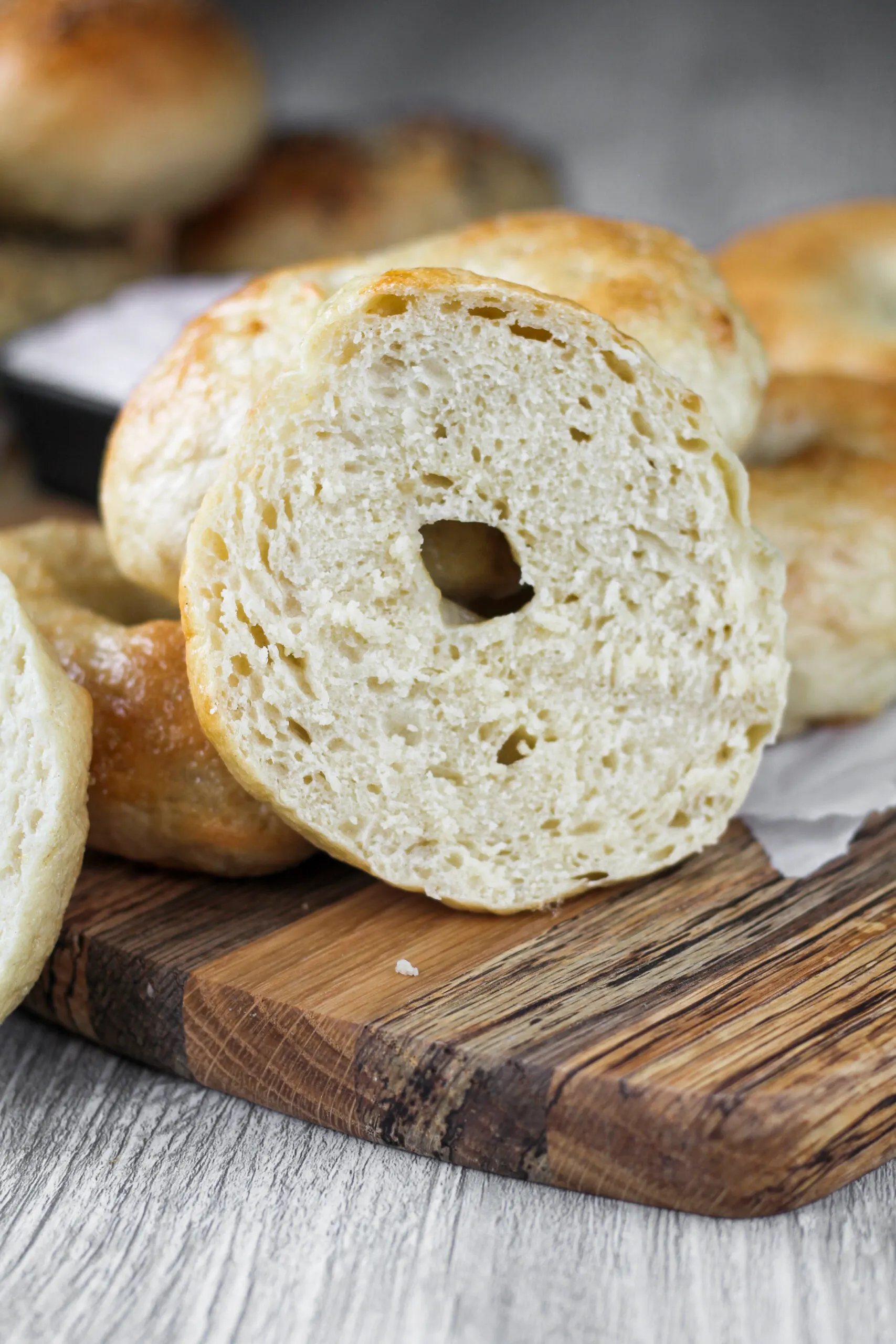 Bake the bagels until they are a nice golden brown. When they come out you can use them for breakfast, brunch, or like me — as a snack with a smear of my homemade strawberry Cream Cheese!
How to Store Your Bagels
These bagels are best when eaten fresh! Once cooled, they can be stored in a sealed plastic bag at room temperature for up to three days. You can also freeze them in a freezer-safe plastic bag for up to 3 months.
To reheat, either pop them into the toaster, air fryer, or microwave to warm them up and bring back that soft texture.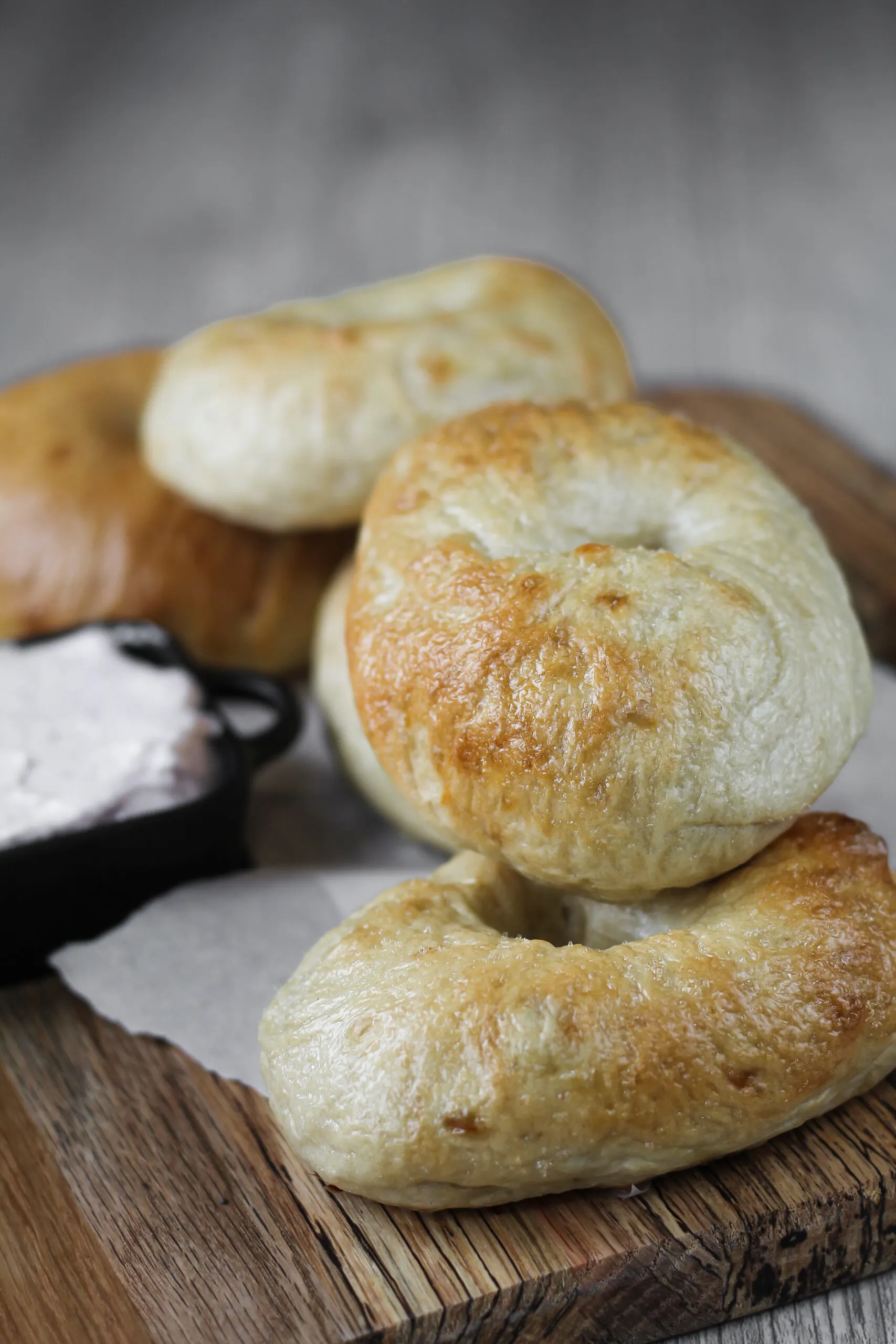 Use These Tools for Making Sourdough Bagels
Check out these other delicious bread recipes
Yield: 12 bagels
Sourdough Discard Bagels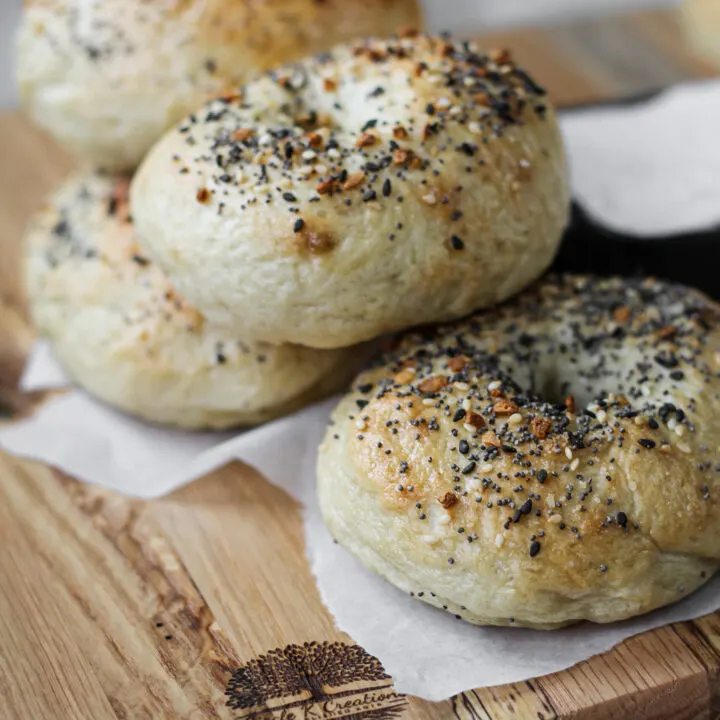 Making your own bagels is simple and easy especially if you have lots of sourdough discard around.
Rest Time
1 hour
30 minutes
Total Time
1 hour
43 minutes
Ingredients
3 ¾ cups bread flour
1 Tablespoons sugar for the dough mixture
1 teaspoon instant yeast
2 teaspoons kosher salt
1 cup sourdough discard unfed, at room temperature
1 ¼ cup warm water
1 egg white plus 1 Tablespoon water, for egg wash
2 tablespoons of sugar for the boiling water
Toppings like everything bagel seasoning, cheese, or toasted sesame seeds
Instructions
Combine the flour, 1 Tablespoon of sugar, instant yeast, and salt in the bowl of a stand mixer fitted with the dough hook attachment. Mix to combine.
On low speed, add the sourdough discard, and the water until combined. Increase speed to medium and knead for 4-5 minutes until smooth ball forms.
Grease a large bowl, transfer the dough to the bowl, and cover it with plastic wrap. Let the dough rise for 90 minutes or until doubled in size.
Turn the dough out onto a smooth surface and divide it into 8-10 equal pieces. 8 pieces will give you 8 large bagels; 10 pieces will give you 10 smaller bagels. Roll each piece in your palm to form a smooth ball, then use your thumb to press through the center of each ball, stretching the hole to form your bagel.
Lightly cover the bagels with a clean dish towel while you prepare the next step.
Preheat oven to 425°F. Prepare 2 baking sheets lined with parchment paper and set aside.
Bring a pot with 2 quarts of water and 2 Tablespoons of sugar to boil.
Place your bagels in the boiling water for 30 seconds on each side.
Remove from the boiling water using a slotted spoon and transfer to the prepared baking sheets. .
Lightly brush the bagels with egg wash, then sprinkle on your favorite toppings.
Bake for 20-25 minutes or until golden brown. Let cool fully before slicing and serving.
Nutrition Information:
Yield:
10
Serving Size:
1
Amount Per Serving:
Calories:

379
Total Fat:

10g
Saturated Fat:

3g
Trans Fat:

0g
Unsaturated Fat:

5g
Cholesterol:

21mg
Sodium:

488mg
Carbohydrates:

61g
Fiber:

2g
Sugar:

5g
Protein:

11g