Tacky Jacks in Gulf Shores, Alabama has some of the best food I've tasted. The environment is super unique with a gorgeous view. Read on to learn more about this amazing restaurant.
On our final morning in Gulf Shores, we packed up and cleaned up our beachside condo, drove down to Gulf State Park Pier to look around for a bit.
Then, we headed to Tacky Jacks to have breakfast before heading home. The moment we pulled into the parking lot, I fell in love with this restaurant.
Tacky Jacks overlooks the Intracoastal Canal and has the self-proclaimed "best breakfast on the beach." Now, we had eaten breakfast at The Brick & Spoon and it was delicious.
However, nothing prepared me for the amazing down-home breakfast options of Tacky Jacks.
Enjoying Breakfast at Tacky Jacks
My husband is an omelet man, so he got this 3 egg omelet filled with all his favorite kinds of meats. — Oh, and they toast the biscuits y'all.
Oh my stars — the food was AH-MAZING. They have fried potatoes which you can tell have been seasoned well and cooked southern style.
I chose a Sausage Egg and Cheese Biscuit and it was so yummy I wanted two.
While we waited for our food, we decided to check out the restaurant. The cool thing about Tacky Jacks is that everywhere you look, there are duct tape pieces everywhere.
They have cool messages from everyone who has eaten there. They have sharpies and pieces of duct tape at the counter for you to pull off and place on the wall somewhere.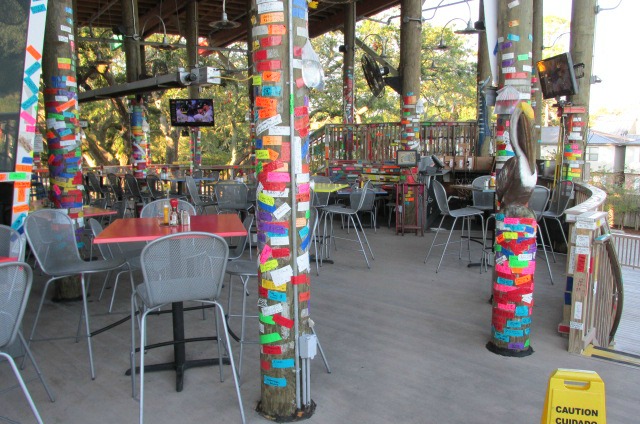 While here, you can choose to sit inside the restaurant, or you can sit outside. We chose to sit outside where we could watch the boats going up and down the canal river. In fact, they had some pretty cool ships come by — a yacht, a pirate ship, and a barge.
We had a great time on our trip to Gulf Shores and was very sad to see it end. However, Kentucky was calling our hearts back home, so after a delicious breakfast, we hit the road for the 8 hour drive home.
If you missed any of the posts about our trip to Gulf Shores, no worries! I have listed them all for you here 🙂
Places to Visit
Places to Eat
Places to Relax
And here are some tips on how to plan a perfect romantic getaway!