Kayla and I love visiting happy hour at Sonic. When we lived in Hopkinsville, we were only two minutes from the Sonic. But now? We live over 20 minutes away, so happy hour is few and far between, so she and I decided to try our hand at making our own Copycat Recipe for Sonic Lemonberry Slush.
Looking for more easy recipes? Check out my huge database of delicious, homemade goodies.
I did not even realize how easy it was to make one of these. Had I known, I would have been creating this long before this past weekend.
For us, this slush says SUMMER all day long.
Speaking of Summer, what do you plan on doing this season? For us, I am hoping it will be a season of slowing down and enjoying the people around us, but the way things look right now, things are starting to fill up.
For example — in June, we will be going to the Creation Museum, a family reunion, holding a garage sale for our youth group to earn money because in July we will be going to Cedar Point. Like I said — life doesn't look like it's going to be slowing down soon, but hopefully I can find some extra time to rest this summer. The pool is definitely calling my name!
Copycat Recipe: Sonic's Lemonberry Slush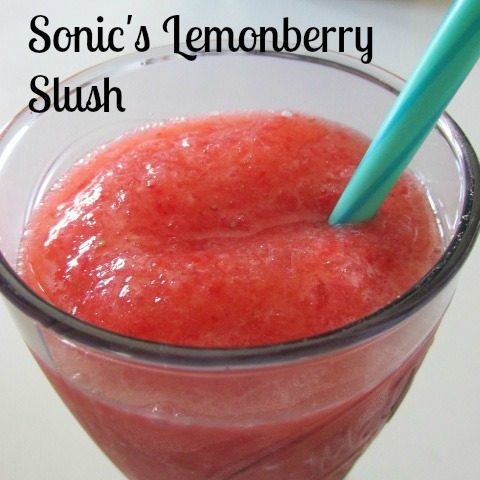 Ingredients
1/3 cup of lemon juice, fresh squeezed tastes best, but you can use the bottled stuff in a pinch (or less to taste)
1 cup of water
1 cup of fresh strawberries, or more to taste
1/4 cup of sugar
1 tray of ice cubes
Instructions
Slice strawberries and mix with 1/4 cup of sugar. Mash them so that the strawberries release some of their juice. Cover and place in the fridge for about 30 minutes to give the strawberries time to release some of their juices.
Juice the lemons and then quarter the remains to place in the bottom of your glass.
In a blender, blend the lemon juice, water, most of the strawberries with juice and sugar, and ice cubes until slushy.
Place 2 lemon pieces and a few of the sliced strawberries in a glass and then fill with slushy mixture.
Add a straw and serve!
This has to be one of my favorite drinks of all times that I have made. It is so refreshing! If you taste it and it is a little too sweet for you, just add some extra lemon juice. If it is too tart, just add a little more sugar or strawberry mixture.
What is your favorite summertime drink?