Kumquat Marmalade is the perfect jam for toast and biscuits. Made with fresh fruit and no artificial pectin in this recipe!
Last year I was introduced to Kumquats during our spring dessert week. For that week I made a delicious Kumquat Upside Down Cake that everyone raved over.
When I got my box of produce in from Melissa's again, they sent a ton of kumquats so I had to figure out something to do with them. I decided to make Kumquat Marmalade and share it with my friends!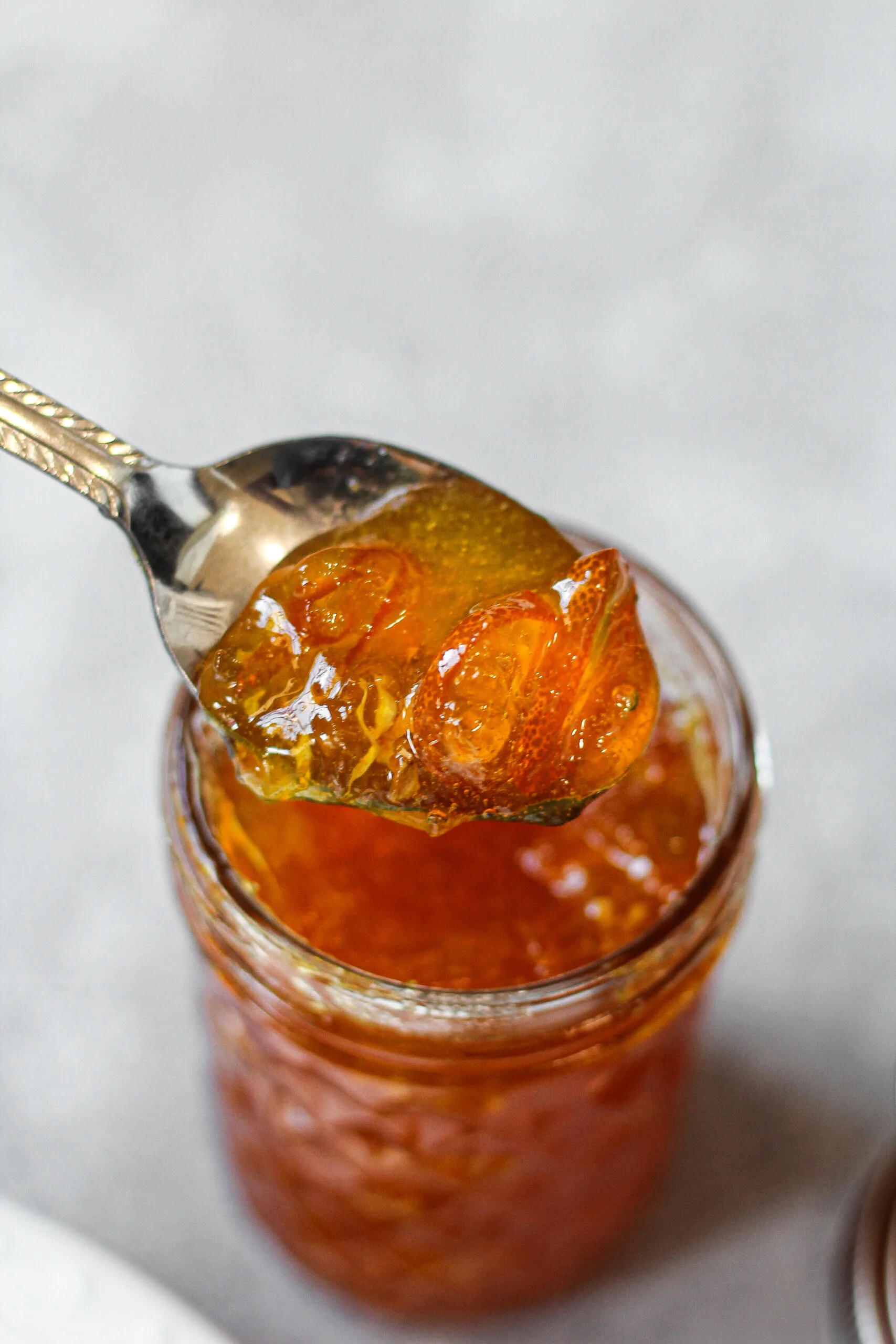 What is a kumquat?
A kumquat is an edible, orange-like fruit that is native to Southeast Asia.
Though the citrus fruit resembles an orange in shape and color, it's actually quite small—about the size of an olive.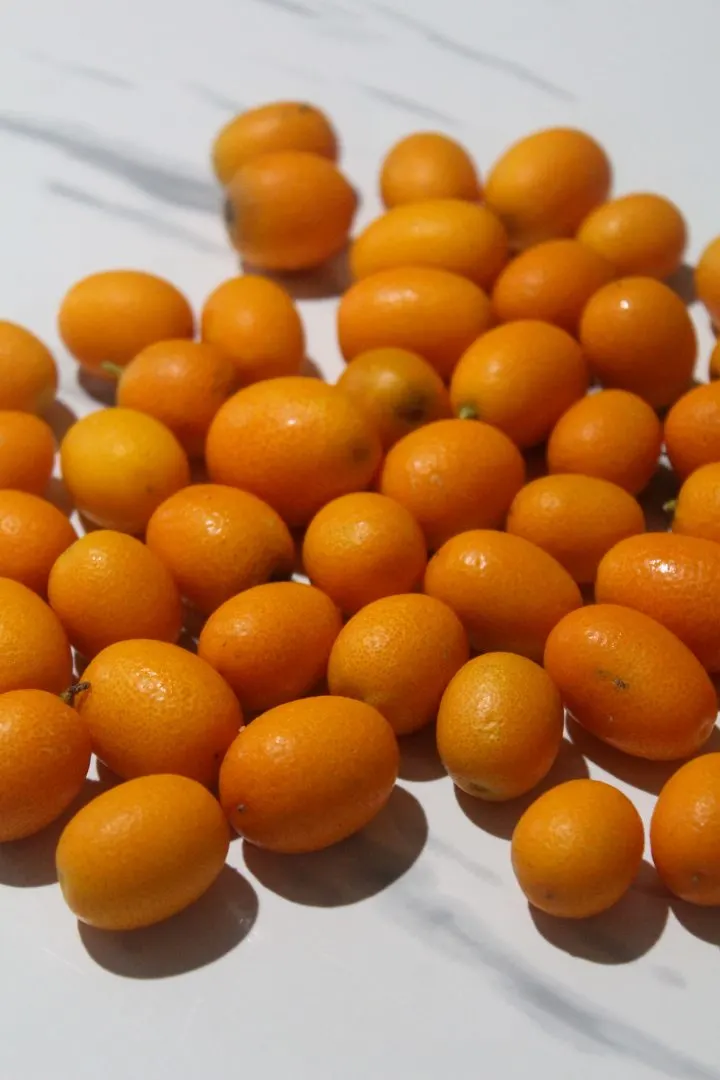 The kumquat's flavor is distinctly citrusy. While the fruit is slightly sweet, the overwhelming flavor is sour and tangy. Because of that, it makes a great fruit for marmalade.
The tangy and sour mixed with the sweet from the sugar creates this beautiful jam that is SO delicious. My favorite part though is the peel which is surprisingly appetizing.
How to Make Kumquat Marmalade
Whenever I make jams or jellies, I try really hard to keep pectin out it. Most of the time, you can use sugar and lemon juice to create its own thickening agent which keeps your jam usually just three ingredients.
First up to make this delicious marmalade is to slice thinly the kumquats. As you slice them, remove the seeds also. It's super easy. The seeds usually just pop right out.
Once all the kumquats have been sliced, add them to a saucepot with 4 cups of sugar and the juice of one large lemon.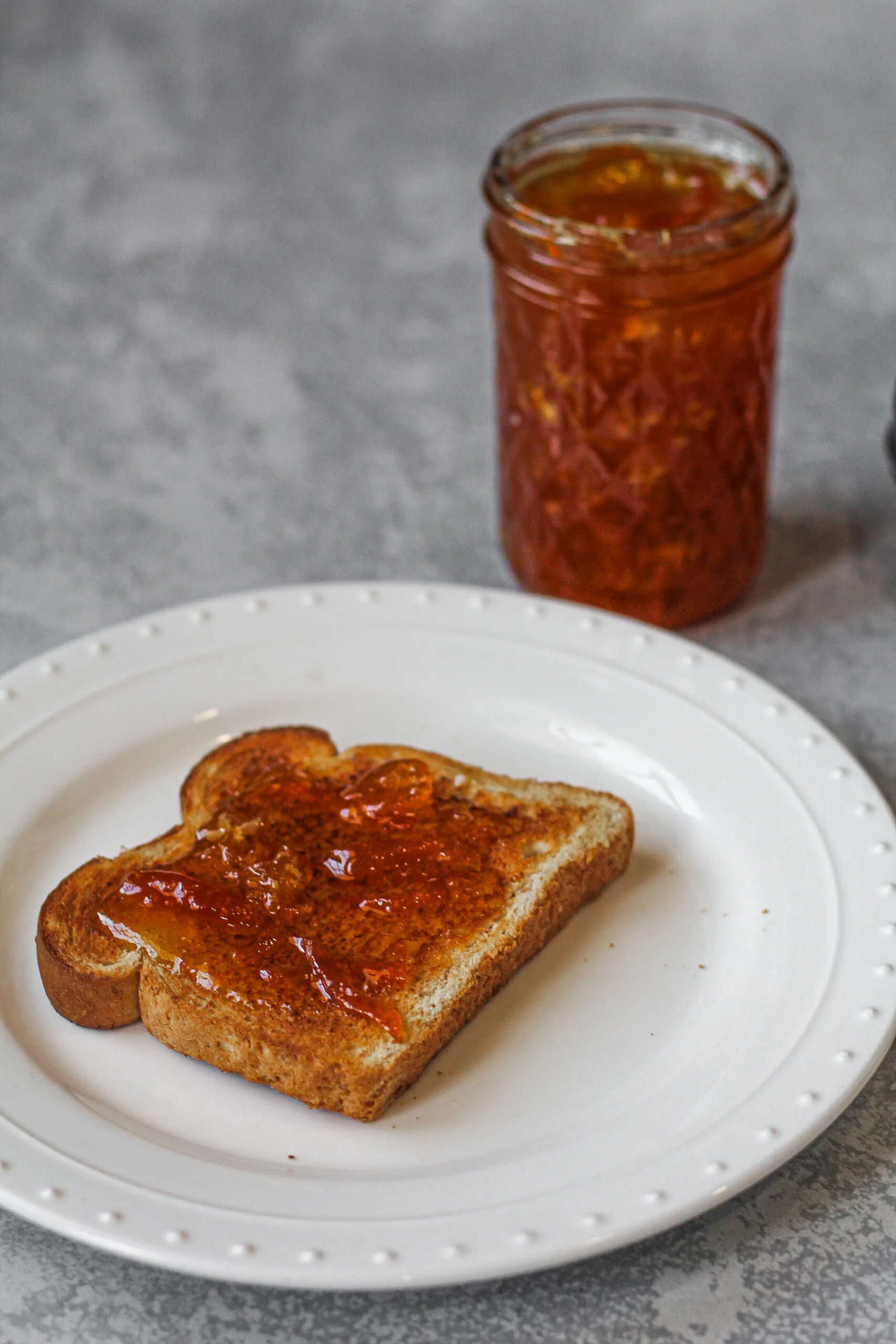 If you want it sweeter, you can add 1-2 cups more of sugar, but I didn't feel it needed it. I like the mixture of sweet and tangy together.
Cook on high heat until it comes to a rolling boil, then turn the heat down to medium. Continue to cook on medium heat until the mixture cooks down. This usually takes about 20 minutes.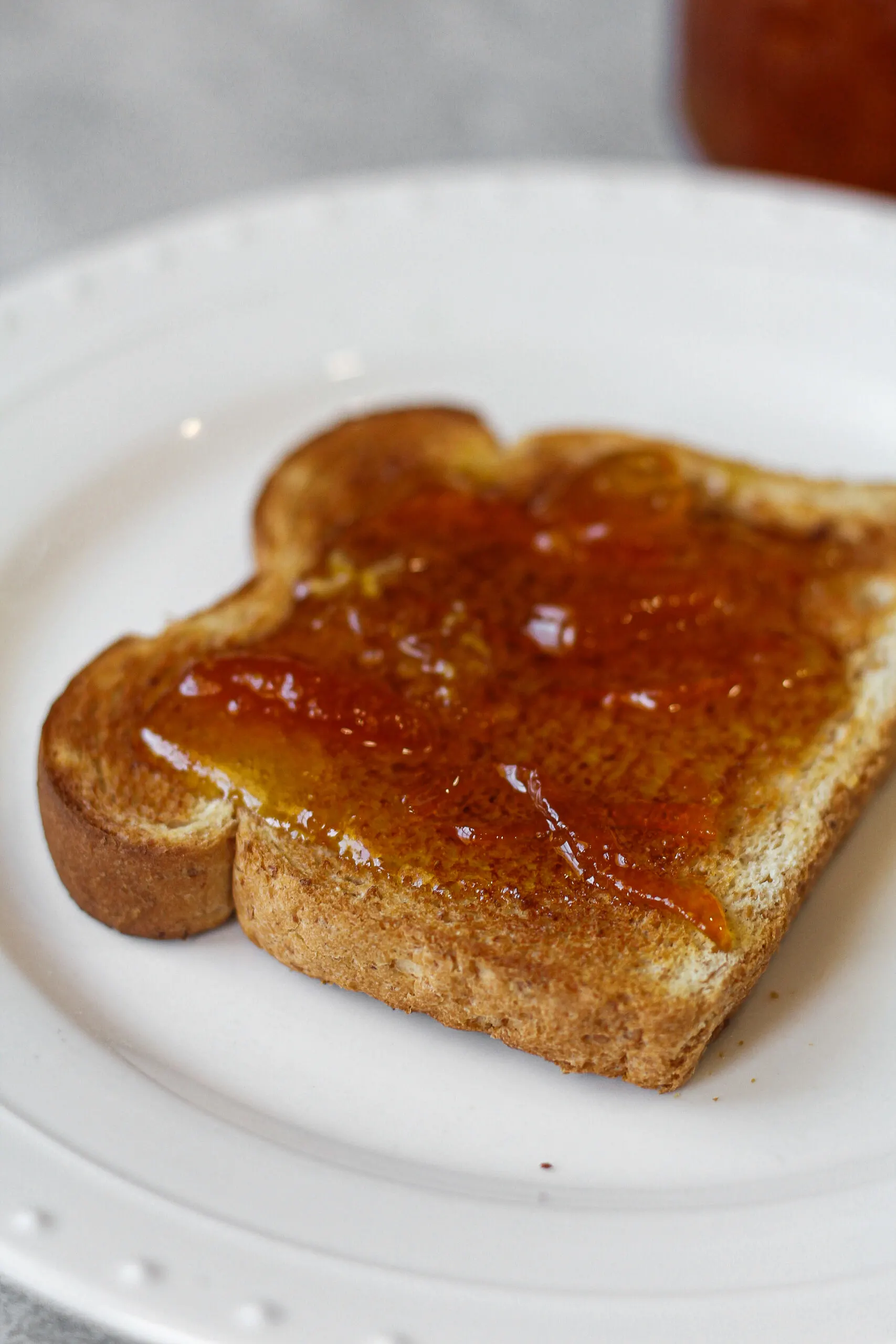 To test the marmalade, place a plate in the freezer to get it to ice cold. I usually do this at the start of slicing the kumquats. When I am ready to test the mixture, I place just a spoonful on the plate. If it is running, it is not set. You should be able to run your finger through the marmalade and the sides do not come back together.
Wash and sterilize your jelly jars. Make sure they are clean and dry.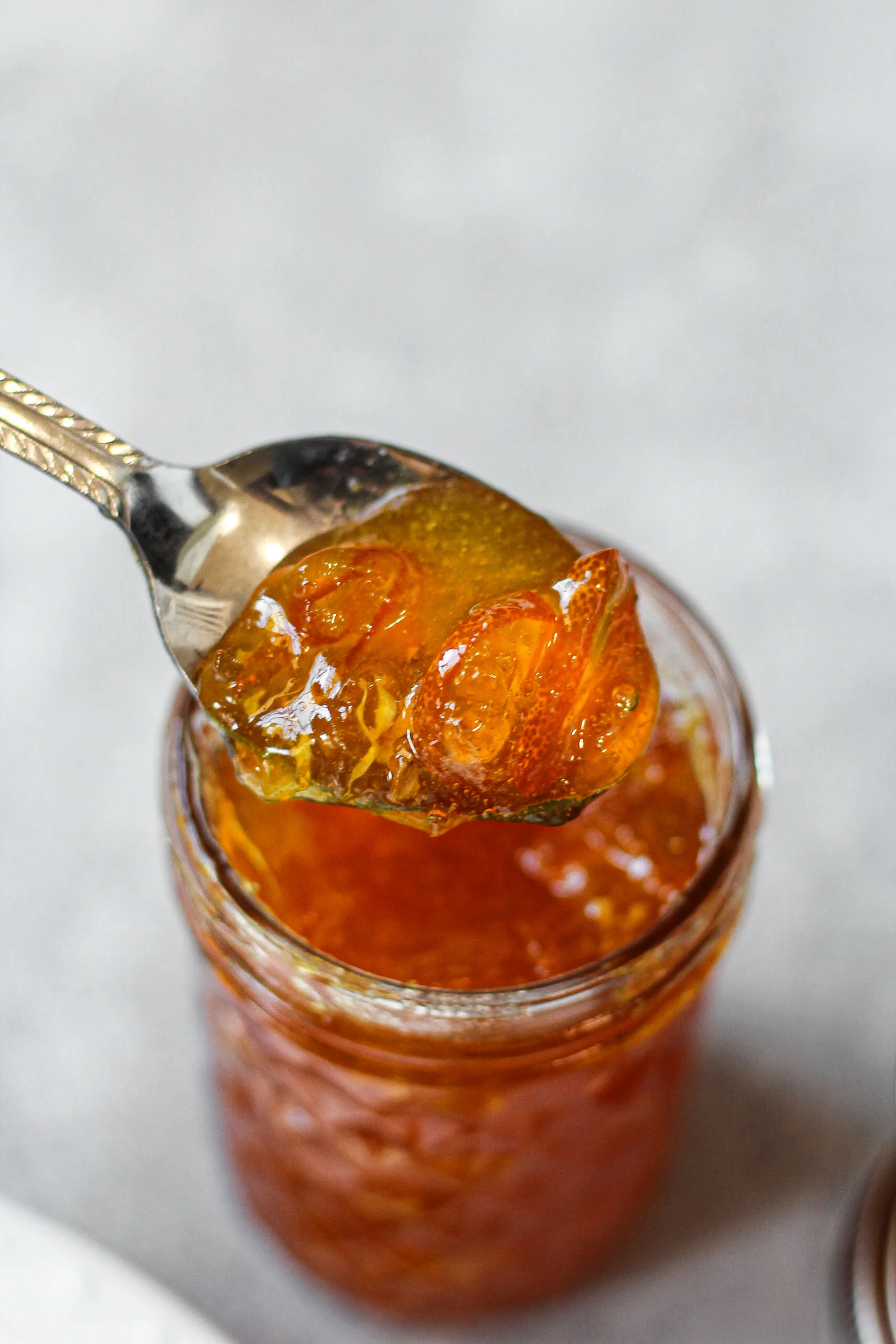 Fil the jars making sure to leave a 1/4″ headspace at the top. While hot, place the lids on and then turn them upside down on the counter on top of a towel. This will help the lids to create a seal.
Once they have cooled, turn the jars right side up. Store in the fridge once opened, or you can leave on a shelf until ready to use.
Check out these other delicious jams and jellies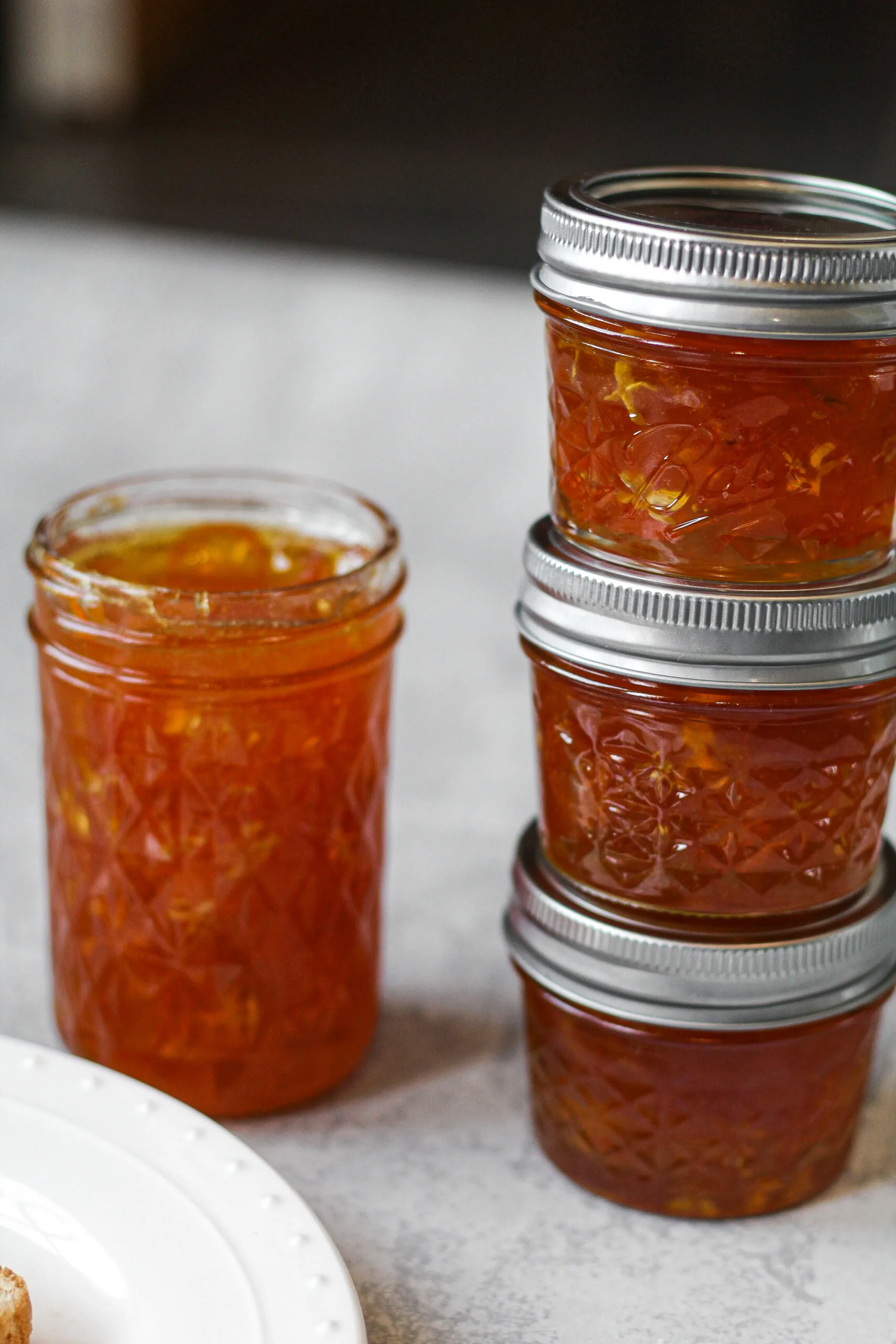 Yield: 7 half pints
Kumquat Marmalade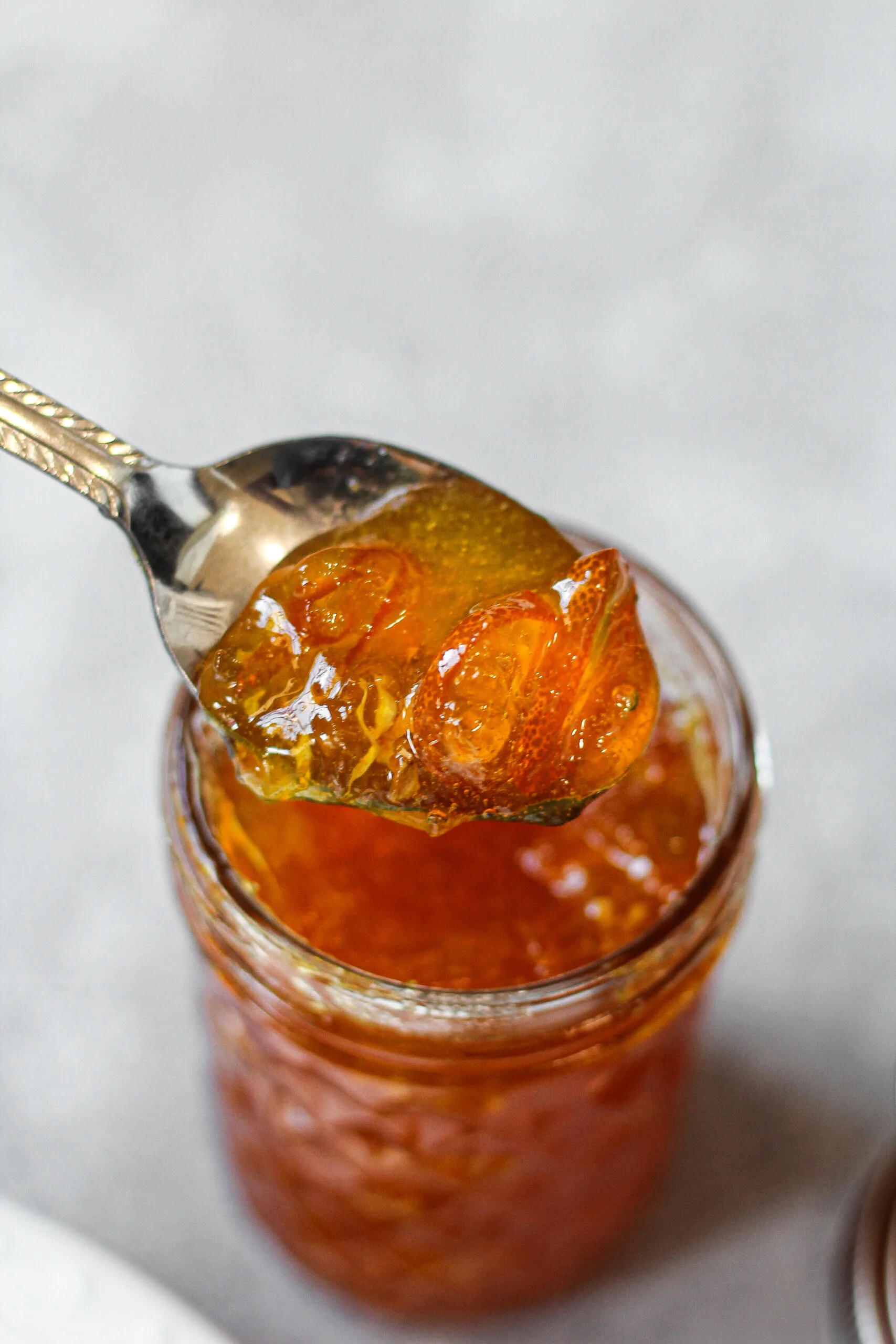 The best 3 ingredient kumquat marmalade prepared with fresh fruit and no pectin at all!
Ingredients
1 3/4 pounds of kumquats
4 cups of sugar
juice of 1 lemon
Instructions
Rinse the kumquats to remove any impurities.
Cut the kumquats into thin slices. Remove seeds as you slice them.
Place the kumquats into a pot along with the sugar and the lemon juice.
Heat on high stirring occasionally until it comes to a rolling boil. Turn the heat to medium and continue cooking.
Cook for 20 minutes or until the temperature reaches 220 degrees. You can test by taking an ice-cold plate and adding a spoonful of marmalade to the plate. If it runs it is not ready. Continue cooking for another 10 minutes.
Using an immersion blender, blend until you reach your desired consistency. I like mine to have chunky bits of kumquats in them.
Prepare jars and lids by washing and drying them in scalding hot water.
Fill the jars making sure to leave a 1/4" headspace at the top. Place the lids on and turn the marmalade upside down. Leave like this until the jars have cooled down.
Set jars upright and then store them on the shelf. Once opened, place it in the refrigerator.
Serve on toast or biscuits.
Nutrition Information:
Yield:
35
Serving Size:
1
Amount Per Serving:
Calories:

105
Total Fat:

0g
Saturated Fat:

0g
Trans Fat:

0g
Unsaturated Fat:

0g
Cholesterol:

0mg
Sodium:

3mg
Carbohydrates:

27g
Fiber:

1g
Sugar:

25g
Protein:

0g