Do you love to give homemade goodies to your friends and family for Christmas? These jams and jellies make the perfect Christmas gift that keeps giving all year long.
Over the years when money has been tight, I have found that making homemade goodies to give as gifts works even better than a store bought gift.
I think the reason for that is because homemade goodies somehow convey that you care for someone. You took the time out of your busy schedule to make them something with your own two hands and that speaks volumes!
I have made all kinds of things for friends and family — homemade cinnamon rolls, fun candies like these Peppermint Oreo Cake Balls, my famous Praline Pecans, and of course — Green Pepper Jelly.
Jams and Jellies That Make Great Christmas Gifts
For me, I love to give the gift of a loaf of homemade bread, a jar of one of my favorite jams and jellies, with a cute little knife that I have picked up from the store.
During the year, I stock up on jelly jars that I have picked up at yard sales and such. I make a lot of jams and jellies during the summer, but I also stock up and make a few during the winter as well to give as gifts.
Here is a list of my top jams and jellies that make great Christmas gifts.
Green Pepper Jelly
This Green Pepper Jelly recipe is super easy to make and goes great over a block of cream cheese with some wheat thin crackers.
It is very simple to make and the green color makes it very festive for Christmas.
You can buy Christmas fat quarters from your local craft store to use under the lid to really dress them up. Deliver with some crackers and a block of cream cheese for the perfect gift.
Red Pepper Jelly
Another favorite of mine is my homemade Red Pepper Jelly. Just like the green pepper jelly, I love eating this served over a block of cream cheese. It also goes great served over a wheel of brie and topped with roasted walnuts or pecans.
20 Minute Pumpkin Butter
Even though this is called Pumpkin Butter, to me, it is like a jam or a jelly.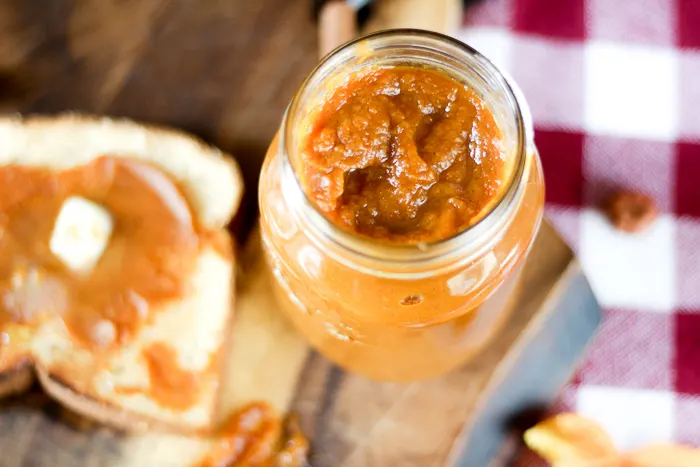 I love giving this as a gift with a loaf of my homemade bread. When toasted up and then spread this pumpkin butter on top, it is pure heaven.
Pear Vanilla Jam
Pear Vanilla Jam is so delicious and so perfect. The two flavors together make this an amazing Christmas gift to give.
I like to give this jam with a batch of my homemade Southern Style Breakfast Biscuits.
Homemade Blackberry Jam
I love how festive in color Homemade Blackberry Jam is. The deep red and purple colors would make this a great Christmas gift, but the taste is what really makes it a perfect gift.
`I like to give this alongside a batch of my Bobby Flay Parker House Yeast Rolls.
Strawberry Freezer Jam
This freezer strawberry jam is so simple to make and I love that you can get the kids in on this one!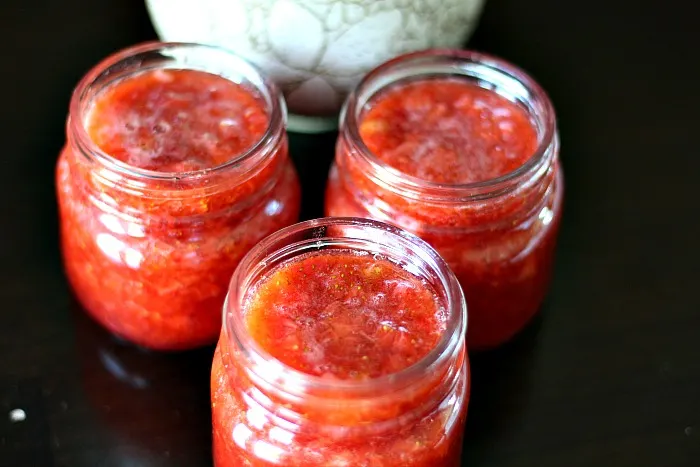 I make batches of this year-round and then I love to give it along with a loaf of my Honey Wheat Bread for the perfect holiday gift.
Peach Jam
This easy Peach Jam would make a great Christmas gift. Earlier this year, I won a huge box of peaches and wound up making so many delicious things. I froze a bunch to use for the holidays as well so I could make up some of this jam.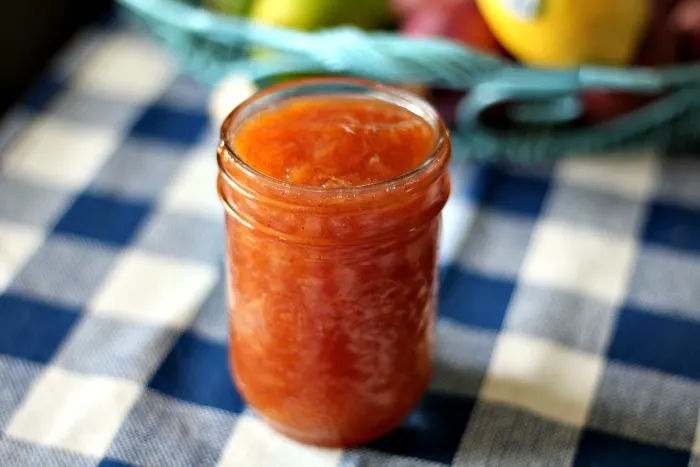 I usually make a loaf of my No Knead bread to give alongside this easy to make jam.
Homemade Bacon Jam
This Homemade Bacon Jam is SO good and you would not normally think of giving this as a gift, but it goes great over everything, including Brie Cheese.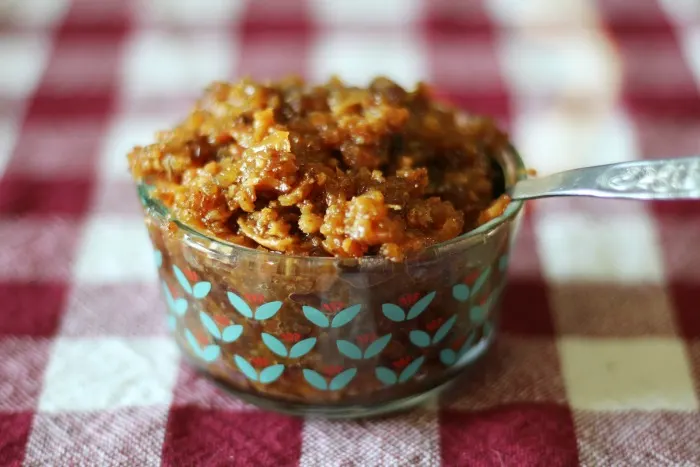 I pack up a wheel of brie, this jam, a fun cheese cutting board to serve it on, and this recipe of mine for Spicy Bacon Onion Chutney over brie.
Fun Kitchen Tools To Give Alongside Your Jams and Jellies
Here is a list of all the things I like to give when I give my jams and jellies. Of course, you do not need to give any of these, but when I can find them at a cheaper price, I like to stock up just to give as an extra with my homemade goodies.
So there you go! A list of my favorite homemade jams and jellies that make the perfect Christmas gift. You still have time to get some made to give as gifts.