Okay y'all — this recipe is HANDS DOWN one of the best meals I have ever made in my entire life. I recently made Coffee Crusted Steaks with some delicious prime USDA ribeyes.
Now, I will be honest with you — I have never made a steak inside the house. I have been SO against it for the longest time thinking it would make it tough and not edible.
However, I am here to tell you that cooking that steak in a cast-iron skillet is golden.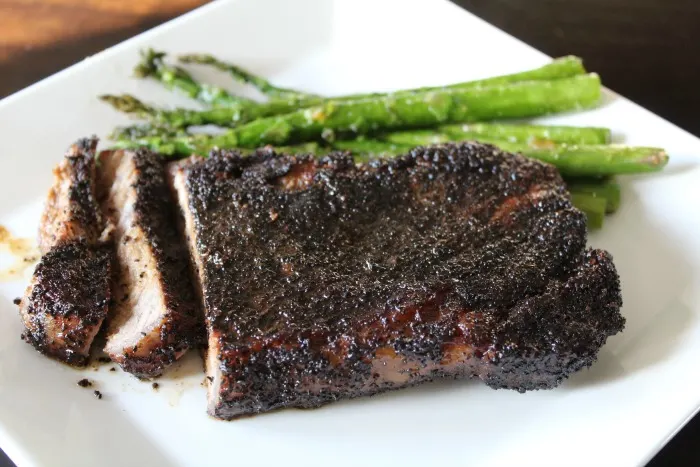 These steaks were so moist and so juicy, that my daughter, who hates steaks, ate half of mine — no joke.
So let me share this amazing recipe with you!
How to Make Coffee-Crusted Steaks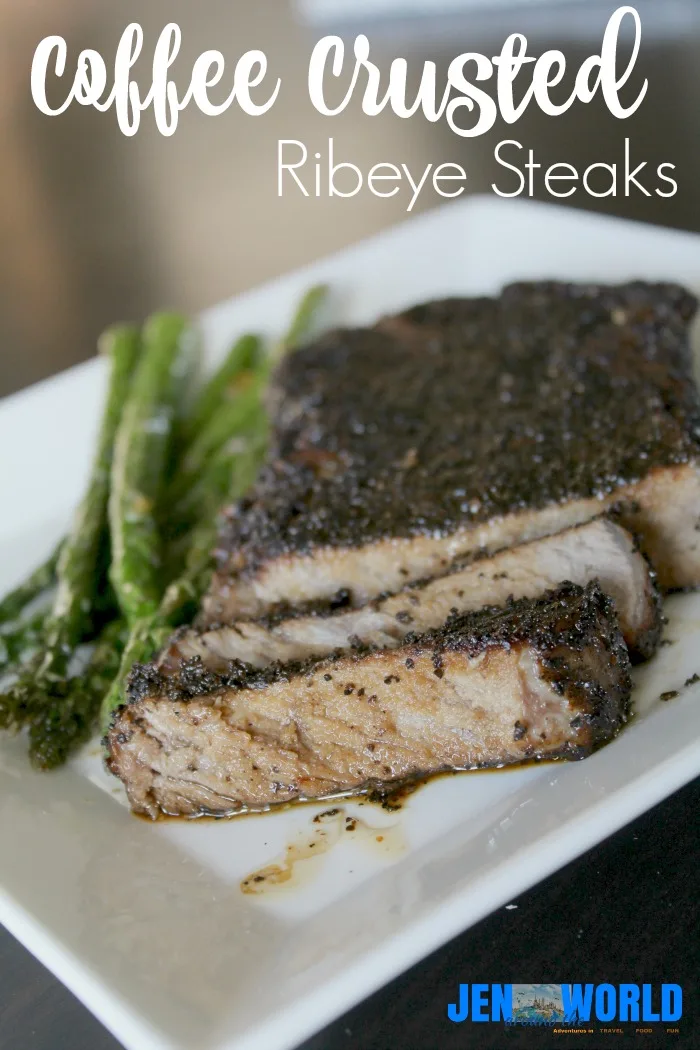 Step 1 – Start with Your Steaks
To start with you need to get you a couple of steaks. I personally love the steaks from Certified Steak and Seafood Company.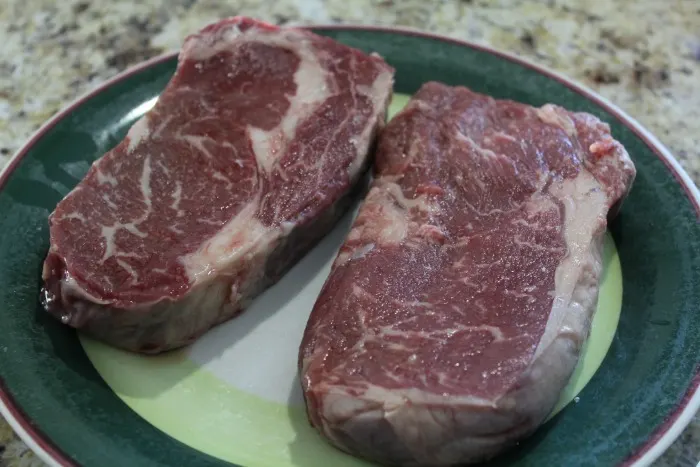 The amount of marbling fat vs the tender beef is perfect as you can see — which means you are going to get the MOST AMAZING and tender cooked portion of beef you have ever put in your mouth.
If you are new to buying or cooking steaks — you need to make sure you choose ones that have great marbling — which is the fat you see all throughout the meat. It adds flavor but keeps the meat moist as well.
Step 2 – Sprinkle on the Coffee
Now — you might think this sounds crazy, but it's not. First, baste on olive oil onto the steaks so that the coffee sticks. Now, get ground unused coffee — like the kind you drink every morning and sprinkle on the steaks.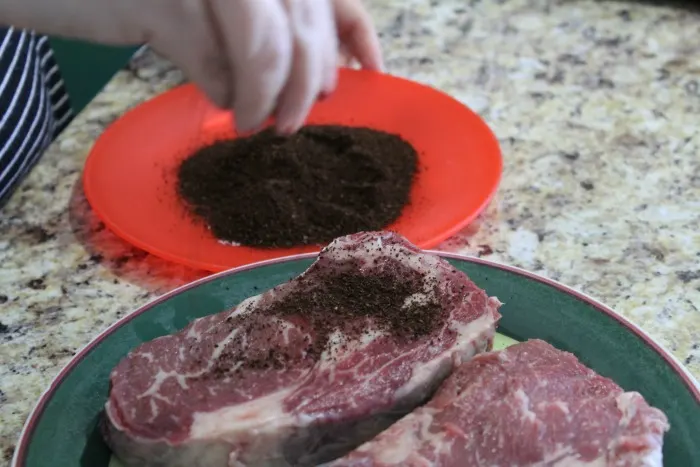 If you cannot handle a lot of caffeine, you might want to make sure you get decaf — which is what the original recipe called for.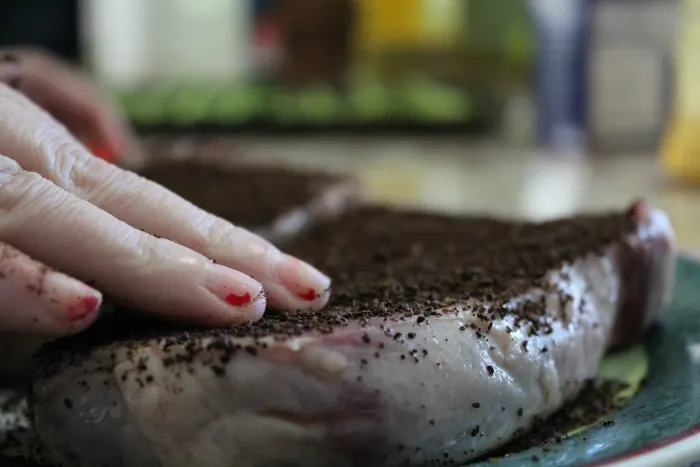 Excused the unpolished fingers — it has been a doozy of a week here.
Once you get one side done, flip the steaks and do the other side.
Step 3 – Add a Little Sugar and Lawry's
Once I get the coffee good and rubbed in, I sprinkle on a little bit of sugar and a little bit of Lawry's. You can make up ahead of time a coffee-crusted seasoning rub (which is what I am sharing with you below in the recipe portion) and keep it in the pantry — that way, you only have to do this step once, but I chose to do them in three different steps.
I only did it one side at the beginning so that as they go down in the hot skillet, then I can sprinkle the seasonings on the other side as well.
Step 4- Sear Those Steaks
Now that you have them seasoned well, get your skillet going. Take a cast iron pan and drizzle a little oil — about a tablespoon — in the bottom and turn it on medium high. Give it a few minutes to heat up until you see smoke coming off of the pan and then lay the steaks in the skillet to sear, seasoned side down — and leave them along for like 2-3 minutes.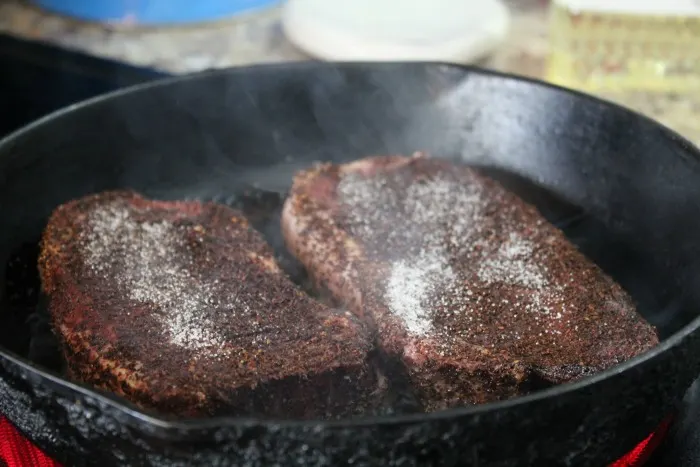 While that side is searing, you can season the other side with the sugar and Lawry's. Once the 2-3 minutes have passed, you should be able to lift the steaks and flip them without any problem.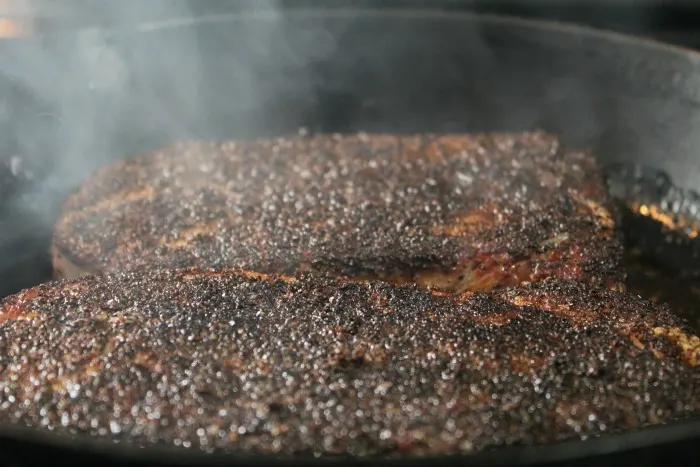 They may look burnt, but they are not — trust me. That is caramelization from the sugar and coffee. Then you let the steaks sear here for a couple of minutes on this side.
Step 5 – In the Oven They Go!
While the steaks are searing off on this side, go ahead and turn the oven on to 400 degrees and let it preheat. Once the steaks are done preheating, slide the whole skillet into the oven and let it do the rest.
What you will end up with is these delicious steaks that are cooking in a scrumptious juice that is forming in the pan.
Be sure to start checking the steaks with a thermometer every minute or two until they are the desired temperature.
Then remove from the oven and go ahead and plate the steaks and let them rest for about 10 minutes before cutting into them.
Once the time is up, slice your steaks and then take the sauce that is in the pan and drizzle over the top. Your mouth will thank you for this exciting and delicious meal you have just created.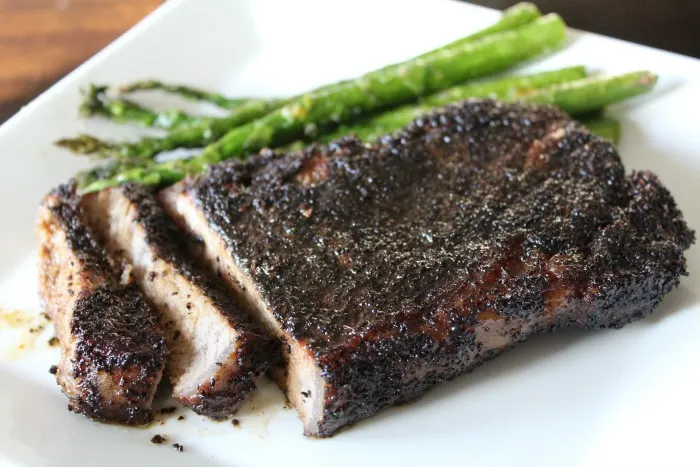 I serve mine with a side of roasted asparagus and homemade bread for an ultimate steak dinner cooked right in the comfort of my own home.
A dinner like this would cost you around $45 at a high-end steak restaurant, but you can make dinner for two for that price.
Looking for more coffee inspiration? Check These out
Also, be sure to visit the Best Coffee Recipes page on my blog for more inspiration. I even have a list of some of my favorite coffee accessories.
Yield: 4 steaks
Coffee Crusted Steaks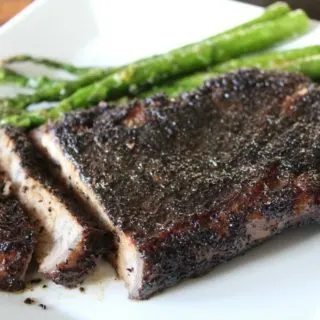 These coffee-crusted steaks are popping with delicious flavor.
Cook Time
7 minutes
5 seconds
Total Time
12 minutes
5 seconds
Ingredients
2 10 ounce ribeyes from Certified Steak and Seafood Company
2 tablespoons of Olive Oil
Coffee Crusted Seasoning
1 tablespoon coarse ground pepper
½ cup Lowry's Seasoned Salt
½ cup granulated sugar
½ cup coffee granules, finely ground ( I use Folgers Classic Coffee)
Instructions
One hour before cooking, take the steaks out of the refrigerator and pat dry with a paper towel.
Brush both sides of steak with olive oil.
Sprinkle both sides of steaks with 3 teaspoons Coffee Seasoning Salt and rub the mixture into the steaks.(You can rub more on if you want. This is the lighter version - I went heavy on mine)
Preheat oven to 400F.
Heat a cast iron pan over medium high heat.
Place 1-tablespoon olive oil in the hot pan and place the steaks in the pan.
Sear the steaks 2-3 minutes without lifting or moving them or until crusty and brown. Flip the steaks over and cook them another 2-3 minutes or until they have a nice sear.
Transfer the cast iron skillet with the steaks to the hot oven and cook the steaks until medium or to your liking.
Check the steaks internal temperature after 2 minutes, then every minute until they reach the desired temperature.
I prefer steaks to be cooked to medium (135F internal temperature).
*Remember the meat will continue cooking after it is removed from the heat source.)
Remove the steaks from the pan, set them aside covered with a foil-tent to rest 10 minutes before serving.
Nutrition Information:
Yield:
4
Serving Size:
1
Amount Per Serving:
Calories:

629
Total Fat:

34g
Saturated Fat:

12g
Trans Fat:

0g
Unsaturated Fat:

18g
Cholesterol:

160mg
Sodium:

9312mg
Carbohydrates:

35g
Fiber:

2g
Sugar:

25g
Protein:

45g