If you have been around here for any minute, then you know just how much I love coffee and just how much it fuels my day.
It is my lifeblood y'all and I feel like Lorelai Gilmore when she says, I need coffee in an IV. Yep — that's me! In fact, when we traveled to Waco, Texas a couple of years ago, we made it a mission to find every coffee shop we could and try them. I even wrote a post about the 5 Coffee Shops You Need to Visit in Waco, Texas.
Since starting this blog, I have shared a ton of delicious coffee recipes with you, so I thought I would put them all on one page so that you can easily access them.
Check out my homemade coffee steak rub that is out of this world! I use this rub when I make my delicious Coffee Crusted Steaks.
I am also sharing with you all my favorite coffee accessories that make it easy to make that perfect cup of coffee, and a few recipes that involve coffee flavor as well. For a fun vegan coffee recipe try this one.
If you plan on drinking a lot of coffee, the first thing you want to do is set up an area to create the perfect coffee bar.
Iced Coffee Recipes
You can either make an iced coffee using espresso, or you can make a big batch of my Cold Brew Coffee Concentrate to get you started.
This concentrate is simple and easy to make and stays fresh in the fridge for days. I use this a lot of times for my iced coffee. It makes it quick and easy to make a glass to enjoy.
Cinnamon Roll Whipped Coffee
This delicious whipped coffee tastes just like a cinnamon roll wrapped in a coffee drink.
Coconut Mocha Iced Coffee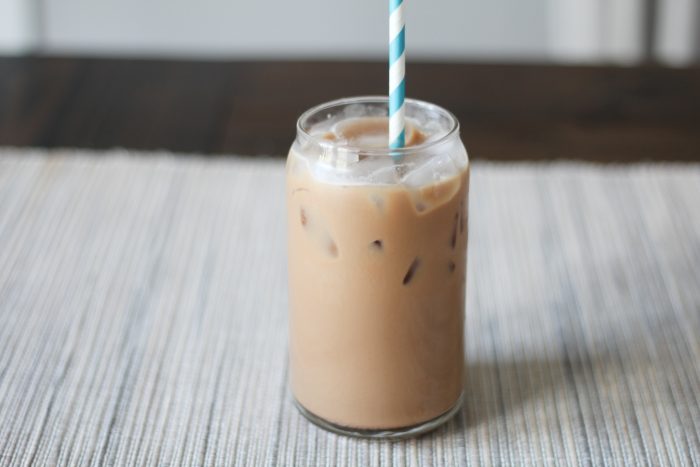 This is my favorite iced coffee recipe on the planet. It is so easy to make and tastes like an Almond Joy in a jar. It has a delicious dark chocolate sauce and a coconut syrup. When combined, it tasted like heaven in a glass.
Click here for the recipe for Coconut Mocha Iced Coffee.
Mint Mocha Iced Coffee
Making this Mint Mocha Iced Coffee is simple and easy and one of the most refreshing drinks you will make all year long. It uses fresh mint leaves and dark chocolate sauce.
Click here for the recipe to the Mint Mocha Iced Coffee.
Spiced Mocha
Spiced Mocha – whether you drink it hot or iced is all the rage right now. If you like things with a bit of a kick, you are going to LOVE this recipe! I love the kick of the cayenne in this recipe.
Click here to get the Spiced Mocha recipe.
Hot Coffee Recipes
Hot coffee is my choice of beverage. My daughter is an iced coffee lover. I drink iced only when it is really hot.
Last year, Kayla and I made some delicious hot coffee mugs as a craft. We did the whole DIY Sharpie Mug Coffee Craft.
Homemade Caramel Macchiato (copycat Starbucks coffee recipe)
I created this delicious coffee recipe with my Ninja Coffee Bar I bought years ago. It is the perfect copycat recipe from Starbucks and super easy to make.
Click here for the Homemade Caramel Macchiato Recipe.
Crockpot Pumpkin Spiced Latte
Make a huge batch of your favorite PSL in the crockpot. This recipe is simple and easy to make. We do a big batch every year to share with friends and family.
Click here to get this Crockpot Pumpkin Spiced Latte Recipe.
Desserts that Have Coffee in Them
Coffee Cinnamon Scones
These scones are filled with a cinnamon coffee mixture that is perfectly combined. I love serving these to my friends and family members whenever we have get together.s
Click here for the recipe to these Coffee Cinnamon Scones.
Blueberry Coffee No-Churn Ice Cream
This coffee ice cream might seem a bit weird being mixed with blueberries, but trust me when I tell you that it is amazing and full of delicious flavor.
Click here to get the recipe for Blueberry Coffee No-Churn Ice Cream.
These Recipes Will Be What Makes Your Coffee Sing!
Dark Chocolate Sauce for Coffees and Lattes
This dark chocolate sauce is perfect for all your favorite coffees and lattes.
Pumpkin Flavored Coffee Syrup
This Home-Made Pumpkin Flavored Coffee Syrup is full of fragrant spices such as cinnamon, nutmeg, ginger, and cloves as well as real pumpkin. It's easy to make and tastes so amazing.
Click here to get the recipe for the Pumpkin Flavored Coffee Syrup.
The Best Coffee Accessories You Need to Make the Perfect Cup of Coffee
Here are just a few of the items I have at home that we use to make coffee.
As you can see, I am pretty serious about my coffee! Not only do I drink a lot of it, but I also study the types of coffee that I buy.
Because of that, I skip supermarket coffees and invest in good-quality coffee beans. I like the good stuff (that's why I have a coffee subscription that I love!).