When we went on our girl's weeklong trip to Waco Texas and visited all the Magnolia Fixer Upper Joanna Gaines sites, we promised ourselves that we would drink ALL THE COFFEE from ALL THE SPOTS — and that we did. We decided to steer clear of the chain coffee shops and look for fantastic eclectic ones.
Today, I am sharing with you the 5 coffee shops you need to visit in Waco Texas. I promise if you are new to the area or are just visiting, you will want to go have coffee in all five of these locations.
Each one offers a different perspective and a different view of coffee. I promise you will not go wrong with this list of unique coffee shops.
5 Unique Coffee Shops in Waco Texas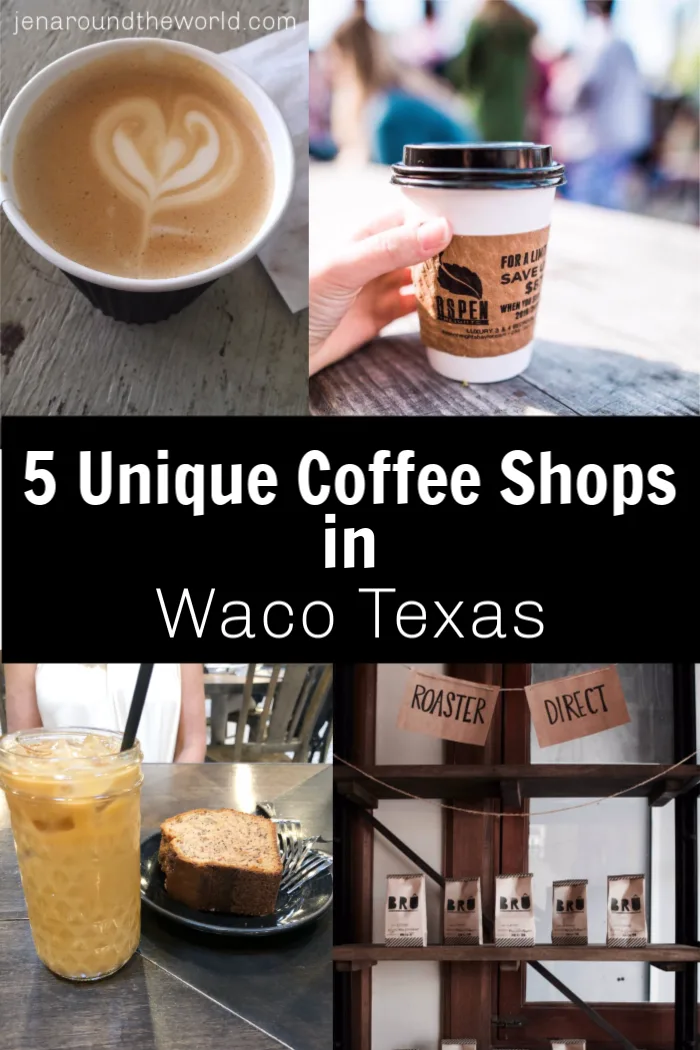 #1 Magnolia Table
Of course, you knew I was going to mention Magnolia Table, right?
Not only do they have an amazing cup of classic coffee, but over in the gift shop, they have a full-on coffee bar complete with specialty coffees, iced coffees, and more.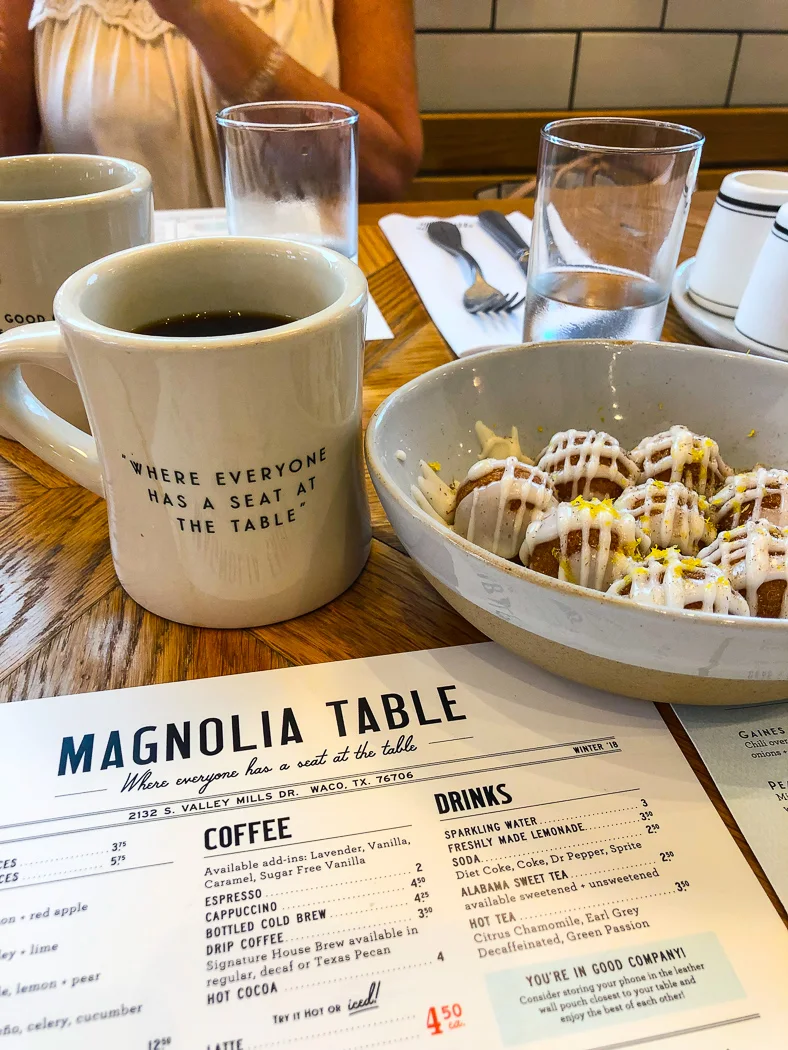 While my daughter opted for an iced coffee, I chose a good cup of classic coffee at breakfast and it did not disappoint.
Magnolia Table is located at 2132 S. Valley Mills Drive.
#2 Dichotomy Coffee & Spirits
We were surprised by this coffee shop! We were on our free trolley ride and told the driver we wanted a great coffee shop and asked where we should go.
He said, "You have to try Dichotomy." Of course, our group of coffee loving girls was in. We stepped inside and fell head over heels in love.
The barista there makes her own banana bread from scratch and since the temps outside were a steaming 83 degrees that day, we opted for iced coffee — which comes served in mason jars.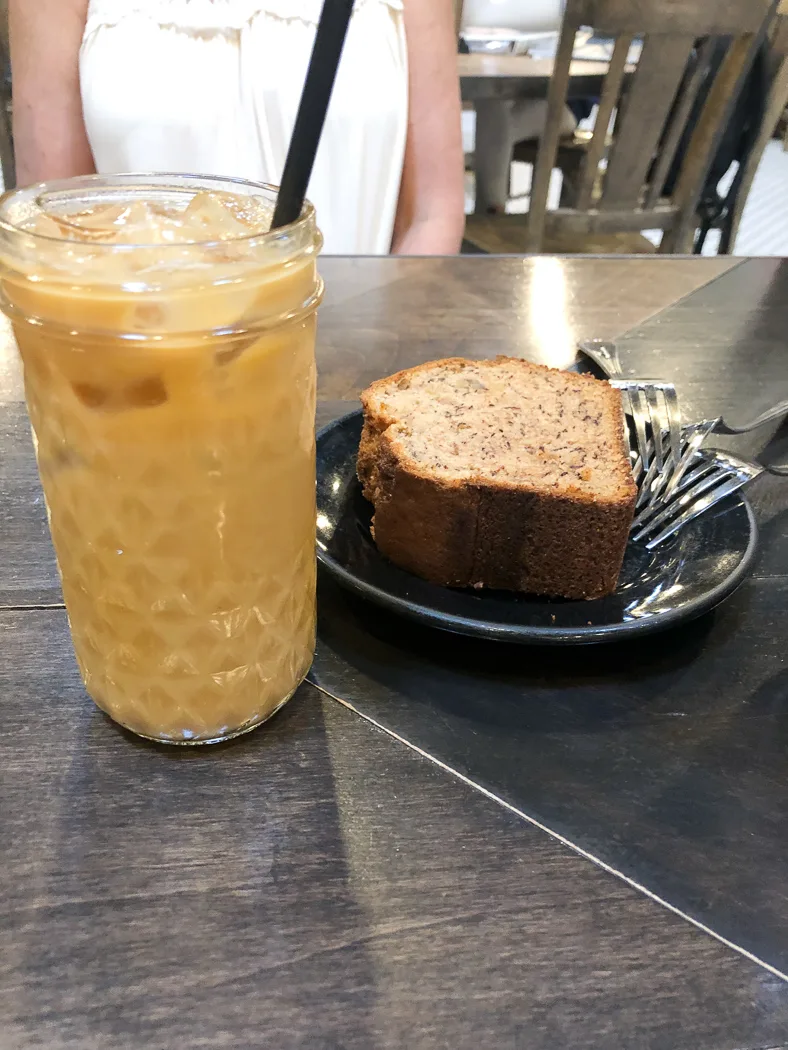 Just shoot me now. Seriously. The coffee was so good but the vibe in the coffee shop was awesome.
Dichotomy is located at 508 Austin.
#3 Taste by Kissing Tree Vineyards
On our way to find a local Starbucks and CVS, we happened upon this coffee shop/vineyard. Michele was in need of a gift for her husband and since he is a wine lover, we thought — hey we will kill two birds with one stone — get coffee and wine all at the same place.
The guys that run Taste are just a breath of fresh air! They love talking all things coffee and all things wine here. I asked him — what is YOUR favorite coffee here, and he said you have to get the Funky Monkey Latte which is made with bananas and chocolate.
Y'all I ain't gonna lie. I started doing a happy dance RIGHT THEN AND THERE. That coffee was the most excellent cup of coffee I ever tasted.
Taste by Kissing Tree Vineyards is located at 804 S 7th St #105.
#4 Bru Artisan Coffeeworks
Now — this coffee shop was a little different. They had more teas than coffee and not a lot of flavors on the menu. The coffee bar is inside of an old elevator and they use old coffee machines to make the coffee.
The atmosphere is very unique and eclectic. They also have a cute boutique there and have things to sell.
One of the cool things about this coffee shop is just because it is not on the menu doesn't mean they cannot make it. Simply ask and if the barista knows how to create it, they will sell it to you.
Bru is located at 601 Franklin Ave.
#5 Common Grounds
If you're a student, or a mom, or a bunch of crazy Magnolia loving ladies looking for a place to relax or even a day date, Common Grounds is the place for you.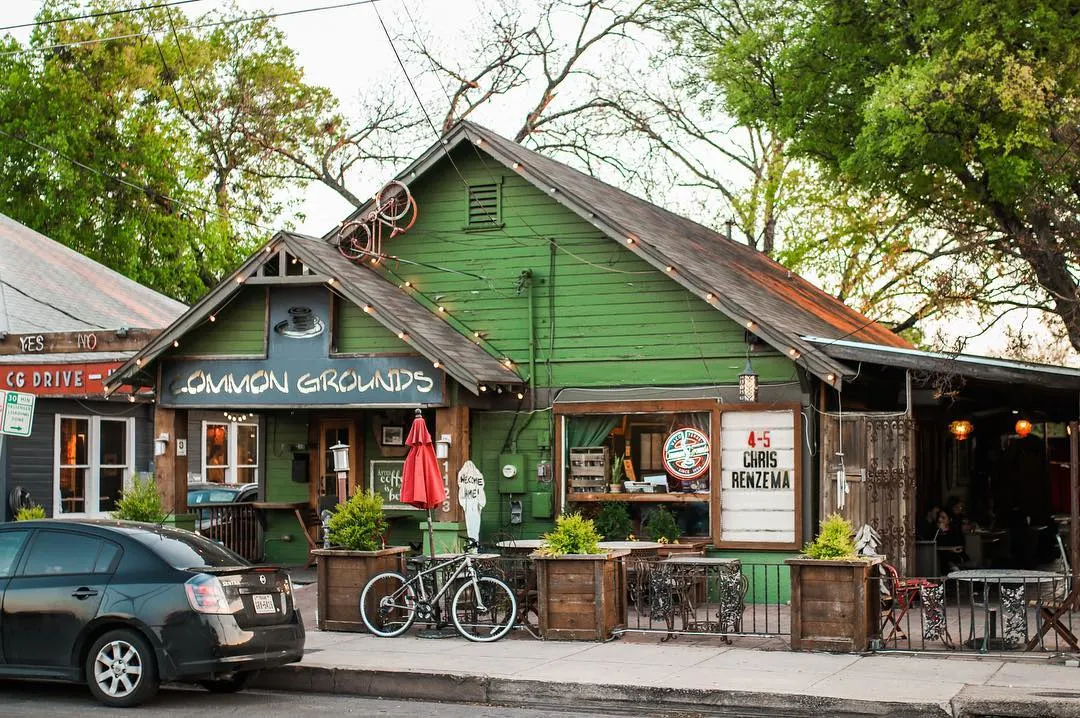 They have amazing iced coffee options, alternative milk options (just in case you need almond milk or cashew milk), and such a welcoming environment.
They play Christian music all throughout the coffee shop which makes this such a great place to sit and sip and catch up with friends.
Common Grounds is located at 1123 South 8th Street.
Y'all know my love of coffee and I will never let you down when it comes to finding the perfect location to have a delicious cup of coffee. These 5 coffee shops in Waco, Texas should get you started on the right track.
Looking for More Coffee Inspiration? Check out these recipes
Also, be sure to visit the Best Coffee Recipes page on my blog for more inspiration. I even have a list of some of my favorite coffee accessories.