I received product samples from sponsor companies to aid in the creation of this amazing Pumpkin Creme Brulee recipe for #PumpkinWeek. All opinions are mine alone.
My daughter is the queen when it comes to making delicious desserts. One of the best desserts she makes is creme brulee.
Since this is pumpkin week, we decided to try our hand at making Pumpkin Creme Brulee and it is now my absolute favorite dessert on the planet.
This dessert is simple and easy to make and tastes amazing! The pumpkin flavor really shines through.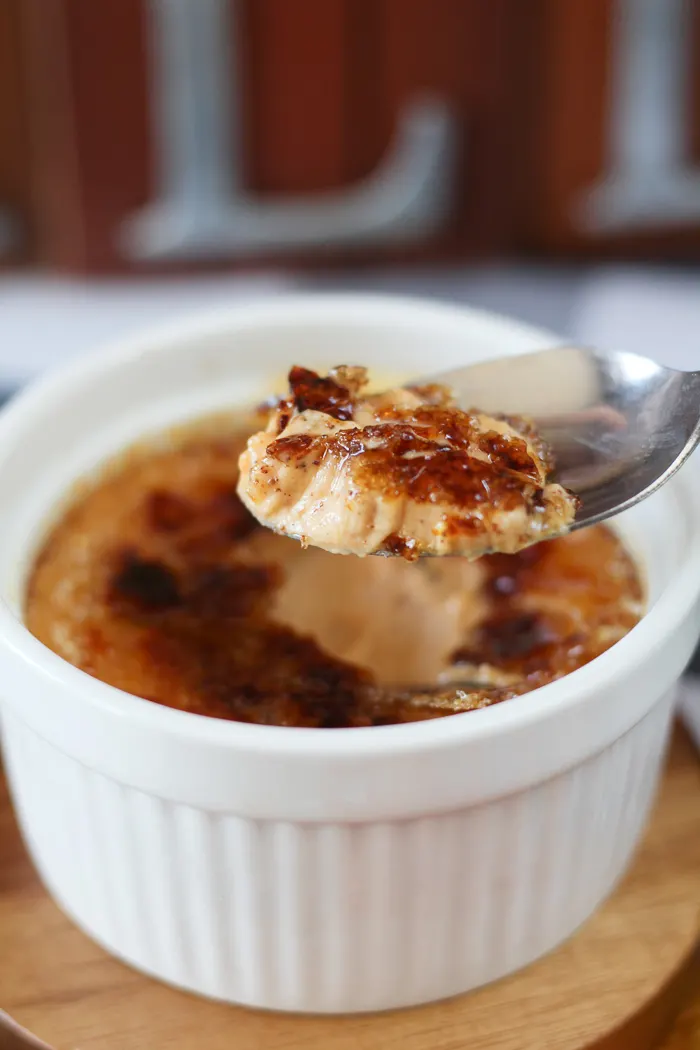 These desserts are best served cold right out of the fridge and when you caramelize the top with sugar, each bite will make you sing!
How to Make Pumpkin Creme Brulee
In a medium bowl, you are going to whisk together 3 eggs and 1/2 cup of sugar until well blended. In a saucepan on the stove, heat your heavy cream until it is simmering. Be sure to stir constantly so you don't scorch it.
Slowly add the hot cream while whisking together with the eggs. Be sure that the cream is not too hot or you will get scrambled eggs instead.
Now, strain into a large measuring bowl with a spout.
Whisk in your pumpkin puree and cinnamon. Once you get it all mixed together, you can get your creme brulee custard cups ready.
I used an actual Creme Brulee pan that I got from Amazon. If you do not have that, just use a casserole pan and some ramekin dishes. It works exactly the same.
Fill the baking dishes with hot water, but make sure the water only comes up halfway up the sides of the ramekin dishes. Do not get any water in the dishes or your creme brulee will not set right.
Bake at 300 degrees for about 40-45 minutes. The creme brulee centers will barely wiggle when you shake the pan.
Once they come out of the oven, give them a few minutes to cool off. Cover them with plastic wrap, making sure to put the wrap directly over the pumpkin creme brulee. This will ensure that no film forms over it.
Let it chill in the fridge for about 3 hours. Do not put any sugar on top just yet!
Serving Your Pumpkin Creme Brulee
To serve your pumpkin creme brulee, remove from the fridge and take the plastic wrap off. Put 1 to 2 teaspoons of sugar on each custard. Take the back of your spoon and spread the sugar evenly over the top.
Take your blow torch (I got mine from Amazon) and torch the top moving in a circular pattern until the whole surface is caramelized.
When you are done, the top should look something like this —
Give the sugar a few minutes to harden. You can tell it's ready when you take a spoon and lightly tap on the top. You should hear a "clack, clack, clack" sound.
Now — here's where the fun happens. Take your spoon and break through the sugar and enjoy every single bite!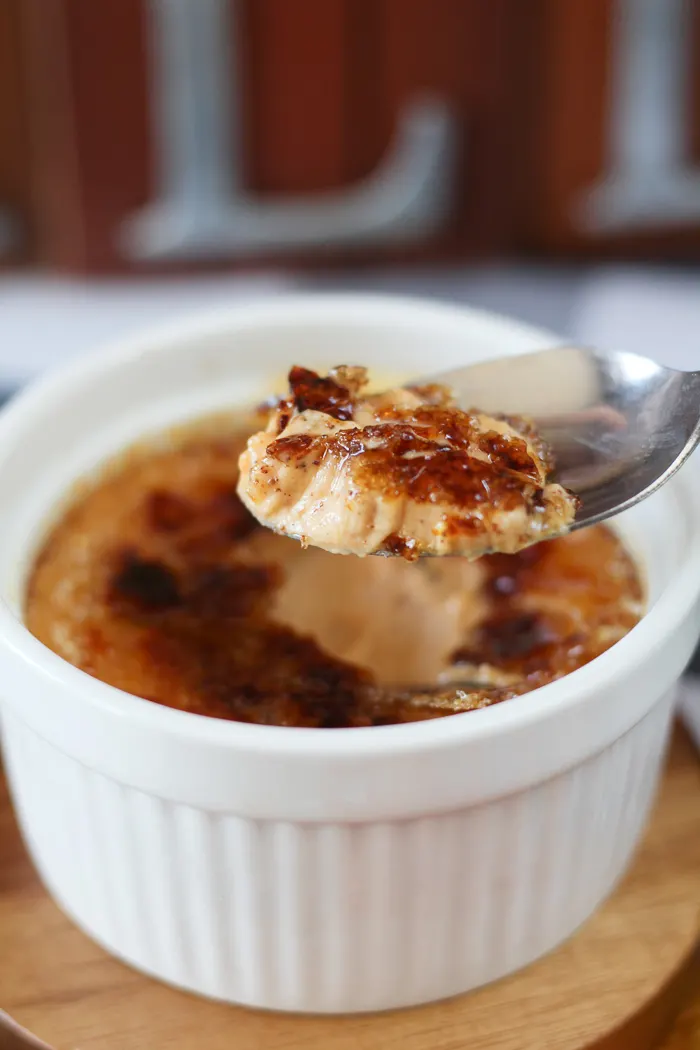 Check Out These Other Delicious Pumpkin Recipes
Yield: 8 servings
Pumpkin Creme Brûlée
This pumpkin creme brulee will have you singing at the top of your lungs this fall! It is the perfect pumpkin dessert
Total Time
3 hours
50 minutes
Ingredients
1 3/4 cups of heavy cream
3 large eggs
1/2 cup sugar plus extra for caramelizing
1 cup of pumpkin puree
1/4 teaspoon of ground cinnamon
Instructions
Preheat the oven to 300 degrees
In a medium sized mixing bowl, combine eggs, and 1/2 cup of sugar and blend well. Set aside
In a sauce pan on the stove top, heat your heavy cream until simmering. Do not boil or get it too hot. Be sure to stir frequently so you do not burn the heavy cream.
Slowly add the cream to the egg mixture and mix together. Be sure that you add it slowly so that you do not scramble the eggs.
Strain the mixture into a large measuring bowl with a spout.
Add in your pumpkin puree and cinnamon.
Get your ramekins ready by placing them in a casserole dish.
Pour hot water in the casserole dish making sure it comes up to halfway on the ramekins.
Fill the ramekins with the pumpkin creme brulee mixture. Bake for 35-45 minutes in a 300 degree oven.
When they are done, the centers should barely wiggle.
Let cool then wrap in plastic wrap making sure to set it right on top of the brulee. Place in the fridge until ready to serve.
When ready to serve -- remove from the fridge and sprinkle on 2 teaspoons of sugar. Use the back of your spoon to spread it evenly.
Use your blow torch and caramelize the top evenly. The sugar should turn a rich amber color.
When you are ready to eat it, break through the sugar with a spoon and enjoy!
Nutrition Information:
Yield:
8
Serving Size:
1
Amount Per Serving:
Calories:

263
Total Fat:

21g
Saturated Fat:

13g
Trans Fat:

1g
Unsaturated Fat:

7g
Cholesterol:

129mg
Sodium:

42mg
Carbohydrates:

17g
Fiber:

1g
Sugar:

15g
Protein:

4g